The Other Side of the Table: Successful Buyers Understand Sellers
As we work our way out of the current recession, we are already starting to see early signs of life in the merger and acquisition market.
2010 is evolving into the year of the transition buyers and sellers have been looking for. The significant unit contraction retail establishments have experienced in the current recession is causing companies to act more prudently when thinking about their growth strategies. Many brands have recognized the limitations of new-unit expansion and the inherent risks that accompany greenfield growth. Companies that have been on the sidelines with their growth plans are now starting to reemerge with a revised strategy for growth focused on acquisition and conversion, and enhanced availability to capital to fund growth.
As market activity increases, it is helpful to examine what makes some companies successful with acquisition strategies while others can't seem to get a deal done. Within any transaction, I always recommend that negotiating parties look at the transaction from the other side of the table to gain a balanced perspective and facilitate a successful closing.
Selling is optional, not mandatory. We often hear a seller say, "I don't need to sell." In many ways this is a defense mechanism and can be a way of dealing with the emotional resistance to selling a closely held business that has been the seller's life for years, if not decades. For many sellers, however, regardless of their desire to sell, the statement is true. Savvy buyers understand this and recognize that a seller is willing to compromise only up to a point. Pushed too far, the seller can easily reconcile keeping the business, and the buyer will have acquired nothing and expended significant time and money on a failed attempt to out-negotiate the seller.
Understand seller transaction economics. It is important for buyers to fully understand the financial outcome to the seller resulting from the transaction. Sellers must retire debt, pay capital gains taxes on the transaction, satisfy other outstanding obligations at closing (working capital), and fund CAPEX adjustments as well as transactional costs out of gross transaction proceeds. What is left in the form of net proceeds represents only a fraction of the purchase price. Too often in their negotiations, buyers fail to recognize that a small change in purchase price can have a huge impact on the net proceeds to the seller. So when a buyer seeks a 10 percent price reduction in a transaction, or comes to the table with an offer 10 percent below market, the result often has a substantial impact on the seller's proceeds and changes the deal from a viable one to a non-starter. Keep in mind that the seller is deriving far greater annual income from keeping the business than he would reinvesting the aftertax proceeds in an unlevered manner.
Emotional process. For many sellers, this is their one transaction of a lifetime. As such, it is a highly emotional process filled with stress and anxiety. Eliminate the unnecessary complications. There always will be points of contention that must be resolved in any transaction. Buyers that create drama and stress throughout the acquisition process will often wear down a seller to the point where it makes it easy to justify walking away from the transaction. Buyers that minimize these issues are often most successful.
Time is evil. This is critical. Time is your enemy. The longer the process takes, the less likely it is to close. Get your resources together and manage your process in the most efficient manner possible. This includes taking control over your third-party resources (attorneys, advisors, lenders, etc). Remember you are the client; expect timeliness from your professionals.
Prearrange capital. Don't wait until you have a transaction identified or negotiated to start securing your capital. Equity capital should be committed well in advance of negotiating preliminary terms of a deal. Obviously, if the source of equity capital is from an external source, it will not be fully committed without the specifics of the transaction. However, the buyer should make sure that the external source is on board with the strategy and the general parameters of the deal. This will facilitate a quick turnaround when the right deal comes along. Sophisticated sellers and their advisors give little credibility to buyers who do not come to the table with committed equity in hand. The same is true for debt capital. Consult your debt providers and start establishing your relationships before securing a specific transaction. A buyer able to approach the seller with an established lender ready to complete underwriting in a timely manner will gain additional credibility and provide the seller with preliminary comfort (no small feat).
Familiarize market multiples. Successful buyers always have a handle on current market multiples and understand the dynamics of what it will take to secure a deal. If you are serious about making an acquisition, set your pricing expectations accordingly. Too often we see would-be buyers set their pricing expectations unrealistically low and then be surprised when they never succeed in making a deal. We don't advocate overpaying for opportunities just for the sake of winning the auction, but don't approach every deal with a 20 percent discount to market hoping that one day you will find your deal. If you are an "opportunistic buyer" and looking only for below-market situations, make this known up front so as not to misrepresent your intentions and to better match your objectives with the right opportunities.
CAPEX adjustments are a very real part of the acquisition process. It is almost impossible to specifically define the scope of CAPEX adjustments required at the early stages of negotiations. To avoid a significant challenge later in the process, smart buyers will agree with sellers early in discussions regarding the philosophical nature of CAPEX items that will be considered as adjustments. There can be a big difference in perspective regarding this topic. If left unresolved until late in the process, this can turn into a last-minute deal killer. Decide the standard you are going to apply in the determination of adjustments early in the process and avoid problems later on.
Seller's employees. Sellers are always very concerned about the future of their key employees in an acquisition. Likewise, savvy buyers understand that the strength of a company lies in its employees. The sooner the buyer can communicate their intentions to the seller, the better for everyone. The key is reducing the stress level on all parties by dealing with this decision as early as possible. Whatever the decision, it gives the buyers, sellers, and employees ample to time to craft a solution and continue focusing on closing the transaction without the shroud of uncertainty.
Business is a long-term asset. Experienced buyers understand they are acquiring a long-term asset and view their target company accordingly. Too often, we see inexperienced buyers become overly focused on the most recent financial and operating data and lose sight of what they are seeking to acquire: the long-term value of the business. We do not advocate ignoring relevant trends occurring in a business or the economy, but we do recommend taking a step back to consider the big picture. Take a longer-term view of the situation; don't be too anxious to make your assessment based solely on the immediate past. While sellers are cognizant of short-term results, they are not a defining factor in how they look at, operate, and value their businesses. Once buyers become sellers, they too adopt a longer-term perspective.
Dean Zuccarello, CEO and founder of The Cypress Group, has more than 25 years of financial and transactional experience in mergers, acquisitions, divestitures, strategic planning, and financing in the restaurant industry. The Cypress Group is a privately owned investment bank and advisory services firm focused exclusively on the multi-unit and franchise industry for more than 17 years. Contact him at 303-680-4141 or dzuccarello@cypressgroup.biz.
Published: August 2nd, 2010
Share this Feature
Recommended Reading:
Comments:
comments powered by

Disqus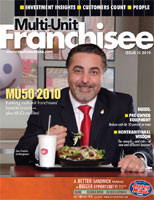 Multi-Unit Franchisee Magazine: Issue 3, 2010
Join one of the fastest-growing fast-casual restaurants with excellent financial potential, multiple business models to choose from, and an all-start...
Cash Required:
$100,000
Einstein Bros. Bagels is the largest fast-casual bagel brand, known for its freshly-baked bagels, made-to-order hot sandwiches, signature shmears...
Cash Required:
$564,300