This is How He Sonics: Louisiana's Largest Sonic Franchisee has Overcome Adversity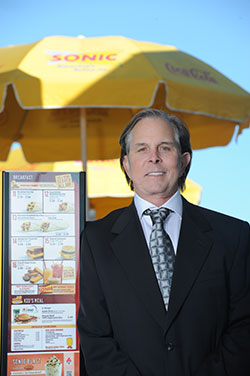 Ted Kergan has been a student in the school of hard knocks. He's got the diploma to prove it. But along the way he's become Louisiana's largest Sonic Drive-In franchisee.
While his buddies were planning for careers on the auto assembly lines in Detroit, Kergan, who always had an entrepreneurial bent, hired on with a motivational company after high school, hoping for a different kind of life. He says his three years there helped him conquer his shyness.
Toady he laughs when he talks about one get-rich-quick scheme he and his older brother, Gary, cooked up as young guys. "My brother and I had this idea that if we could sell a million of anything for a dollar, we'd make a million dollars," he says. They found a New York company willing to make a million beer coasters on credit. They hired someone to put the (then) highly popular smiley faces on the coasters and dip them in cherry-flavored liquid--and tried to sell them as air fresheners at auto parks and car washes. "It took us nearly two years to get rid of those things," Kergan says.
His brother got involved with Sonic in Oklahoma, and a year later Kergan came on board. In 1977, their younger brother became a managing partner in a Louisiana Sonic. "I didn't know food cost from the other side of the moon," he says. "The first two days I worked there, I stayed up all night to try to figure out the books and numbers." In 1979, the brothers bought their first Sonics and began to buy or build a new unit every year or two.
Tragedy struck in 1984 when Gary disappeared unexpectedly and evidence pointed to murder. It wasn't until DNA evidence emerged in late 2012--nearly three decades later--that the two suspects were formally charged. Kergan can't talk about the litigation but he remembers the shock of losing his brother and business partner.
"It was a stressful situation that took me a couple of years to recover from," he says. "In 1986, I started building the company again, but when my son was born in 2000, I decided I didn't want to spend so much time on the road and I sold my stores in Florida and Mississippi."
Today, Kergan as CEO of Kergan Bros. Sonic in Lafayette, La., has 54 units and more than 1,500 employees in his multi-million-dollar company in Louisiana. And says he feels blessed beyond what he ever could have expected. "I'm certainly grateful for the opportunities that got me where I am today. Sonic, under the leadership of Cliff Hudson, is a great organization with great folks."
He's pleased, too, that his job has turned out to be so much fun. "At Sonic, we sell fun. We have girls on roller skates and cherry limeades. All we do has to fit into the 'fun box,'" he says. "Our success is a combination of our food and how we serve it."
Kergan's personal business success is built on convictions like this: "I'm always upgrading the restaurants. If a unit starts looking tired, I tear it down and rebuild or refurbish it. I'm a big believer that the customers want to come into the nicest facility on the street. Not something funky--that's like putting lipstick on a pig--but something genuinely striking. That shows respect for our customers and our employees."
His best advice for would-be franchisees is simple, and something that has worked for him. "Go find somebody who does something you don't know how to do and follow them around. Most people are willing to take the time if you ask them."
Name: Ted Kergan
Title: CEO
Company: Kergan Bros. Investments
No. of units by brand: 54 Sonic Drive-Ins
Age: 59
Family: Wife Ann, son Jean-Luc, 13
Years in franchising: 36
Years in current position: 29
Published: April 23rd, 2014
Share this Feature
Recommended Reading:
Comments:
comments powered by

Disqus
Cicis is an iconic, modernized restaurant that pushes the limits of the regular family dining experience. With unlimited opportunities for revenue,...
Cash Required:
$250,000
Genghis Grill, the nation's leading create-your-own bowl concept, offers guests broad appeal and caters to various flavor preferences and...
Cash Required:
$750,000