Top of Her Class: Former Teacher Finds a Sweet Spot in Franchising
Jodi Gagne spent two decades in the teaching field before getting the itch to go into business for herself. She admits it was a challenge transitioning from educator to entrepreneur without any previous business experience.
"It took a little bit of time to acclimate through that learning curve," she recalls. "But I'll be forever grateful for the opportunity." Today, while she has more freedom as a franchisee of Mrs. Field's, Pretzelmaker, and TCBY, she also recognizes the responsibilities that come with her new role.
Gagne operates 3 Mrs. Field's, 1 Pretzelmaker, and a TCBY vending machine (a standalone dessert kiosk) in Michigan. It's a state with a low unemployment rate and an increasing minimum wage.
"It's an employee's market here," she says. Nevertheless, she works hard to offer her team growth opportunities and a chance for advancement if they will stick with her. And she demonstrates dedication by often working long hours right alongside them.
"I don't ask them to do anything that I would not do," she says. "We offer competitive pay when possible, and bonuses on holidays." She also does her best to create incentives and offer scheduling flexibility to her employees. "However, I believe our strongest attribute is creating an environment of support and care, one of family and team."
Ten years into her franchising career, Gagne says she is happy with her brands, considering opening her own retail shop, and is "really interested" in working for a franchisor.
Could be another learning curve with another successful outcome.
Name: Jodi Lynn Gagne
Title: Owner/Operator (co-owned with spouse)
Company: Lilliart, LLC
No. of units: 3 Mrs. Field's, 1 Pretzelmaker, 1 TCBY vending machine
Age: 52
Family: Bob, husband of 30 years, son Zane, 29, daughter Justine, 28
Years in franchising: 10
Years in current position: 10
Personal
First job:
High school: teaching private clarinet lessons. College: nurse aide at nursing home.
Formative influences:
I have parents with an incredible work ethic and was always taught to do my best and work hard at whatever I decided to take on. My brother's success in business and his continued support during my introduction to franchise ownership and beyond, has been encouraging and educational. My husband Bob always pushes me to be better and to challenge myself and provides me with constant feedback and support.
Key accomplishments:
Related to business, invitations to sit on boards, present at conferences, and represent the brands I love. Recognition for operational excellence.
Biggest current challenge:
Staffing, in a multitude of ways. Michigan has an increasing minimum wage rate, now at $9.25/hour, and unemployment is low, so there are not many applicants, and businesses are offering even more to entice new hires. I am not able to offer a higher starting wage and therefore get mostly high school students as applicants. While many of these students work out wonderfully, often many have never worked before, or even at home, and therefore have no idea what it means to work! Additionally, once they become strong team members, many of them are anxious to move on to something new. We try to offer growth opportunities and advancement for those interested so that we might hold on to them a little longer!
Next big goal:
I am considering opening my own retail shop (non-food). But I am really interested in working for a franchisor.
First turning point in your career:
It was a huge transition for me to move from a teaching career of 20-plus years to business ownership. The challenge of owning and running a business without any previous experience brought with it a new learning curve that took me some time to acclimate to, but also an opportunity for which I will forever be grateful. I have more freedom, and more responsibility.
Best business decision:
Adopting a philosophy of "making it happen." Across all of our brands, making a conscious decision to go above and beyond, to focus on excellence, to do more to make my customers happy, has resulted in loyal customers and increases in sales.
Hardest lesson learned:
There is so much not in my control, and not everyone thinks and works like I do. There are things that affect the outcomes and success of my business that I can do nothing about. Lacking that control is frustrating, so I work to affect what I can to improve my business.
Work week:
Until recently, I spent my days mostly "overseeing" the operations of our businesses, including monitoring sales, visiting to make my presence known, evaluating staff and outcomes, overall planning, meeting with managers, accounting in the home office, and more. However, because of staffing shortages, I have been working in my stores some 50 to 60 hours per week--and trying to keep up with the other responsibilities!
Exercise/workout:
Occasionally walking my dog or riding my bike, but most recently really enjoying my experience with yoga.
Best advice you ever got:
My father taught me "never to call in sick," which I have expanded to how I live my life in general. I show up and I do my best.
What's your passion in business?
For me, it is all in the details. It is in effort, in personal accomplishments of my staff members as they grow and become stronger (as sales persons, decorators, etc.). It is in the delight of my customers when they are impressed with our work.
How do you balance life and work?
I have a very supportive family. During the tougher times, they step up and help me. When things are going well, spending time with them is my favorite thing to do. I strive to create opportunities to gather and celebrate. I also work hard to build and nurture a fantastic staff, so that they excel without me. This allows me to take the time I need and achieve balance.
Guilty pleasure:
Binge watching Netflix.
Favorite movie:
"It's a Wonderful Life."
What do most people not know about you?
I evaluate myself often. I regret when I make mistakes or fail at being the best I can be.
Pet peeve:
Lack of common courtesy, self-centeredness, and mediocrity.
What did you want to be when you grew up?
As a small child, I wanted to follow in my mother's footsteps and be a nurse. As a college freshman, I thought I wanted to be a genetic researcher until I had a biology lab and realized I could not spend my life looking into a microscope!
Last vacation:
Leelanau Peninsula, near Traverse City, Michigan.
Person I'd most like to have lunch with:
There are so many people I would enjoy having lunch with and learning from, including my deceased grandparents, Maya Angelou, and Justin Timberlake.
Management
Business philosophy:
My success is in the details. Preparation is key and could refer to giving my team the training or tools they need, or to planning appropriately for an event by watching my inventory. Appropriate decision-making on behalf of all the members of my team is vital as well. If they're making a decision based on something other than what is best for my business, the corporate standards, or a customer's need, then it is the wrong decision.
Management method or style:
I like to influence, monitor, and provide feedback. I believe in training properly the first time, but realize that continuous retraining and follow-up are necessary. My managers understand what my goals and standards are, but have the autonomy to achieve.
Greatest challenge:
Getting others to "buy in" to my philosophy, to care about their work, the business, and the customer.
How do others describe you?
Strong work ethic, organized, operational excellence.
One thing I'm looking to do better:
There are many things I am looking to do better, but I would like to be less critical and improve my patience.
How I give my team room to innovate and experiment:
There is not a ton of "innovation" at the store level in a franchise, but I invite ideas for more efficiency and creativity. And when we do have a new idea, I have taken it to corporate to get permission to use it.
How close are you to operations?
Very! Until two years ago, I had no managers. I had several shift leaders and assistant managers I was developing over time. However, with the addition of our third Mrs. Field's location, it was necessary for me to put the stores in their hands. Currently, we have just one regional manager, one manager, and an assistant manager in our entire system, so I am still somewhat involved in all our locations.
What are the two most important things you rely on from your franchisor?
Communication and marketing.
What I need from vendors:
Consistency, quality and reliability in product, packaging, delivery, and communication.
Have you changed your marketing strategy in response to the economy? How?
We have always marketed in unique ways to mall employees, corporate entities, and our everyday customers. However, we are trying to be more involved in social media and participate in online ordering to capture the customer who chooses those routes, rather than visiting the malls in person.
How is social media affecting your business?
There is some buzz generated on Facebook, occasionally with our posting of personal cookie cakes, but in general social media has not affected us much. One challenge we do have is responding to the occasional questions related to how to order or our pricing. When a customer chooses this method of questioning we can always be better at responding as quickly as possible.
How do you hire and fire?
I have never fired a staff member. Those who leave us tend to decide that on their own. We have a real team environment, and I think a staff member who does not do their part gets the message quickly that they either get on board with that or move on. Regarding hiring, I have always tried to hire people better than myself, whether that is in certain skills, attitudes, or efforts. I believe diversity is important and understand that we all bring different strengths to the table.
How do you train and retain?
I train and encourage my staff to train correctly the first time. Proper operational processes will get watered down otherwise and we will lose the consistency that helps us be successful. We try to provide consistent and positive feedback for all performance, good and bad. We recognize achievement and growth among the staff and celebrate their success. We put an emphasis on team-building, promote from within when able, and give raises to those who perform well, are reliable, and loyal. We try to maintain a supportive family environment with flexibility so our team members feel appreciated and understood.
How do you deal with problem employees?
My philosophy is to stick to the facts. If the "problem" is a fact, not my opinion or feeling, there is no arguing against it. Taking a firm line on what is required to be my employee is necessary. In addition, the other staff members usually make their dissatisfaction known. Usually, the problem resolves itself by the employee's choice... either to fix it or move on.
Fasted way into my doghouse:
A failure to hold up your end of the arrangement.
Bottom Line
Annual revenue:
$1.2 million.
2019 goals:
Reducing the cost of labor and goods. Hiring more staff and developing more leadership. Planning for a potential move out of a mall location. Raising our average ticket with an increase in Big Cookie Cake sales.
Growth meter: How do you measure your growth?
Daily, weekly, monthly, and yearly. Taking a look at YOY sales and customer counts. Looking at the bottom line after COG and COL analysis. Sometimes measuring in terms of investment in additional locations.
Vision meter: Where do you want to be in 5 years? 10 years?
I would like to be working for a franchisor, using my education and business experience to benefit a brand in another way.
How is the economy in your region affecting you, your employees, your customers?
We have not seen a direct correlation between the increase in minimum wage/income and spending. In addition, the state of retail in mall locations in general has been deteriorating for some time. In all of our mall locations customers express concern and frustration at the loss of retail, but do not understand how they might play a role in it, often stating that they haven't been to the mall in months or a year! We are beginning to see a change in our employees as well. While they have tried to keep a positive outlook, it is hard to maintain in a failing mall with negativity on the other side of the counter. I feel we have recently lost many employees because of the impression they are in a position that might not last because "the mall may close." Meanwhile, our costs are rising with minimum wage increases and commodity increases and a decline in sales.
Are you experiencing economic growth in your market?
No.
How do changes in the economy affect the way you do business?
We avoid price increases. Our costs are rising. We are negotiating with landlords for rent reduction. We are considering producing less and customizing baking orders to reduce waste, and look for solutions every day. However, we remain firm in our belief that we can have a positive impact on our customers, that we provide the best product out there, and that we will survive these new challenges. Putting our best foot forward is a priority.
How do you forecast for your business?
We look at YOY data and current trend in traffic. We keep our inventory under control and costs down. We shift our focus to higher-ticket items to increase sales.
What are the best sources for capital expansion?
Unknown, not looking to expand at the present time.
Experience with private equity, local banks, national banks, other institutions? Why/why not?
We were able to secure lines of credit with two national chains and a business loan with a small-town local bank. However, this was not easy. It was only in the past couple of years that these banks considered us worthy of risk, mirroring that of most lenders at the time.
What are you doing to take care of your employees?
I work alongside them. I do not ask them to do anything that I would not do. We offer them competitive pay, when possible, and bonuses at holiday. We also create incentives from time to time. We offer scheduling flexibility, unlike many businesses. However, I believe our strongest attribute is creating an environment of support and care, one of family and team.
How are you handling rising employee costs (payroll, minimum wage, healthcare, etc.)?
It is a real struggle, for sure. I am working more in my stores again because staffing is challenging. Our minimum wage in Michigan is rising and unemployment is low, so businesses are offering even more to capture the applicants, and I cannot. I do not have to worry about healthcare costs with only two full-time employees. We cut our expenses in every other way possible. We are offering fewer raises, less often. We have cut our labor to the bare minimum and employees are expected to do more with less.
How do you reward/recognize top-performing employees?
All of our stores have adopted a system of peer complimenting. We post our positive and appreciative thoughts about our co-workers. We thank each other. As owners, we take every opportunity to recognize exceptional behavior, successful moments, and unique achievements. We share individual and group success through email and posting in-store. We recognize each employee's birthday with a personalized card from us as employers, and one signed by the entire team. In our business, it literally takes "a village" and the "top performer" is not necessarily known unless we are competing under some incentive.
What kind of exit strategy do you have in place?
An exit strategy is something we have just begun discussing for our future. Being that we have been in franchising for only 10 years, our focus has been on growth until recently.
Published: August 30th, 2019
Share this Feature
Recommended Reading:
Comments:
comments powered by

Disqus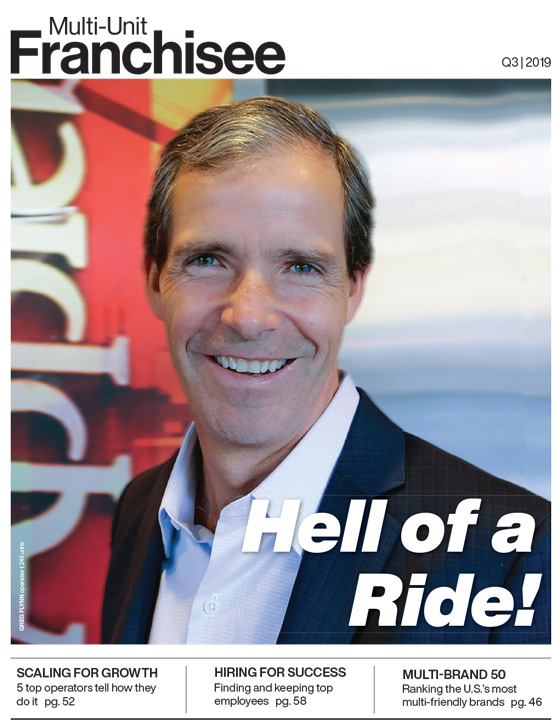 Multi-Unit Franchisee Magazine: Issue 3, 2019
Offering same-day service, a single low price, and a streamlined process that's simple to replicate, ZIPS is a standout in the garment care...
With over 650 stores operating across 28 states and commitments to open more, Scooter's Coffee is in the midst of a strategic growth phase...
Cash Required:
$200,000