High Flyers: Former C-Suite Execs 'retire' Into Franchising
The way they see it, franchising is the retirement project for Amy Legg and Kellie Watts, partners who operate three Wild Birds Unlimited (WBU) shops in three different states.
Watts, an attorney and former C-suite executive for a Fortune 500 company, and Legg, a former C-suite executive for a financial services firm, were looking to make a change in their lives when they relocated from Dallas to Branson, Missouri.
"When we first moved to Branson in 2010, neither of us knew what WBU was. But there was a store here that we drove by almost every day," Watts recalls. One day the two went in to see what it was all about and simply fell in love with it. "We left the store that day with about two hundred fewer dollars in our pocket!"
They struck up a friendship with the owners and began to explore franchising opportunities with the brand. In October 2015, they purchased their first store in Lake Forest Park, Washington, and have since added two more, one in Warson Woods, Missouri, and another in Austin, Texas.
Both are profitable, long-tenured stores with great staffs that still have the potential for growth, says Watts. And if the partners have their way, they will take on a few more. While this may not sound like a retirement plan to most, Legg insists the two couldn't be happier doing anything else.
Their passion for the brand is one of the things that makes the job so enjoyable, says Legg. They look for employees who share their passion, values, and work ethic. "We need strong leaders to motivate and train our employees to provide excellent customer interactions and focus on delivering the best possible customer experience," says Legg. "We want every customer to leave happy, and all of our team members have the authority to make that happen."
Watts says it's not a requirement for their team members to be bird lovers when they're hired. However, she adds, "I think it's safe to say that if a new team member is not into birds when they start working for us, they become bird lovers!"
The former business executives understand that scalability is one of the strengths of the franchise model. Their goal, says Legg, is to build a financially successful operation that will bring a sweet return when they're ready to sell one day.
That shouldn't be difficult for these two savvy operators. They keep a keen eye on everything from the revenue numbers and average ticket amounts in their three stores to making sure costs remain in line and that customers continue signing up for the WBU loyalty program.
"We are constantly looking for other opportunities within the WBU system for potential acquisitions, but they have to satisfy certain criteria before we will proceed," says Legg. "They must have a strong team in place, be profitable, have a great reputation, and have growth potential. Our goal is to own at least one more store and possibly two."
So far the duo have built a $2.5 million business. That's some retirement project!
Name: Amy Legg and Kellie Watts
Title: Owners
Company: On the Fly Ventures, LLC
No. of units: 3 Wild Birds Unlimited
Age: 49 and 60
Years in franchising: 4
Years in current position: 4
First job:
AL: Farmhand (I grew up on a large grain farm), followed by my first real job out of college as a marketing coordinator for a small manufacturer.
KW: Working at Hardee's when I was 16. I hated it and quit because I wanted to spend New Year's Eve with my friends, not cleaning up burned mustard at midnight!
Formative influences/events:
AL: I learned the most about running a business from my dad. He gave me 10 acres of the farm every year, and I had to decide what to spend on it, how to invest in it, how to maximize yield and minimize costs, labor for it, and how to make the money it produced last an entire year until the next harvest.
KW: My high school years were not the best for me. Kids are cruel and relentless in their cruelty. These events made me want to pursue greater things both in education and in business to "show them." I got out of college in 3½ years, went to law school, and rose to a high level in a publicly-traded Fortune 500 company.
Key accomplishments:
AL: Becoming a multi-unit franchise owner with Wild Birds Unlimited in a relatively short time. Also, turnarounds and scaling of several businesses in multiple industries. CEO of a stone business, COO of a wealth management company, President's Club at Andersen Windows.
KW: Rising to an officer level in a Fortune 500 company and starting its first-ever corporate ethics program.
Biggest current challenge:
AL: Finding time to enjoy life and be "retired."
KW: Feeling guilty if I don't work all day every day.
Next big goal:
AL: Build our enterprise to make it more scalable and acquire more units. KW: Acquiring more WBU franchises and growing our business to 5 stores.
Best business decision:
AL: Taking the leap to leave Corporate America after years of experience and exposure to multiple business models and starting to build our own enterprise together.
KW: Deciding to stay at my last employer when I had the opportunity to leave on multiple occasions for other positions. My decision to stay for 18 years was the best decision, both financially and professionally, I ever made in business.
First turning point in your career:
AL: The first business I started from scratch. It taught me a lot about international business, VC funding, hiring the best in the industry, hard work, and who not to partner with.
Hardest lesson learned:
AL: Years ago I had a business partner without the same business philosophy and integrity level that I had. That was, and is, a terrible idea.
KW: Interjecting my opinion into a conversation when I had no experience or real knowledge of the subject in question. It was embarrassing and I never did it again.
Work week:
AL: Sometimes 7 days, but 2 days others!
KW: I work 7 days a week, but not necessarily all day.
Exercise/workout:
AL: Daily cardio and weight workout.
KW: Elliptical and weight training at least 4 days a week plus daily walking.
Best advice you ever got:
AL: Find your strengths and use them to positively affect as many people as possible, and hire people to do the things you're not good at.
KW: Never have too much alcohol at a company event.
What's your passion in business?
AL: Developing others and positively affecting their lives.
KW: I love to see what I can do to cut expenses.
How do you balance life and work?
AL: Hiring more people to do the daily tasks so I can focus on strategy and enjoying life more.
KW: I'm not so good at that right now. I was better when I was not self-employed!
Guilty pleasure:
AL: Studying businesses and figuring out what makes them better. And a lot of wine!
KW: Dark chocolate, Raisinets, and wine!
Favorite book:
KW: The DaVinci Code.
Favorite movie:
KW: "Ferris Bueller's Day Off."
What do most people not know about you?
AL: I'd rather not travel and enjoy being home the most. KW: I have been in the Cabinet Room at the White House and stood at the open doorway into the Oval Office, although I was not allowed to step inside.
Pet peeve:
AL: People who drive slow in the left lane.
KW: People who mispronounce words, especially when people say "Real-a-tor" instead of "Re-al-tor."
What did you want to be when you grew up?
AL: A farmer.
KW: A lawyer and then go into politics. Accomplished the former but not the latter.
Last vacation:
AL/KW: The San Juan Islands.
Person I'd most like to have lunch with:
AL: Pat Summit.
KW: Robert Kennedy.
Management
Business philosophy:
AL: Be transparent, treat everyone with respect, and always have high integrity. Everything else will work itself out. KW: Do not micromanage.
Management method or style:
AL: Always build people up and increase their confidence. Give them more positive feedback than negative. Be completely straightforward. People never wonder where they stand with me.
KW: Give our team the tools they need to make decisions that are best for the business.
Greatest challenge:
AL: Letting go of things I shouldn't be doing.
KW: Being too direct.
How do others describe you?
AL: As someone with high expectations, but nothing I don't expect from myself. KW: Serious but affable.
One thing I'm looking to do better:
AL: Delegate. KW: Listen.
How I give my team room to innovate and experiment:
AL: Trust them to make decisions. I expect them to make mistakes along the way and know that's how they learn. I coach after they have made their decision if needed, but never berate. KW: Give them a platform to express their ideas and always give them a fair hearing.
How close are you to operations?
AL: Still pretty close currently, but looking to remove myself more from these daily tasks over time. We have recently hired someone who will dramatically improve this. KW: Very close. Despite the fact that we have recently hired a director of operations, we are still very much an integral part of daily operations, with a focus on marketing.
What are the two most important things you rely on from your franchisor?
AL: Marketing, vendor analysis and research, leverage with vendors when needed, training materials, benchmarking our business against others. KW: Marketing, IT, and operational support.
What I need from vendors:
AL/KW: For them to work with us when we're in a bind on something and to back their products with our customers.
Have you changed your marketing strategy in response to the economy? How?
KW: We haven't really changed our marketing strategy even when our sales are lower. We believe that continuing to get our brand in front of current and prospective customers is the best way to capitalize on a resurging economy once things turn around.
How is social media affecting your business?
KW: It is starting to have an increasing impact on attracting new customers to the hobby. While it's difficult to quantify at this stage, we feel it is a great strategy and one we will continue.
How do you hire and fire?
KW: Our goal is to hire slowly and fire quickly. However, circumstances don't always allow us to work that way. We have learned over time the qualities we want in good, solid full- or part-time staff, and that leads to a very deliberate process. The few times we've had to fire someone, it has been because of gross misconduct or lack of performance. In the former circumstance, the decision and the execution were rapid. In the latter, we held the employees accountable and then let them come to the realization that they weren't getting the job done. This has led to them leaving by mutual agreement or by resigning.
How do you deal with problem employees?
KW: Firing squad. No seriously, if they haven't committed a grievous offense, we will manage them out of the business in a methodical manner.
Fastest way into my doghouse:
KW: Lying to me.
Bottom Line
Annual revenue:
$2.5 million.
2019 goals:
$2.7 million.
Growth meter: How do you measure your growth?
Revenue increases, but also increases in our average ticket and the number of people signing up for our loyalty program.
Vision meter: Where do you want to be in 5 years? 10 years?
5 years: 5 stores in the top 30 stores in the country. 10 years: sell the stores and retire.
Do you have brands in different segments? Why/why not?
No. This is our "retirement project," so we don't want more brands.
How is the economy in your regions affecting you, your employees, your customers?
Our stores are in a variety of regions, so we have differing impacts. Overall, with the low rate of unemployment, we have trouble finding help, let alone affordable help.
Are you experiencing economic growth in your market?
Not sure the economy is growing, but our stores are all growing.
How do changes in the economy affect the way you do business?
We have to be more judicious with our labor hours to keep spending in line.
How do you forecast for your business?
This business is tougher than most because nature and bird activity affect our activity in the stores. We forecast as best we can based on history, but changes in climate can really affect our businesses.
What are you doing to take care of your employees?
Flexibility, good hours, employee discount, education and development.
How are you handling rising employee costs (payroll, minimum wage, healthcare, etc.)?
Finding other ways to be more efficient and to keep costs in line.
What laws and regulations are affecting your business and how are you dealing with it?
New regulations providing for paid leave, $15 minimum wage, and the new overtime regulations.
How do you reward/recognize top-performing employees?
We are working on a more robust incentive structure. Currently, we have year-end bonuses based on performance of the stores and individual employees.
What kind of exit strategy do you have in place?
We are working to build a self-sufficient and profitable enterprise that can be sold to an investor in the future who sees the opportunity to continue to grow what we have built.
Published: September 27th, 2019
Share this Feature
Recommended Reading:
Comments:
comments powered by

Disqus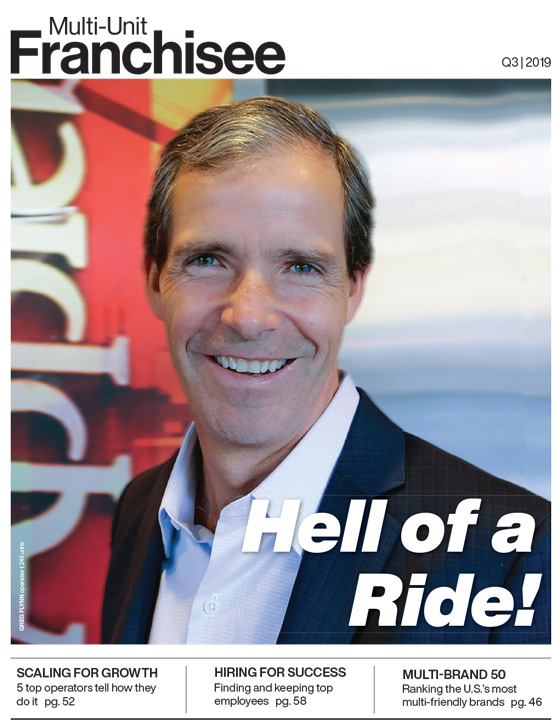 Multi-Unit Franchisee Magazine: Issue 3, 2019
Another Broken Egg is an upscale breakfast, brunch and lunch restaurant that specializes in Southern-inspired menu options and signature cocktails....
Cash Required:
$250,000
Sport Clips is a winning concept-a great haircut experience for men and boys in a sports-themed environment. With almost 1900 stores and expanding...
Cash Required:
$200,000