Total Support: Awarding Qualified Franchises is a Team Effort
Building a strong franchise system through unit growth is a team effort requiring participation from the entire organization. To succeed more often in attracting and capturing the best possible candidates for your system, it is essential that all departments contribute.
Most franchisors don't take the time to educate and involve all their key department heads in the development process. But without this interaction, conflicts can arise about the capabilities of new franchisees, with blame for any failures placed on the franchise development department--even though operations didn't want to be involved in the selection process. These conflicts usually occur when a new franchisee is struggling after a few months and the discussions start focusing on whether the franchise was granted to the right person. This can create divisions within the organization, finger-pointing between departments and, ultimately, bring the wrong candidates into the organization.
Get support from support
It takes a "village" to build a franchise system, not just one department working in a vacuum. Development should have a complete understanding of the attributes a new franchisee should have for the support team to develop them into the operator of a highly productive unit.
So when is the last time your company sat down and seriously discussed who should be in the system, what skills they really need, and what personalities just won't be successful? We all seem to be more focused on the number of franchisees brought into the system than on the qualities or personalities most likely to succeed using the system.
When attracting new franchise candidates into your system, it is very important to create a process that fully educates them on the skills they'll need to operate your franchise model. A key part of that process is to involve the support departments in the qualification process. With the support of your operations team during qualification, you will be able to attract candidates who are better qualified and produce franchisees who have a thorough understanding of the business.
Educate and train your franchise support team to assist and be involved in the process of granting new candidates their franchise. The most important event for a franchisor is growing the system by adding new franchisees. It is important for everyone in the company to show their support during the process and help the candidate feel not only valued, but confident there is a qualified team in place to assist them in the future.
In today's selling environment, it is difficult for only one person to carry the process from beginning to the close. During the research process, candidates are seeking much more detailed information, and they're more skeptical than ever before. Because of these changes, franchisors that involve more human resources in the process are building positive momentum and confidence early, which allows candidates to move ahead more quickly and be better able to project how they can be part of the organization.
Six ideas to try
After you've made the determination that the candidate is financially qualified, understands the business, and has reviewed the FDD, here are six ideas to consider.
A conference call with two or three franchisees, to discuss what it takes to succeed in the system.
A conference call with marketing to discuss how you drive customers to buy your products or services.
A conference call reviewing the training provided to new franchisees to assist them in operating the business.
A conference call to demonstrate how your IT systems will assist them in operating the business.
At the office visit or on discovery day, 15-minute one-on-one meetings with executive team members to learn why each candidate wants to be part of your system.
Finally, a meeting of key management team members to review each candidate's visit and make the decision to grant them a franchise or not.
The more information you can transfer to your candidates during the entire process, the more it will help them to build confidence in your franchise opportunity. Introducing and involving your entire staff will bring you more sales because it gives candidates time to bond with the people who will help ensure their success.
Your franchise support team is the most important asset your company has to offer the candidate, but this has not generally been a priority for franchisors. Instead, most tend to talk about programs, rather than the people who make them work and build trust in the effectiveness of those programs. Interact to your fullest potential with both your staff and candidates and award more qualified franchisees in the future.
Happy Selling,
Marc
Published: July 3rd, 2014
Share this Feature
Recommended Reading:
Comments:
comments powered by

Disqus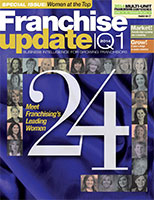 Franchise Update Magazine: Issue 1, 2014
BoeFly drives growth by delivering financially qualified candidates increasing lead-to-franchisee conversion, and helping franchisees secure...
The business messaging platform that lets you text from your office phone number directly on your computer, so you can actually get a response.