Triple Combination: Business, Marketing, and Restaurants Drive This Franchisee
After graduating from the University of Maine, Michael Kern landed jobs at top advertising agencies including Young & Rubicam and McCann Erickson. He later held top marketing jobs for KFC and Long John Silver's, at one point serving as worldwide chief marketing officer for Long John Silver's.

Clues to his future success can be found in his high school career, where he began developing his writing and communication skills, was the only boy in his school's "chef's class," and worked in fast food restaurants after school.

Over two decades, Kern went back and forth between agencies and restaurant companies enough times to realize that marketing, business, and restaurants were recurring themes. "It was in my blood," he says.

He spent 12 years at KFC, where a new owner offered to help Kern broaden his perspective by sending him to earn his MBA from Vanderbilt University. "I began to learn more about finances and brand management. The more I learned, the more interesting I found it all," he says.

About 10 years ago, Kern stuck with his themes, but moved in a new direction by becoming a franchisee. Today his Greenville, S.C.-based company has 20 Long John Silver's and 10 A&W All American Food locations in South Carolina, North Carolina, and Tennessee. More recently, he took on a new concept, acquiring a Salsarita's Fresh Cantina in Bristol, Va., his first foray into that state. Kern hopes to build another 5 or 10 in the same area as his other locations.

"I became acquainted with Salsarita's first as a customer here in Greenville, when it popped up in my neighborhood," he says. "After a few visits, I came away impressed and intrigued with it, especially when I learned that they're headquartered up in Charlotte."

When the opportunity arose to buy an existing unit not too far away from his Greenville base, he went for it. "From my back door to the front door of Salsarita's in Bristol is a three-hour drive," he says. "It works well, because I've had contiguous nearby growth in South Carolina, Western North Carolina, Eastern Tennessee, and now Southwest Virginia. I've also found that because area management has little 'windshield' time and more 'store' time, things work more efficiently across the board."

Kern, who believes it's important to spread his eggs among many baskets, had additional reasons for his interest in Salsarita's. "From the consumer standpoint, I continue to see a shift to fresh, better, more nutritious foods, and to service systems with the consumer more in control so you can customize every order while keeping convenience, speed, and a good price point."

Salsarita's is doing that pretty well, he says. "It's a quick casual restaurant where it's all about the food, first and foremost. We're customer service-oriented and we're big on cleanliness, but at the end of the day the food rules. The salsas are handmade, the tortilla chips prepped and fried daily, meats are marinated on the premises and then grilled and chopped. That all sharpens the textures and flavors in a way that is very noticeable in the final product."

Kern serves on Long John Silver's national franchise board and executive committee and chairs the national marketing and national audit committees. He has a "fundamental belief that local ownership and hands-on marketplace operations can deliver a better set of business results and company P&L." Says Kern, "I think it can drive culture, operations and in the end take better care of guests than stores being run out of markets hundreds of miles away. As a generalization, that perspective has proven out in my experience."

Name: Michael Kern
Title: President
Company: CSI Management
No. of units by brand: 20 Long John Silver's; 10 A&W All American Food; 1 Salsarita's Fresh Cantina
PERSONAL
Age: 51
Family: Wife Katie, 3 children

Years in current position: 10
Years in franchising: 10

Key accomplishments: Building a company culture of mutual respect and belief in the ability to meaningfully contribute at all levels of the organization.

Biggest mistake: Probably when I changed a recipe without listening enough to heavy and core users.

How do you spend a day, typically? I spend each day wearing a dozen hats and working function by function.

Work week: 8 a.m. to 8 p.m. on weekdays and 10 a.m. to 3 p.m. on Saturdays.

Favorite fun activities: Reading, home improvement projects, golf.

Exercise/workout: I've been a runner for 25 years, so my knees are shot. I've retired to the elliptical.

Favorite stuff/tech toys: Whatever's latest in audio-visual.

What are you reading? I read fiction for brain decompression.

Do you have a favorite quote or advice you give? I like to say: Good, fast, and cheap--you can have two, but never three. Also: Remember leadership is as much about doing the work as it is about being seen doing the work.

Best advice you ever got: Life is a long time. Don't sprint through every day like it isn't.

Formative influences/events: At the educational level, I was influenced by several teachers in high school and college who really encouraged me as a communicator. I responded to that. When I jumped into the restaurant business in an after-school job, that cemented my interest in food and the restaurant industry. And over the years, I've had many great mentors who have fueled my interest in the overall operations of restaurants.

How do you balance life and work? There's always room for improvement with this. It's important to have the mental discipline to keep guardrails on both and to keep a discrete time and space for and between both.
MANAGEMENT
Business philosophy: One, make the food great; execute your recipes in total compliance to the procedures and spend time fussing over plate presentation, even if you're in fast food. Two, treat guests with politeness and friendliness and show them true appreciation for their business. An employee with an indifferent attitude to the guest experience drives me crazy. That's when I do what my staff calls the "chicken dance." I get fired up and convey to them the importance of true guest appreciation.

Would you say you are in the franchising, real estate, or customer service business? Why?
I'm in the customer service business. If you're not connected and grounded and use that as your lens, so many other things can take control of you and your performance. It's ground zero.

What gets you out of bed in the morning? After 30 years in the business, I'm still intellectually and energetically fired up to go after the priorities of the day.

What's your passion in business? I spend a lot of time on goal-setting, measuring, reacting, and recognizing.

Management method or style: I go from 30,000 feet to treetop level and back again all day long. At the end of the day, my people feel good about that because I may be intense, engaged, and hands-on, but I still trust them and give them breathing room.

Greatest challenge: Probably finding ways to grow profit in a mature category and with very mature brands.

How close are you to operations? I'm hands-on.

Personality: I'm intense and a "feeler."

How do others describe you? My team describes me as intense, caring, and respectful. People say they like working for us because they don't feel talked down to.

How do you hire and fire? They say, "Hire slowly, fire quickly," and I do a little bit of that. I probably don't fire as quickly as I should, just believing that if you talk to someone about their performance shortcomings, result issues, or inability to use tools properly, change will result.

How do you train and retain? My brands have a well-defined curriculum on a daily and weekly basis. And I believe in testing and certification throughout so that the final outcome is consistent for everybody.
BOTTOM LINE
Annual revenue: Over $15 million

2009 goals: Our goal was plus 5 percent; bottom line plus 10. I don't know if we hit it yet.

Growth meter: How do you measure your growth? We have a series of metrics and reporting devices for daily, weekly, monthly, quarterly, and annually. At the end of the day, we examine monthly financial statements for actual versus plan versus last year.

Vision meter: Where do you want to be in 5 years? 10 years? We've set a five-year goal to double profits. If we do more than that, it's going to come from executing better and smarter, using technology, and staying focused on people. New unit growth may be part of it, but we're more focused on taking what we have and learning how to run it better.

How is this economic cycle affecting you, your employees, your customers? We're seeing new faces, because people are trading down from casual dining or quick casual to us. We see guests being very responsive to value and value menu options. And we see our employees being under financial pressure in part because they have family members losing jobs.

What are you doing different in this economy? We've put even tighter controls and scrutiny on cash management, how we tie up our dollars, on-hand inventory. We're really scrubbing the daily schedule in terms of debating how many hours does it take to open and to close. And we're pushing to go paperless at the store level and back-office level, which means also means re-examining and eliminating redundant entry of data, forcing our suppliers to integrate, too.

How do you forecast for your business during these trying times? Can you even forecast at all? You have to, and you can by using prior year data, so that you know if the trends on all the cost line items are deflationary or inflationary.

Where do you find capital for expansion? We're not doing much right now. What we've done in the past 18 months has been internally funded. We dipped a toe into the capital lending market and found it quite chilly, which is an industry trend.
Published: November 16th, 2009
Share this Feature
Recommended Reading:
Comments:
comments powered by

Disqus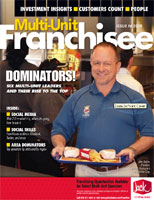 Multi-Unit Franchisee Magazine: Issue 4, 2009
Vitality Bowls specializes in acai bowls, smoothies, juices, salads, grain bowls, wraps, toast & panini, made with unique superfoods like pitaya,...
Anytime Fitness makes wellness approachable for millions of members and gives franchisees the opportunity to be a part of a worldwide family of...
Cash Required:
$225,000