Turnaround Player: Transforming Low Performers Into Franchise Leaders
Glen Helton's lifelong career in franchising began as a teen with his first job at a Burger King in Fayetteville, N.C. Today the Texas native is president and COO of Strategic Restaurants Acquisition Corp. (SRAC), which operates 271 Burger Kings and 17 T.G.I. Friday's across 9 states. Helton, along with SRAC's CEO, Jerry Comstock (former Bennigan's CEO), have become known for turning underperforming restaurants into profit generators. They did it for the 226 Burger Kings they acquired out of bankruptcy 5 years ago, and they also have added 45 new ones. Today they're applying their turnaround skills to the 16 T.G.I. Friday's in New York and Florida that they bought out of bankruptcy in August 2008.

Fate seems to have hitched Helton's star to Burger King from the start. Through his years in high school and college, he stuck with the brand, learning more about franchising as he grew. Following a job with a Burger King franchisee in Houston, he moved on to other QSR concepts, where he spent the next couple of decades.

From 1993 to 1997, he was managing partner for a group that opened 62 Boston Market restaurants. For the next seven years at Popeyes, Helton worked his way up to vice president of operations, managing both the corporate and franchise sides of the business. In 2004, after leaving his job at Popeyes, Helton teamed with Comstock, CEO of SRAC, on the 226-unit Burger King acquisition, quickly becoming the second-largest Burger King franchisee.

"We seek underperforming or distressed restaurant companies and then we infuse the right amount of capital, focus on building great teams, and most importantly, create a performance-driven culture," says Helton. He says the same model that was so successful in turning around the Burger Kings is working with the T.G.I. Friday's they acquired. "Our T.G.I. Friday's segment, which is run by Joe Godbey, president of our casual division, has shown the same success in metrics as our Burger King segment," he says.

Reflecting on the changes in franchising since he was a teen working at Burger King, Helton says he's seen the quality and sophistication of franchisees improve in each organization he's been a part of. "Today, they're less entrepreneurial and more business-minded. When I was growing up, there were lots of entrepreneurs, and they made our industry great," he says.

Franchising has grown up as well, he says. "Thirty years later, our business has become a segment that is respected in the larger business community. That's proven on Wall Street every day."

Recently named to the restaurant industry's Leadership Advisory Council, Helton continues to focus on improving his executive skills. "In our industry, networking is critical. To share best practices with other restaurant executives like Jon Luther (chairman of Dunkin' Brands) and Chuck Fallon (president of Burger King North America) offers tremendous opportunities," he says.

And while he's far from retired, Helton admits he's ready to spend a little less time at the office and more with his family--which includes son R.J., who became famous when he made it to the top five in the first season of American Idol.

"I don't feel the need to be the first one in the office and the last one to turn out the lights at night," Helton says. "I'm mostly standing on the sidelines cheering on the successes of others."


Name: Glen Helton
Title: President, COO
Company: Strategic Restaurants Acquisition Corp.
No. of units by brand: Burger King, 271; T.G.I. Friday's, 17
PERSONAL
Age: 52
Family: Married to Sue with 4 children and 8 grandchildren.

Years in current position: 5
Years in franchising: 30

Key accomplishments: Over the years, I have been recognized for my success as a turnaround person. When Jerry Comstock (my partner and CEO at SRAC) and I took over Burger King's 226 restaurants, they had good people but low revenues. We infused the right amount of capital, built the right leadership team, and most importantly, created a performance-driven culture. I've used this model successfully in every acquisition I've ever done. I was thinking about my career acquisitions and I believe I've touched close to 600 restaurants at some point over the years. I'm also pleased to be on the Restaurant Leadership Advisory Council and on Burger King's Excellence Advisory Council.

Biggest mistake: Like many other industry performers who were recruited into the Boston Market brand, I got caught up in the hype of the concept. The downfall came when Boston Market went out and over-leveraged itself with real estate that could not be sustained by consistent sales, and over time, lost identity by trying to be everything to everyone. When Boston Market was focused only on "home meal replacement" it was a slam-dunk opportunity. Then they began adding drive-thrus and sandwiches, which only accelerated the demise of the brand.

Smartest mistake: My smartest "mistake"--I don't consider it one now--was probably leaving the corporate world. When I left Popeyes, I was in the executive coaching program and they were grooming me for the next level. I decided to work for myself. Today, our company is the one of the largest restaurant franchise companies in the United States (based on revenue).

How do you spend a day, typically? I start off with quiet time with my wife, we've always done that. Then I go through my exercise routine for 30 to 45 minutes. I begin my business day by focusing on the guest experience. I try to respond personally to one or two customers a day. The day is then about modeling how I expect our above restaurant leaders to show up in their restaurants each day. Every time I visit the restaurant it is about the guest, the employee, and a relentless focus on the "systems" in place that enable us to deliver quality operations consistently.

Work week: I'm in the office one to two days a week and usually the last to show up, but when I am there I am either "cascading our plan" with department heads or drilling with the operations team on the progress of the metrics for the week. The rest of the time I'm in the restaurants. I'm a hands-on executive; I believe I have to cast that shadow.
I'm in the restaurants on weekends as well. But I don't believe I have to be the hardest-working person. I want other people to aspire to be leaders. Aspiring for leadership means that you can get results through people without having to be the first one on the job and the last to turn the lights off.

Favorite fun activities: Bass fishing. I live on a bayou outside New Orleans, so all I have to do is walk 15 feet out my back door to the best bass hole in the state of Louisiana. I'm also a competitive water skier.

Exercise/workout: I have a pretty vigorous treadmill/exercise routine set up at home.

Favorite stuff/tech toys: I can't live without my BlackBerry.

What are you reading? I just finished Big Change at Best Buy by Elizabeth Gibson and Andy Billings.

Do you have a favorite quote or advice you give? It's a funny one that I've lived by throughout my whole life: "If you ever get to the end of the rope, time to tie a knot and hang on."

Best advice you ever got: Jon Luther, one of my mentors and CEO when I was at Popeyes, taught me that in climbing the career ladder it wasn't the top of the ladder that was important, but each step on the ladder along the way. I was recently honored to be able to present a vignette about Jon's mentorship in my career when he won the Mentor Award from the Elliot Leadership Institute.

Formative influences/events: Jon Luther, as I mentioned, as well as Chris Miller early on, who was executive vice president of Popeyes and a great operator. He taught me to be a quality operator and I continue to model my career after him.

Are you in the customer service, franchising, or real estate business? Why? I'm in the people business. I'm focused on guests and on the employee experience every day. I never leave a restaurant without first "touching" a guest and every employee. I am simply in this business because I love being around people.

What gets you out of bed in the morning? I'm up at 5:30 a.m. because I look forward to taking on a new day, because I know tomorrow will always be different.

What's your passion in business? I like putting an effective plan together and then seeing the results. When Jerry and I acquired the Burger Kings, we bought an underperforming franchisee out of bankruptcy. The stores at that time were in the bottom quartile of every metric Burger King uses. Five years later, we're in the top quartile of every metric, performing above the system in every metric, and we're in the top 10 percent in guest services for Burger Kings around the world. It all came together recently when Jerry Comstock, our CEO, went on stage to accept the Brand Leadership Award at this year's Burger King's national convention, honoring franchisees who have contributed to the success of the brand.

Management method or style: I'm hands-on and a good listener. I use a method I call "be here now." That means if someone walks into my office or asks for a minute, I turn the phone and computer off and focus on that person.

Greatest challenge: The greatest challenge really is people, finding quality of talent, not quantity. At the above-restaurant level, I still interview every final candidate before they come on as a district manager, training manager, or director.

How close are you to operations? I'm hands-on and I can name every manager that works for me at the GM level.

Personality: I think I'm high-energy and fun.

How do others describe you? They'd definitely say fun and might also describe me as caring with high integrity and disciplined.

How do you hire and fire? When hiring, I look for compassion, courage, and commitment in a person. I learn about that by asking them two questions: 1) Tell me about the best hire you've ever made; and 2) Tell me about the most difficult termination you've ever had to make. As for firing, I've never fired anybody, but a lot of people have fired themselves.

How do you train and retain? I believe everybody wants a clear sense of direction. Since we formed this company, our goals have been consistently focused on five key result areas: sales, profits, employee experience, guest experience, and quality of operations. Most people leave a company when they feel lost and are not sure of the destination, we keep it simple, and make sure that all levels in our company know our goals every day.
BOTTOM LINE
Annual revenue: Revenue for 2009 was $372 million and slightly positive over 2008.

2010 goals: We have 14 new restaurants in our plan for 2010 (12 Burger Kings and 2 T.G.I. Friday's). Besides growing our brands through new development we will continue to look for acquisitions or distressed opportunities. Stephanie Medley, our VP of mergers and acquisitions, is dedicated full-time to this effort. We also will continue our pursuit of becoming "Best in Class," our working vision of not just being the best within the Burger King and T.G.I. Friday's systems, but to be recognized in the industry as operators who consistently deliver at the top in both the guest and employee experience.

Growth meter: How do you measure your growth? We look at year-over-year growth in terms of sales, EBITDA, and metrics improvement.

Vision meter: Where do you want to be in 5 years? 10 years? We don't want to be recognized as the biggest company, but we do want to be known as the best at what we do. Our goal is to be "Best in Class" by being the best in everything that we do.

How is this economic cycle affecting you, your employees, your customers? I don't know anyone who has not changed their lifestyle in some way. People are having fewer restaurant and entertainment occasions, but when they do go out they're more selective. That's why we have to make sure our guest experience is better than any other.

What are you doing different in this economy? I don't know if we're doing anything different, but we are focusing on things more intensely. That means, for example, that we're making sure that if there's any part of the drive-thru experience that can be improved, we're doing that. We are different in one respect from most franchisees in the Burger King system, in that 75 percent of our operations are open 24 hours compared with the system average of about 15 percent.

How do you forecast for your business during these trying times? Can you even forecast at all? We've forecasted sales very modestly this year. We are encouraged that commodities have stabilized in the past 6 months and believe that will lead to margin gain this year Vs last.

Where do you find capital for expansion? We're mostly debt-free, so it's easy to reach in within our own profits for expansion and growth. This year, our plans don't require us to go outside for capital at all. That's the best of both worlds.
Published: December 28th, 2009
Share this Feature
Recommended Reading:
Comments:
comments powered by

Disqus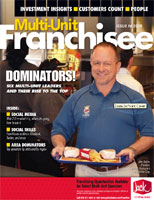 Multi-Unit Franchisee Magazine: Issue 4, 2009
Own a highly profitable business that impacts lives in your community by jumping into action as an Urban Air franchisee owner.
Cash Required:
$750,000
America's mid-market Alehouse sensation bringing handcrafted food, regional beers, Crazy Good Wings and Fingers, sales, and profits!
Cash Required:
$250,000