Use Your Dollars with Good Sense
Cost savings are integral to the success of any franchisor, and effective purchasing of equipment is a simple way to bolster profits and improve efficiency and quality.

There are numerous factors to keep in mind when negotiating the best prices for equipment. Although a full-service restaurant chain might have more complex needs than a sub chain, and a burgeoning regional concept might not carry the reputation of a national brand, all can benefit from an equipment-buying process that meets a franchisor's highest standards. Improvements will result in fewer delays, improved cost savings, fewer complaints and, ultimately, better operations.

Obtaining the best pricing from equipment suppliers results not from one individual tactic or strategy, but from a chain of sound decisions. By combining the following elements, franchisors can eliminate a lot of the guesswork that often results in bad decisions and costly mistakes. Remember: saving money on purchasing is reflected 100 percent in your bottom line. If you save $1,000 on a purchase from a supplier, it translates into $1,000 increased profit.

Knowing What You Need

Perhaps you're implementing a redesign or adding new equipment to your existing operation. Be specific in identifying the most important features of the equipment, particularly size, quality and appearance, technical features, and delivery schedule.

But don't try to over-specify. Unnecessary or unreasonable specifications can sometimes be counterproductive. A beneficial relationship will result once a supplier better understands your needs and the standards you require.

Don't Ignore The Price Tag
While aesthetics certainly play an important role in attracting customers, it's important to draw a line between smart and superfluous. Outfitting a restaurant dining room with a $500 light fixture when a $100 fixture will suffice doesn't make much sense because it's unlikely to affect your franchisees' bottom lines. Instead, put quality to work where it matters most. Spend the most money on those items that most affect the quality of your own product.

If given the proper direction, a reputable architect will create a cost-effective prototype that will accomplish your goal while still staying within the constraints of a reasonable cost structure.

Single vs. Multiple Vendors
Equipment manufacturers and suppliers who handle national accounts with regularity are often the wisest choice. If you have a specific growth plan and history of success, national suppliers are often willing to negotiate lower equipment prices. Dealing with multiple vendors can also lead to mismanagement and confusion, especially during the build-out of locations, when adhering to strict timetables is critical.

Use the following criteria when comparing suppliers: product stability and reliability; reputation based on references; quality and flexibility of service; location and ease of communication; and speed and frequency of delivery.

Price vs. Service
Your convenience and the ability of the equipment supplier to adequately handle your concept's growth should always be given more consideration than price alone. If your concept grows as expected, it's likely only a matter of time before you end up with a location in a remote area. You want to make sure that your supplier has the ability to grow with you nationwide, no matter where the location. Some vendors simply can't fulfill such expectations.

The Benefits Of A Good Relationship
A strong foundation is the key to effective negotiation. Put more simply, treat your suppliers well and they will treat you well. Make sure you keep them up to date with your needs, build a relationship of trust, and ask for their opinions on your needs. A supplier will certainly look more favorably on price negotiations with a valued, trusted customer than one who has a more distant relationship.

Getting The Goods
Once you've negotiated a fair price for equipment, a franchisor's job is only half done. The equipment still has to be delivered. There are many factors that can have a long-range impact on your franchisees' operations. Consider: How reliable are the supplier's deliveries? How long does delivery take once an order has been placed? What will happen if you need equipment in an emergency? Will the supplier hold stock for you?
Another major convenience is working with suppliers who can ship an entire equipment package to a site and leave the trailer on-site during build-out. This eliminates many coordination issues associated with build-outs and also does away with the need to unload an entire shipment at one time, as equipment could be damaged during the construction process.

Leasing vs. Buying
The age-old argument that usually pertains to cars also can be applied to equipment. The best option is generally franchise-specific. What works for one franchisor might not necessarily be best for another. Requiring franchisees to purchase equipment outright increases the initial investment cost, while leasing trims the initial investment cost but adds monthly expenses that can be a big consideration for franchisees launching a new business. The best answer is that it simply depends on the individual preferences of each franchisor.

Whether you are leasing equipment or financing a purchase, make sure you know the specifics of the agreement with your chain's preferred supplier. It's wise to determine separate prices for the equipment, service agreement, and financing or leasing options. This will help disclose any hidden costs.

Old vs. New
For smaller franchise concepts, there might be some consideration given to possibly purchasing equipment from the previous model year or a line that is soon to be discontinued. While it might seem a tempting way to trim costs throughout your system, don't consider it as an option.
Since standardization of locations is the hallmark of franchising, it's unwise to risk your chain's future for equipment that might not be available for the opening of future locations.

Warranty Wisdom
Take the time to ask and be informed about warranties covering equipment. Some warranties begin on the day equipment suppliers purchase goods from manufacturers, instead of when they sell the product to you. Make sure to inquire about this confusing practice.

The Benefits of Being Small
Growing regional concepts often face different challenges than national chains, but can also benefit from developing relationships with regional suppliers. Although many such chains-especially those with only a handful of locations in one city-might not have the infrastructure in place to gain some of the benefits of nationwide brands, their small size allows them to gain advantages in other areas. There are several "hot buttons" that can be used as an incentive in getting the equipment seller to lower prices:
Look to close the sale now rather than later since no salesperson ever wants to wait.
Offer to pay by cash or debit card, since both payment methods are preferable to credit cards, which cost the seller a percentage of the sale.
Offer to pick up the equipment in person rather than having it delivered. Ask the seller if there is a space problem and if they want the equipment removed ASAP. Ask about installing the equipment yourself instead of leaving that task to the seller.
Ask about discounts for small external defects like scratches or for items that are incomplete, such as a computer with a missing mouse or keyboard.
If the equipment must be delivered, offer to wait a week or two or even longer for it and consider turning down technical or onsite product support in return for a discounted price.
Many retail equipment suppliers operate on monthly sales cycles. It can be beneficial to buyers because as the end of the month nears, they may be willing to sell equipment at a lower profit if it brings up their total sales volume. Try waiting until the end of the month to fulfill your equipment needs and you may often see lower prices.
Remember that competition for your business, regardless of industry, is probably the strongest it has ever been and that there is always more to negotiate than price. The most prepared buyer is an informed buyer. Negotiating has many benefits, but perhaps the strongest is that it lets suppliers know that you are paying attention and comparing their prices and services with those of the competition.

Mark Krebs is president of Brand Name Franchising, LLC, the franchising industry's first full-service outsource provider of franchise development services. Scott Mortier, who contributed to this story, is director of franchise development for BNF.
Published: November 22nd, 2005
Share this Feature
Recommended Reading:
Comments:
comments powered by

Disqus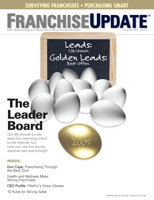 Franchise Update Magazine: Issue 3, 2005
Leasecake is location management made easy – from lease contracts and licensing agreements to ASC 842 compliance. Never miss a deadline, stay ahead...
ServiceScore helps businesses get the results they want from phone calls.