Well-Rounded Marketer: Jon Quinn Brings a Broad Perspective to Charleys
This past February, longtime marketing executive Jon Quinn suited up for his newest role as vice president of marketing for Charleys Philly Steaks. Two decades in marketing have taken Quinn through stints at Bob Evans, Long John Silver's, Applebee's, Damon's International, Golden Corral, Boston Market, and Fazoli's. In his two years as vice president of marketing at Fazoli's, he spearheaded a full brand refresh and a double-digit (nearly 20 percent) increase in sales. He's also held executive positions with two marketing communications firms, giving him a perspective on the agency side as well.
Today, as vice president of marketing for a 30-year-old brand with more than 550 locations in 45 states and 20 countries, Quinn is not only overseeing the marketing efforts and an in-house graphics team, but also is leading and managing brand strategy, overseeing marketing research and analysis, and executing strategy in marketing communications, digital and social marketing, cause-related marketing, and field marketing. He also is assisting with developing a new premium QSR/fast casual concept to provide franchisees with additional expansion opportunities.
Charleys has a unique marketing situation. Most of its existing units are located in malls and military bases, so he is looking to expand beyond those markets into more traditional sites, such as strip centers, where the brand has about 40 locations. "We have two very different marketing plans we develop and need to execute," says Quinn.
As fast-moving technology continues to push the needle in the marketing world, Quinn is excited to see the brand preparing to roll out a new POS system he says will help the company mine more data. The most challenging part for a modern-day marketer, he adds, is keeping up with technology and understanding what aspects make sense for your brand to leverage, and when, with your existing resources.
For now, Quinn is thrilled to be on the job with Charleys and says he plans to make sure that the brand's marketing is strategic, analytical, and, as he likes to say, "the headlight and the taillight of the brand--where are we going and why, and what have we learned about where we've been."
Describe your role as vice president of marketing.
In addition to leading the marketing department at Charleys Philly Steaks, I also lead a cross-functional group challenged with new concept development.
What's unique about this position at Charleys?
A couple of things. First, Charleys' heritage is largely based in captive audience venues like malls and military bases. That means the guest journey and decision process culminating in a visit to our concept are entirely different than at most restaurant brands. "LSM" and "community engagement" are an entirely different ballgame. The flip side of that dynamic is that much of our future success hinges on our ability to be successful outside of those captive audience locations. We have about 40 strip center locations, and much of our long-term growth is focused on this channel. Therefore, we have two very different marketing plans we develop and need to execute.
What's the most challenging part of being a vice president of marketing today?
Keeping up with technology and understanding what aspects make sense for your brand to leverage and when--and how with your existing supporting platforms. We are in the process of rolling out a new POS platform that will make some of the emerging technology marketing tools possible for us to employ. We have to resist the temptation to jump immediately onto new technologies without fully understanding the impact they may have on the brand, or if the returns are worth the resources to pursue them. For example, order kiosks make the experience a little more transactional than relational, a move that may make sense for some brands more than others. Remember back in 2010 and early 2011 when QR codes and check-ins were promised to be the next big things? Both have proven to have limited application.
What are the 3 most important keys to being an effective marketing leader today?
Essentially they are the same as they have been, but they take new forms now. 1) To lead the organization strategically and analytically. Marketing needs to be the headlight and the taillight of the brand--where are we going and why, and what have we learned about where we've been. 2) Stay current and well-versed on applications of new technologies that can be employed to enhance the customer experience and drive sales; that can support operations while maintaining the integrity of the guest experience. 3) Be the voice of the consumer/guest. In the restaurant industry, especially in the mature, more growth-challenged segments, we have a tendency to see things mostly from an operations or financial perspective. These are very real needs and concerns, but somebody needs to keep focused on what's best for the guest.
How do you prepare a marketing plan and execute the strategies?
The first two considerations are 1) what are our brand strengths, and 2) how do they align with current opportunities in the marketplace? We also look at our recent past to assess what initiatives are getting positive traction and should be further leveraged.
How do you measure marketing results and effectiveness?
We look at pre- and post-promotional period sales, traffic, and ticket performance. We also take into account menu mix shift and migration analysis, and the impact on profitability. Finally, guest feedback and consumer research.
Discuss your core consumer marketing strategies and objectives.
We are focusing on attracting Millennials to our concept. There are a couple of key characteristics about the Millennial lifestyle that Charleys can easily leverage: they appreciate adventures in flavor, they enjoy snacking, and they expect the option to customize. Therefore, our brand experience, LTO offerings, menu development, and marketing communications all focus on at least one of those core concepts. We've also set specific objectives for establishing and growing our non-traditional day part business, most specifically snacking occasions.
How do you go about creating a "customer-centric" marketing and brand philosophy?
This is a constant effort. Within a restaurant brand, only two functions are focused on this: marketing and operations. However, there are forces pressuring both of these functions that could potentially undermine focusing on the guest, such as food and labor costs. Therefore, it's essential to continually prove the financial value, both short-and long-term, of consistently seeing things from the guest perspective.
Describe your marketing team and the role each plays.
I have two different teams reporting to me. One is the marketing team, which includes a couple of marketing managers who drive the development, execution, and communication of our marketing calendar, LSM support, digital initiatives, and menu development. Unlike at some of the other brands I have been a part of, Charleys also has an internal graphics team that reports to me and does a great job of designing and producing most of our marketing communications materials. The other is a small cross-functional concept development team of four associates challenged with creating and executing an entirely new premium QSR/fast casual chain capable of aggressive franchise development.
Why is it so important for the marketing department to have a "personal touch" when it comes to helping the brand connect with franchise prospects?
There are lots of restaurant industry franchise opportunities to choose from. A brand not only has to credibly demonstrate an attractive financial model--that's table stakes just to get into the consideration set--it also has to demonstrate a high level of continued support. Marketing is essential to a franchisee's continued success, and a franchisee prospect needs to be comfortable that the brand is on the right strategic path. Franchisees need to know they have channels and direct access to voice their feedback, ideas, and concerns. Prospects, in addition to spending time with me and other members of the executive team during their initial visit to the support center, also spend dedicated time with the marketing department learning about the layers of the marketing calendar, the expectations of their active engagement in marketing their location, and all the ways we can support them in their future success. The prospects get to know several senior marketing associates by name before they ever open their first location, so they start their Charleys experience knowing they already have a direct line if they ever need it.
How does this help your franchise sales and development effort?
Much of our PR efforts are dedicated to attracting new franchisees to the concept. However, the primary activity I am responsible for that helps drive the development efforts is the creation of a second concept to create more growth opportunity for our existing franchisees.
What tools do you rely on to do this?
We just released a new LSM program with an online resource to help them plan and execute their LSM efforts. Our marketing representatives here in the support center and our franchise business consultants in the field partner with them in identifying opportunities to market their restaurants in their communities and help them execute against their plans.
Do today's prospects expect more from the franchise marketing department? What, and how do you provide it?
In today's ever-increasing competitive restaurant market, franchisee prospects understand that marketing will be essential to their future success. More than ever, we see new prospects inquiring about the level of support they will get from the marketing department and about our approach to marketing the brand.
How is today's consumer and marketing data helping you fine-tune your marketing initiatives?
We are starting to skim the surface in this area. We have several older POS platforms in the system and we now have a plan and timeline in place to transition into a new POS platform that will greatly enhance our abilities to mine more data.
Describe the evolving role of social media in your brand's marketing efforts.
We are dedicating more efforts in social media. We recently started partnering with outside expertise to help us mold our social media strategy and execute against it. It's an ongoing education because the landscape is constantly changing. We're starting to see some real traction take place, but there's still a lot more we plan to be doing in this space. It's a very efficient tool for building personal and meaningful relationships with our most valuable guests and increasing their brand engagement.
How do you manage costs and budgets for the marketing department?
Pretty typically for the industry. We set our budgets annually based on a combination of anticipated needs, desired results, and projected contribution rates, and monitor our coinciding expenditures monthly.
Do you see vendors as business partners? Why/why not?
I have always believed that the more you can develop a vendor into a strategic partner, the more valuable the relationship and their contribution to your success. The better they understand what you are trying to achieve, the more likely they are to be able to provide you with the best possible solution. The worst thing you can do is assume you have the best answer and just turn to your vendor to fulfill your order.
How have marketing strategies/tools changed over the past decade? How have you adapted?
I have become less reliant on mass media and have turned to more personalized digital experiences. More than ever, we have the ability to be very targeted, personal, and efficient with our media spends and our guest experience. Over the past years we have come to realize that we no longer create brands and deliver them from the ivory tower on the mountaintop. Brands are being co-created and recreated every day, and we have to be actively participating with our co-creators every day, all day. It's a much more labor-intensive process, but the results are far more rewarding.
What advice would you offer to aspiring marketing leaders?
Gain a deep and thorough understanding of the financial model and operational model of your business. This will greatly help you in developing economically and operationally feasible initiatives. It will also help you gain credibility with your peers so that you have their support when it comes time to execute.
Published: November 24th, 2016
Share this Feature
Recommended Reading:
Comments:
comments powered by

Disqus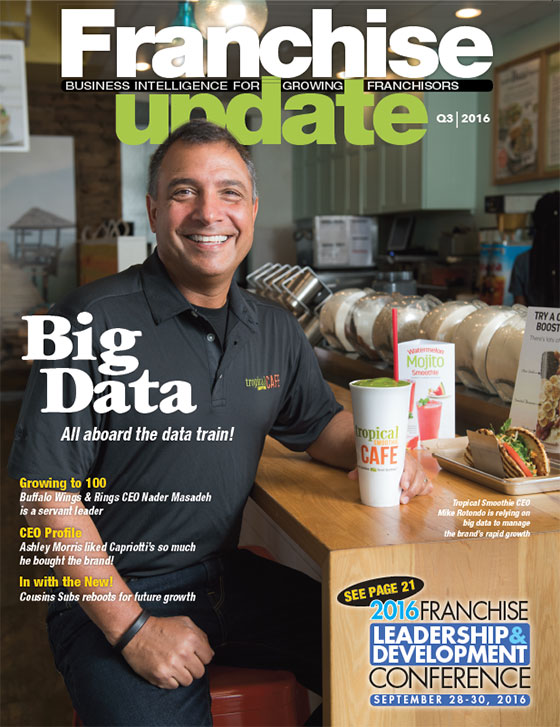 Franchise Update Magazine: Issue 3, 2016
Conferences
InterContinental, Atlanta
OCT 18-20TH, 2023
919 Marketing Co. is a national content marketing, PR and social media agency serving franchise brands. Our proprietary social relations approach...
June 18-20, 2024 Marketing-Operations-Technology. Be a part of this ground-breaking new space for ideas, inspiration and networking for Franchise...