What's in a Name?: Training Front-Line Employees In Customer Engagement
This has always been the place, right? America, I mean, where anybody can start with nothing and turn it into something. Every multi-unit organization started with a dream, and many with just a single location. And for those who have kept their promises to customers and delivered great service, success has often followed.
Let me tell you about Lenny's Sub Shop, founded in Bartlett, Tenn., in 1998 by Len and Sheila Moore. Lenny's is a Philadelphia-style sub shop that has grown to about 200 franchisees across the country. They serve their own unique brands of potato chips and thin crisps, and they make a signature hot cherry-pepper relish, just one way they make their subs unique. Their sandwiches are terrific. Why? They provision top-quality products, slice meats and cheeses to order, and adhere to their recipes religiously. But what is their recipe for customer service, for creating a friendly welcoming environment?
At Lenny's they strive to learn the name of every regular customer--and to memorize where they work and their favorite sub. They make a game out of this and even have a little internal competition going about who can remember the most customers by name, place of work, and favorite sub. So when I walk in, it's "Hey Jack from SMG, turkey and Swiss with light mayo on wheat, right?"
This is the classic "Cheers Effect," where everybody knows your name and your favorite drink. This is above and beyond being nice to customers. This is being engaged with customers. We know from modeling the impact of friendly, engaged employees on customers that these behaviors drive customer loyalty.
When employees at Lenny's don't recognize a guest, they ask if this is their first visit and offer to guide them through the menu to help them find what they want. Along the way, employees are encouraged to make a personal recommendation--not one that sounds like they're promoting the most expensive thing on the menu, but a sincere recommendation about a menu item the employee personally loves.
And they get extra credit in the customer engagement column for making personal recommendations. When a guest takes your recommendation and "loves it," that creates a highly satisfied guest--one who is highly likely to return; in fact 200 percent more likely to return than guests who are not highly satisfied. That is crucial to converting first-timers to regulars, and to explaining why Lenny's is succeeding today.
Here's another example of a service-oriented franchise: Papa Murphy's, the world's largest "Take 'N' Bake" pizza and the fifth-largest pizza chain in the U.S., with more than 1,100 stores, almost all of them franchised. In 2003, Papa Murphy's was voted "Best Pizza Chain in America" and has been every year since. The brand has won multiple awards, and they advertise these, but they know that they have huge competition from Costco, grocery stores, and other pizza chains. So instead of becoming spoiled by success, they focus on connecting with each customer to separate themselves even further from the competition.
Papa Murphy's has three opportunities to engage customers: (1) when they walk in to place their order, it's easy to get names and use them; (2) as the customer goes through the line to get their pizza made to order, the employee has a chance to use the customer's name in conversation; and (3) as the order is handed over to the customer, one more chance to address the customer by name.
The key is to engage each guest in a casual conversation as the employees are preparing the pizza. Papa Murphy's makes it easy for the employees to do this--in fact, they provide them with coaching every day. At Papa Murphy's, when employees come to work, there are three conversation topic starters posted in the back of the house. One could be about a nearby local event, another might have something to do with a local sports team, or maybe it's as simple as the local weather forecast. The point is that the managers are not just telling employees to use the guest's name and engage with them, they are teaching them how and modeling this behavior.
Just as the food preparation is deliberately designed to yield a great product every time, the guest interactions at Papa Murphy's are baked into the operation. It's part of the business operating model and a big reason why they've been making it in the U.S. for 30 years.
Lesson? Your customer service is your operation. Customer service is not the icing on the cake--it should be baked into the cake. This is a key to long-lasting growth.
SMG Vice President Jack Mackey helps multi-unit operators improve customer loyalty and drive growth. To request "Want Better Insights from Text Analytics? Start by Eliciting Better Comments," contact him at 816-448-4556 or jmackey@smg.com.
Published: April 4th, 2012
Share this Feature
Recommended Reading:
Comments:
comments powered by

Disqus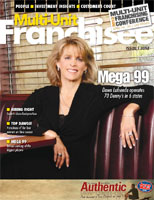 Multi-Unit Franchisee Magazine: Issue 1, 2012
With over 650 stores operating across 28 states and commitments to open more, Scooter's Coffee is in the midst of a strategic growth phase...
Cash Required:
$200,000
At Nautical Bowls, we combine healthy, fresh superfood bowls with an uplifting atmosphere, giving you energy to life a full life! Our goal is to...
Cash Required:
$100,000