What's Your Service Aptitude?
It's your job to teach employees how to treat customers
Companies don't engage emotionally with their customers--their employees do. If you want to create a memorable company, you must fill your company with memorable people. The level and quality of your organization's customer service comes down to one thing and one thing only: the Service Aptitude of every employee. From the CEO to the account executive, sales clerk, call center, receptionist, corporate office support team, to every front-line employee--the most critical component in building a world-class customer experience culture is the Service Aptitude of every individual in your company.
What is Service Aptitude?
Service Aptitude is a person's ability to recognize opportunities to exceed customers' expectations, regardless of the circumstances.
No one is born with it; it is not innate. The vast majority of the workforce has extremely low Service Aptitude, especially when they are entering the workforce. And, as a result of poor training and paranoid management, many employees, including management, don't have high Service Aptitude, even after years of work. And sadly, a high percentage of senior-level executives continues to have low Service Aptitude during their careers. Why is high Service Aptitude so rare? What dictates it, and what affects it?
Life experiences are a significant factor in people's Service Aptitude level, especially in the younger workforce. Front-line employees' standard of living typically does not afford them the opportunity to fly first class, stay at five-star resorts, drive a luxury automobile, or enjoy other higher-end experiences. Yet we, as managers, expect those same employees to be able to deliver world-class service to clients, guests, patients, or whomever we call our customers, who may be accustomed to these types of experiences. It doesn't make any sense.
Previous work experiences have a major impact on a person's Service Aptitude. It is a good bet that most of your front-line employees have previously worked for an average or less-than-average customer service company. This means that not only were they not trained on what excellent service looks like, they also were "brainwashed" by a policy-driven, iron-fisted manager who taught them that customers are out to take advantage of businesses.
Current work experiences dictate the state of an employee's Service Aptitude. Nearly every company states on paper, plaques, and its website how it has a customer-first philosophy, but how many really back that up? New employees typically get initial training on a company's operational processes--product knowledge, the fundamentals of the job, and so on--but very little if any customer service or soft-skill training is invested up front. Actions speak louder than words.
Beyond the Golden Rule
I love the Golden Rule: Treat others the way you would like to be treated. Let's consider my oldest son, Johnni. He is a junior at Ohio State University and the nicest young man you could ever meet. However, if you hired him today and threw him in a customer-facing, front-line position and told him to treat customers the way he likes to be treated, you would probably see him greet people with, "Hey, what's up, dude?" He may give them a fist bump, and you might have to ask him to pull up his sagging pants. He is a typical college student; this is what they do. It's how they like to be treated. Give him a few weeks of soft-skill training and he will be one of the most genuine, hospitable employees you have. For serving customers, it is the Platinum Rule we need to focus on: treating others the way they would like to be treated.
It isn't their fault
I have this sweet niece whom I bugged for years to come work for me. She has those qualities any business would love in an employee who comes in contact with customers: always smiling, very friendly, outgoing. We were celebrating a holiday at my house and I asked her what she was doing. She said she had been working at a restaurant as a hostess/receptionist and that one of her responsibilities was to police the restrooms. I said clean restrooms were very important to the image of the restaurant. She said, "No, that's not what I mean. My boss says it is my job to not let anyone use the restrooms unless they are paying customers." My eyes lit up. "Really?" I said. She replied, "Yes, we even have a sign on the door that says so. In fact, last week I saw someone who hadn't purchased anything headed to the restroom, so I ran after him and made him leave."
I was horrified! This is my sweet adorable niece. How could she think like this? You may be thinking how wrong I am about my niece being a wonderful employee. Actually, she may be too good of an employee. Her boss (sadly, the owner of the restaurant) told her, "Your job is to not let people take advantage of us." And she does what she is told, protecting the business as she has been instructed.
Each of us has employees who have worked elsewhere and have been influenced by other bosses who don't think like world-class customer service companies and leaders. They are more concerned that people are out to take advantage of them than they are about taking care of the customer.
It is not a new employee's responsibility to have high Service Aptitude; it is the company's job to teach it to them.
John R. DiJulius III, author of The Customer Service Revolution, is president of The DiJulius Group, a customer service consulting firm that works with companies including Starbucks, Chick-fil-A, Ritz-Carlton, Nestle, PwC, Lexus, and many more. Call him at 216-839-1430 or email info@thedijuliusgroup.com.
Published: October 5th, 2015
Share this Feature
Recommended Reading:
Comments:
comments powered by

Disqus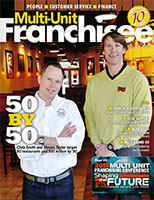 Multi-Unit Franchisee Magazine: Issue 2, 2015
At Celebree School, our child care franchise delivers a safe, nurturing, friendly, state-of-the-art learning environment that fosters a solid...
Cash Required:
$250,000
With 500+ restaurants in development worldwide, Wayback Burgers is America's favorite hometown burger joint and one of the world's fastest-growing...
Cash Required:
$250,000