Whose Broker Is It Anyway?: Beware of Agents Working for Two Masters
One of my greatest concerns is agents who are supposedly working for the tenant while accepting a commission from the landlord. I have hesitated writing this article for months lest it be considered an attack on real estate salespeople or agents. Nothing could be further from the truth. If it weren't for real estate agents and brokers, landlords would have half-empty buildings. My purpose here is to enlighten franchise tenants, open some eyes, and let you decide for yourself about this important issue.
Before 1993, I was a shopping mall manager and before that a typical leasing agent, so I know what I'm talking about. Real estate agents are deal-driven, not detail-driven. Whether you pay rent at $24 or $26 per square foot matters less to many agents than whether the deal actually gets done. After all, they are only paid if a lease agreement is signed and the deal closes.
Recently, a real estate agent insisted that my client, the tenant, sign a dual agency agreement (which basically states that the agent is representing both the landlord and the tenant simultaneously). Now I don't know about you, but to me serving two masters seems nearly impossible considering that we're all human. When two people go to court over a disagreement, the plaintiff and defendant would never agree to share a lawyer. What if the defendant agreed to pay the entire attorney's fee? No plaintiff would justify this as a reasonable cost-saving measure. So why would a tenant take advice from the landlord's listing agent (or any agent) just because it's free? But many of them do, and the results are often less than complimentary.
When a multi-unit franchisee comes to me for consulting they will often say something like, "My agent says this is a really good location" or "My agent thinks the rental rate is quite reasonable." My first response is to ask the why they refer to the agent as "my agent." Sometimes the response is, "Well the landlord has his real estate agent and I have mine." So I ask, "Well, who is paying them?" Ultimately, the landlord is still paying a commission; it is simply being split by both agents.
Franchise tenants need to know and differentiate between the two types of agents. First, there is the "inside agent," who is the one with their name on the For Lease sign. Second, there is the "outside agent," who may show you various properties. Should the outside agent secure a signed lease deal, they will split the landlord's commission with the inside agent. Landlords love this situation because they can try to control both agents' paydays.
I remember one franchisee who approached me after I spoke at the Multi-Unit Franchising Conference in Las Vegas. He told me about his franchisor's "broker referral program," where the franchisor matched up the franchisee with a broker located in his city. This gave the franchisee a false sense of security since he believed the broker was being taken care of by the franchisor. In fact, even brokers working in this manner, who are still being paid by the landlord, may try to please the landlord more than the tenant.
Let me pause right here and say that, in many opinions, people who work on commission are salespeople--they are not advisors. If you want to weigh your options and maximize your bargaining position, use a lease consultant who is receiving a fee only from you, the tenant. This is the defining point.
Recently, a client in Toronto told me about a supposed lease consultant who wanted to represent the tenant and still pick up a commission from the landlord (this, of course, is even worse). Beware of wolves in sheep's clothing.
You may have heard the term "tenant rep." This is a common handle agents take on when doing site selection for a franchise tenant. So if the agent is being paid a commission by the landlord, are they really "repping" you, the tenant? You decide.
Real estate laws state that the tenant is entitled to know if the broker is being paid a commission, and how much. All you have to do is ask. In most cases the agent's commission will be 5 to 6 percent of the base or minimum rent (not operating costs). So if you are leasing 3,000 square feet (times) $28 per square foot (times) 5 years (times) 6 percent (.06), the commission would be $25,200. If you're not inclined to take the advice of a car salesman who makes a $200 commission selling you a car, how much more guarded should you be when the commission is many thousands of dollars? In some cases, the agent's commission is a flat fee, but typically it is still being paid by the landlord.
Also, don't be afraid to take charge of the leasing process. The tenant is the customer, and any landlord should be happy that you are considering leasing space in their property. There is nothing wrong with negotiating aggressively. In leasing, franchise tenants don't get what they deserve, they get what they negotiate!
Dale Willerton is The Lease Coach and a Senior Commercial Lease Consultant who works exclusively for tenants. He is a professional speaker and author of Negotiate Your Franchise Lease or Renewal. Need help with your new lease or renewal? Contact him at 800-738-9202 or dalewillerton@theleasecoach.com.
Published: May 31st, 2011
Share this Feature
Recommended Reading:
Comments:
comments powered by

Disqus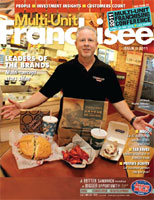 Multi-Unit Franchisee Magazine: Issue 2, 2011
Hungry Howie's is currently EXPANDING! Top Markets are available for single or multiple unit development. Get the EDGE over the competition with...
Cash Required:
$200,000
A one-of-a-kind concept with wood-fired pizza and a self-pour taproom wall serving beer, wine, and mixed cocktails. Great for the semi-absentee...
Cash Required:
$250,000