Will Outsourcing Your Real Estate Reduce Your New Store Opening Times?
Many area developers are under tight time pressure to open new units. Often, area developers will agree to growth provisions in their franchise agreements that can be unrealistic to all but the most sophisticated operators.

Franchisors will, of course, prefer to grant territorial rights to those who promise rapid growth. Once you have been awarded those rights, you may have the best intentions and plans to meet your growth requirements, but you may discover early on that it takes much longer than expected to open each store. The realization sets in early with most that they stand to breach their franchise agreement's growth requirements and find themselves struggling to catch up. Like a swimmer who panics, a lot of splashing occurs but little in the way of real movement happens.

In order to find the right growth rhythm, there are many steps in the process of getting stores open that need to occur, and the right order of events is critical. Everything from site selection to store design, from lease negotiations to local permitting, and from staff hiring to training must be carefully managed. A delay or setback in almost any of these steps will significantly push back your opening (...as anyone with enough experience can attest to!).

The result is a slowdown in the overall store opening time leading to a multitude of negative effects, but maybe most negative of all of them is the loss of potential revenues not being realized on time.

Based on our research and depending on the concept, the average length of time required to open a new franchise store by an area developer is close to 12 months, taking into consideration everything from initial planning stages to final grand opening. When you consider that most area developers (and their franchisors) today still typically "plan" on this process being under six months or less than half of the actual time required, it becomes very clear why so many growth timelines fall behind on their development promises & requirements.

Having worked with numerous area developers on their growth plans and execution, we concluded long ago that the one part of the new store opening process that creates the biggest bottleneck and loss of momentum is the real estate component. More specifically, we're referring to the process that begins immediately after the prospective site(s) have been located. Most of the time, area developers will make some attempt to outsource expertise to others in an effort to shore up their lack of experience or knowledge in real estate. In theory, this seems to be a good idea, but in practice many area developers make the wrong choice both in terms of (1) what parts of the real estate process to outsource, and (2) to whom they should/could outsource it too. The net effect of all this: they are more often than not adding time to the process as opposed to reducing store opening times.

The part of the process that we referred to that is commonly outsourced is site selection, and it is usually tasked to local real estate brokers. One of the main risks with brokers is that more often than not, they have their own agendas that rarely align with yours. They want to do big, expensive deals as quickly as possible, pay little attention to the devilish details of the deal, and are usually first directing you to locations where the landlords pay the best commissions.

The way the 'game' is usually played, many of them share your information, priorities and plans regarding a particular site with landlords that you probably wouldn't want them to. More often than not, they are the ones putting the pressure on area developers to sign bad lease deals, not the landlords. We find that area developers rely on brokers around the country for the most part simply because the area developer does not want to spend the time, effort or money in a new market poking around on his own – period.

The success of area developers who handle this part of the process extremely well and efficiently is largely due to their trendsetting mindset for achieving rapid growth: No one knows where you should be located better than you! How could anyone in the world know better than you what has and hasn't worked well for you in the past? If finding the right sites was all about finding the most expensive sites, site selection would be a no-brainer. But it's not; it's far more complicated than that. Look at some of the most successful companies today, such as Starbucks, and how they control site selection.

Sure, they might use brokers in certain markets to develop potential vacancy lists, but it's the people at Starbucks who visit each and every prospective location to rate it against the company's homegrown requirements for a successful location.

How could a real estate broker you just met, who is also working with 17 other tenant clients in every possible business imaginable, truly grasp what the right criteria is matching the best locations in your system?

The reality is that brokers don't have access to that much more information than you. We have examined this in detail and have found that a typical area developer could come up with, on his own, approximately 90% of the available sites in a particular area that the broker would find on their behalf. The remaining 10%, typically, are locations not on the market but being prepared for vacant possession in the future.

By focusing on finding the right sites yourself, you maintain control of the flow of information required to quickly establish the right 'playing field' with landlords to achieve good all around lease deals – both in terms of the rents paid, as well as the documents and terms agreed to.

Once the site is selected however, the lease negotiations and ensuing documentation can and should be outsourced, because in this particular instance, for most companies, there is a better mousetrap. If you choose to do the site selection yourself or with someone in-house, you'll probably find that you or they are pretty good at it. Your success in the area of site selection, however, may and probably won't transfer to the more complicated yet critical lease negotiation stage.

Area developers are starting to recognize that site selection and lease negotiation are two very different skill sets. Often, the area developer who does his own site selection inhouse will also want to do his own lease negotiations and documentation in-house. While this is possible, it again adds time to the entire store opening process.

Slugging it out with landlords and their attorneys to get what is needed for a multi-unit area developer is a time-consuming process. To be effective here requires a skill that needs to be developed through years of experience and an expertise that takes hundreds, if not thousands of dealings with landlords to do well. After all, they've got that kind of experience. If the people on your team don't have the proper experience, time and skill to negotiate properly, you'll end up getting bogged down in paper, costing you not only precious time, but also the possibility (and likelihood) of mistakes that may cost you dearly in the future.

The solutions available are few but important for every area developer to at least explore. Making use of a capable attorney can work provided he understands both the needs of a multi-unit tenant operator and an area developer within a franchise system. The typical attorney charges by the hour, and the costs and time to complete a lease add up quickly. It's also important to consider that most attorneys do look at things from a landlord's perspective (because that's how they're trained) and what they will consider to be a "standard" lease provision could very well be a real problem for a tenant, especially a multi-unit operator.

Another solution is to work with an individual or company that understands both multi-unit franchising well, as well as real estate, specifically, intimate knowledge of lease documentation and negotiation techniques for achieving the best terms. These types of companies provide significant value by offering you something that's probably never been done before – a way to connect your overall short and long-term strategic plans with each and every lease you sign. Constructing a tenant lease portfolio that is aligned with your overall corporate goals saves you money, headaches, and many of the long term risks of signing expensive agreements with landlords. And, if systems and processes are setup properly from the start, investing in the process early on could reduce your store opening times by as much as 40%.

Why do millions of companies continue to outsource business functions such as payroll, accounting, technology and human resources? Because ultimately, it's consistent with what management gurus have been teaching us for years. Focus on what you do best and let others contribute with what they do best. By smoothing out the real estate component of the new store opening process, you will see a sizable decline in the time it takes to open your new units, guaranteed. And this will either help you get back or stay on track with your growth requirements, and will ultimately help you build a stronger more profitable system.

Jeremy D. Behar is the president of Cirrus Tenant Lease Services, an outsourced lease negotiation and lease administration service provider to franchise companies through North America.
Published: December 7th, 2005
Share this Feature
Recommended Reading:
Comments:
comments powered by

Disqus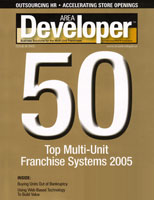 Multi-Unit Franchisee Magazine: Issue 3, 2005
When simplicity is the essence of your business model, clients and owners benefit. Clients want a predictably wonderful experience with every visit....
Cash Required:
$100,000
MassageLuXe® is a fast-growing massage franchise providing massage services to clients, primarily through multi-unit area developers & single...
Cash Required:
$100,000