Winning Combination: Pizza and Subs Fuel Growth for Jerry Heath
When we last profiled Jerry Heath in 2010, the Michigan native was busy operating 11 Hungry Howie's pizza restaurants and had recently become involved with Jimmy John's, opening 5 units. As you might expect with an entrepreneur in the franchise business, things have changed.
"I've sold two Hungry Howie's, relocated my first store, and opened one new store," says Heath. "I've also remodeled two of my older locations and will have the rest of them remodeled by the end of 2016." But it's with the Jimmy John's brand that things have really taken off for him. He's more than doubled his number of units since 2010, opening six new Jimmy John's with another scheduled to open within weeks. In all, he now operates 9 Hungry Howie's and 12 Jimmy John's (with two more set to open, one in May and one in June).
All this growth has taken his annual revenue from around $7 million in 2010 to $16 million last year.
Heath says he has been very strategic with his business plan. In 2014, he recognized he had two underperforming Hungry Howie's stores. "They were in a couple of smaller markets and were not doing well. I wanted to concentrate on the more profitable markets," he says. So he sold them.
Then came the relocation and the remodels. "It was time to renew my franchise agreement. I had to either do an extensive remodel or move one store, so I decided to move it about 1½ miles down the street to a much better location," says Heath, who made the move and opened the new store in January 2014.
A renewing franchise agreement also called for remodeling one of his locations, while another was "just looking old and tired," he says. "It was an old pizzeria when I took it over, so the layout wasn't ideal. The store shut down for a week and we did a complete remodel along with some layout changes."
On the Jimmy John's side of his business, he's added half a dozen additional locations since 2010 and is set to open in two more by mid-year. All are located in suburbs around Grand Rapids. His involvement with the brand began in 2011 when he purchased an existing Jimmy John's store. Following that, he bought an existing location that had been shuttered, remodeled it, and opened back up for business in 2012. As he continued to add stores, he also added real estate to his portfolio. "I purchased land and built brand-new freestanding drive-thru buildings in Wyoming and Walker. These are the my first locations where I am my own landlord."
When it comes to Heath's business moves, the numbers tell it all. "My Hungry Howie's average unit volume has increased by double digits each of the last 4 years," he says--and attributes that to an improved economy in Grand Rapids and a great team of area and store managers. "On the Jimmy John's side, I've doubled the number of stores and sales have been increasing every year between 5 and 10 percent," he says--and credits a great operating partner and talented GMs for those results.
Adding stores and employees and boosting the bottom line has kept Heath busy, and it's not going to stop anytime soon, he says. Following his new store openings, this summer he's due to refresh his first Jimmy John's location. "I am always looking to expand, so hopefully I will locate a few more great sites to build some new stores," he says.
Name: Jerry Heath
Title: President
Company: J & J Foods
No. of units by brand: 9 Hungry Howie's, 12 Jimmy John's Sandwiches (plus 2 in construction)
Age: 45
Family: Wife and 2 daughters
Years in franchising: 21
Years in current position: 21
Personal
First job:
I delivered The Detroit News when I was 11 years old.
Formative influences/events:
My dad refinanced his house to get the money to open our first Hungry Howie's. I would not be where I am today without his help.
Key accomplishments:
Hungry Howie's 2003 Franchisee of the Year, and Jimmy John's Top Comping Operator with 6 or more stores in 2015.
Biggest current challenge:
The unemployment rate in West Michigan is very low, so it's been a challenge finding enough quality part-time employees.
Next big goal:
To open more stores--30 restaurants is the goal.
First turning point in your career:
Growth and expansion of my business: adding to my first store and moving into a multi-unit phase, and scaling the systems and management structure for greater growth.
Best business decision:
To get involved with two of the best franchise systems.
Hardest lesson learned:
I settled for a less-than-ideal location for one of my first stores just to get it open. The sales were not there no matter what we tried, and I eventually had to shut the location down.
Work week:
I commute to Grand Rapids from the east side of the state two to three times a week and work out of my home office the remainder of the week.
Exercise/workout:
I run five to six times per week, play softball, and golf.
Best advice you ever got:
When I first decided I wanted to open a Hungry Howie's, I was speaking with Steve Jackson (president of Hungry Howie's) and his wife Sarah about doing so. They wanted me to get my college degree before they would allow me to franchise.
What's your passion in business?
I still love making pizza. A few of my store managers have been with me for almost 20 years, so it's fun to get in the stores and work a busy Friday night with them.
How do you balance life and work?
I do work a lot, but having a flexible schedule is great. I have plenty of time to spend with my family.
Guilty pleasure:
In-N-Out Burger.
Favorite book:
I don't have a favorite book, but my favorite author is John Grisham.
Favorite movie:
"Ocean's Eleven"
What do most people not know about you?
I've been a private pilot for 13 years.
Pet peeve:
The winter weather in Michigan.
What did you want to be when you grew up?
When I was 12 years old I went to work for a day with Steve Jackson at one of his Hungry Howie's and had the time of my life. From that day forward I wanted to own my own Hungry Howie's.
Last vacation:
A relaxing trip to Florida with my family.
Person I'd most like to have lunch with:
Lynsi Snyder, owner of In-N-Out Burger. I would try to talk her into making me the first franchisee.
Management
Business philosophy:
I treat my employees how I would like to be treated. I'm a pretty nice person, probably too nice sometimes. I provide a great work environment.
Management method or style:
To me it's important to create a work environment that promotes teamwork, open communication, and honesty. I like to catch people doing things right--rather than always looking at the wrong. It builds confidence within our employees and adds energy to the stores.
Greatest challenge:
Making sure I have right people in the places to grow my business.
How do others describe you?
I think most would describe me as fun, caring, generous, and loyal.
One thing I'm looking to do better:
I would like to be a better leader and less of a manager.
How I give my team room to innovate and experiment:
Being part of two quality franchise systems, there isn't much need to come up with new products. The proof is in the success of both brands.
How close are you to operations?
I'm in contact with my area managers multiple times throughout the day, discussing operational tasks as well as other critical business activities.
What are the two most important things you rely on from your franchisor?
Great products and great marketing are the keys to our success--which Hungry Howie's and Jimmy John's do very well.
What I need from vendors:
Timely delivery and quality products, and at a fair price.
Have you changed your marketing strategy in response to the economy? How?
The economy has really rebounded in Grand Rapids, so I really haven't had to do anything out of the ordinary with the marketing. Delivering a timely and well-executed product to our customers is the key.
How is social media affecting your business?
I am transitioning a lot of our print advertising to social media. It's much easier to target and connect with specific groups of customers.
How do you hire and fire?
My team tries to take their time hiring new employees. If they have a bad apple, they like to remove that person from our system as soon as possible. Hire slow. Fire fast.
How do you train and retain?
In such a fast-paced environment it's critical for our employees to be comfortable to execute successfully. We try to give our employees the tools to succeed from the beginning. Well-organized systems and processes provide our employees with a map to that success, building confidence and courage to step up into new roles. Retention is built on trust and opportunity, as well as having quality managers who lead by example. We think this reminds all that opportunity is there to grow within our company. An energized, fun work environment helps a great deal as well.
How do you deal with problem employees?
Personally, I don't have to that often. I have a great team of area managers who are great with people. They try to work with the problem employees and their store managers to resolve the issue in a professional manner.
Fastest way into my doghouse:
Lazy or dishonest team members.
Bottom Line
Annual revenue:
$16 million.
2016 goals:
$20 million.
Growth meter: How do you measure your growth?
By the number of new stores I open and average sales per unit. I am putting the finishing touches on the fourth and fifth Jimmy John's locations I've opened in the last six months, so my growth expectation is pretty high right now.
Vision meter: Where do you want to be in 5 years? 10 years?
In 5 years I would like to have 30 locations in operation, and in 10 years I would like to be living somewhere warm.
How is the economy in your region affecting you, your employees, your customers?
The economy in Grand Rapids has really rebounded in the last 4 years. We just had our busiest year ever, so I would say it's good to all of us.
How do changes in the economy affect the way you do business?
We keep doing the only thing we know how to do: deliver fast, fresh, quality products to our customers. When you deliver exceptional customer experience, people will come, no matter what the economy is doing.
How do you forecast for your business?
I project sales and profit goals at the beginning of each year based on previous sales and continued growth initiatives.
What are the best sources for capital expansion?
With our latest expansion, 33 percent of the total investment was funded on our own, with the rest borrowed from a local bank.
Experience with private equity, local banks, national banks, other institutions? Why/why not?
I have a great relationship with a local bank. Compared with all of the other methods I've used over the last 21 years, it has been the easiest.
What are you doing to take care of your employees?
I provide them with a very generous bonus system, a fun working environment, and health insurance.
How are you handling rising employee costs (payroll, minimum wage, healthcare, etc.)?
Unfortunately we've had to raise our prices to cover these costs, but our food is still a great value for the quality products our customers receive.
How do you reward/recognize top-performing employees?
We always try to promote from within our company.
What kind of exit strategy do you have in place?
I don't have plans on exiting anytime soon.
Published: May 30th, 2016
Share this Feature
Recommended Reading:
Comments:
comments powered by

Disqus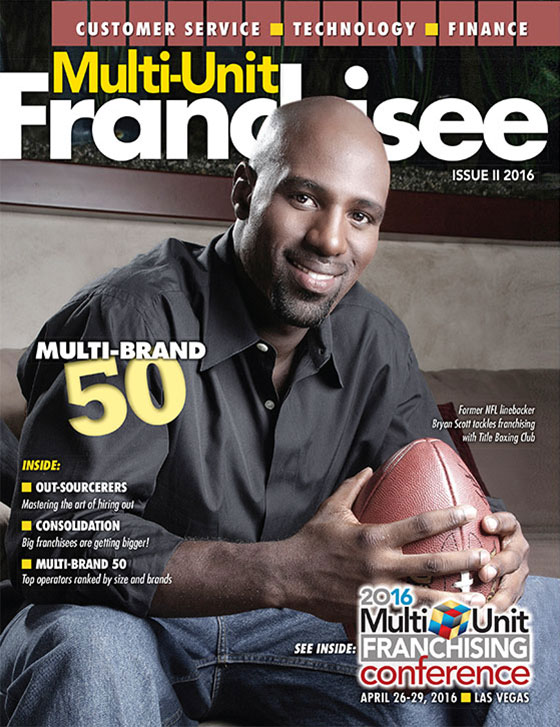 Multi-Unit Franchisee Magazine: Issue 2, 2016
Bad Ass Coffee of Hawaii brings an unforgettable brand, premium coffee products, and a proven business model to a booming coffee scene. We want...
Cash Required:
$200,000
Our first store opened in 1990 in California, growing quickly to a 5-store regional chain. PET DEPOT® started franchising locations in the USA in...
Cash Required:
$53,250