Winning Couple: Restaurant Work Just gets in Your Blood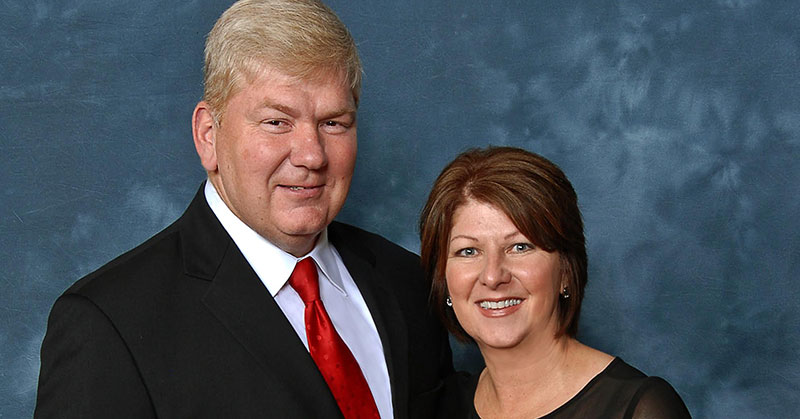 After working her way through college waiting tables, Tracy Balen told her mother at her graduation from Ohio State University, "I'll never work in another restaurant!"
Sometimes it's nice to be wrong. Balen and her husband, Alan, were named the 2015 winners of the MVP Award for Multi-Brand Leadership. The couple, who live in Michigan with their three sons, own 16 Checkers/Rally's in Michigan and Florida and four Qdobas in Montana and rack up revenues in the millions--all restaurants.
"Restaurant work just gets in your blood," says Alan, a former defensive lineman on the Ohio State Buckeyes football team under famed Coach Woody Hayes. While still in college, he hired Tracy and her friends to work in his campus bar. Today he enjoys retelling the story of how he and his young wife sold their house to help buy their first Checkers/Rally's 24 years ago.
In 2015, Alan is president of their two corporations and Tracy is director of operations and responsible for their second brand, the four successful Qdoba restaurants in Montana. "She handled everything, including construction on the Montana restaurants. We figured she spent about 160 days there last year," he says. "Nobody is better at operations than Tracy."
The couple jokes that they bought their second restaurant because they couldn't get along working in the same one. Now they joke they had to get restaurants in different states.
There's nothing magical about the Balens' success managing a multi-unit, multi-brand operation, says Alan, who credits his drive and discipline to his sports background. "We figured that if the burger business had a bad year, maybe the burrito business would be up. And we're in Florida because we have good sales in the winter and are slower in the summer. In Michigan, we get slowed down in the winter by the snow."
"Growing multiple brands makes sense to us, and we continue to look at other brands as well. I'd tell a single-brand franchisee: if you're committed to it and have the infrastructure to do it, do it," he says. "We learn a lot from each brand that helps us with the other brand. It broadens us and makes us better operators."
Name: Alan and Tracy Balen
Title: Alan: President of IB Corp. (Checkers/Rally's) and Eaglehead LLC (Qdoba); Tracy: director of operations
No. of units: 16 Checkers/Rally's, 4 Qdobas
Age: Alan 55, Tracy 53
Family: Married with 3 boys: Michael (works at corporate Checkers/Rally's), Matthew, and Ben
Years in franchising: 24
Years in current position: 24
Personal
Formative influences/events:
I had some good football coaches, including Woody Hayes, who instilled in me a lot of drive and determination to win.
Key accomplishments:
As a personal goal that went back to my childhood, I wanted to start at Ohio State in football, and was able to do that. Business-wise, I've received the Legacy Award from Checkers/Rally's, Tracy has been Operator of the Year, and we've been Franchisees of the Year. But being a member of the franchise advisory council means the most because I represent the whole franchise community.
Work week:
Seven days a week--it always has been. But I love working for myself because today I'm able to watch my son in a golf tournament. On the other hand, we've gotten the calls when the water line broke on Christmas Eve.
What are you reading?
I read a lot of books on the mental aspect of sports and a winning perspective.
Best advice you ever got:
A high school football coach said, "Once a quitter, always a quitter. After you quit the first time, it's a lot easier to do it again." I may stop doing something, but I don't quit.
What's your passion in business?
We have 20 restaurants so we don't need any more to be financially successful. We're excited now to help people around us be successful and perhaps to become franchisees on their own.
Management
Business philosophy:
Do the right thing. If you work hard and strive to do the right thing all the time, you can be successful. People who want shortcuts drive me crazy. Restaurant chains have a proven system--all you have to do is just run the system. Also, never serve anything that you wouldn't serve to your own mom and dad.
Management method or style:
I'm hands-on and would much rather be in a restaurant than in an office. Obviously I do both, but I try to get out there as much as possible. I also listen a lot to what people say, which creates a good work environment.
Greatest challenge:
Labor force. It's just hard to get quality people. The work ethic is not what it was even 10 or 15 years ago, so we have to be more creative in how we approach the younger generation.
How do others describe you?
Most say I'm no-bull, reasonable, easy to get along with, and believe in teamwork.
How do you hire and fire, train and retain?
On the hiring side, I'll interview people on upper-level positions. Training is the biggest thing that people lack. We don't just train for a couple of days and throw them into the fire. Our people go through a four- to five-week program where we work with them in our training restaurants. Then there's a two-week integration period when we bring them into one of the restaurants. Each restaurant is different, and they see the good and the bad and have the chance to talk with us about what's happening there. Since we've been doing this, our retention is phenomenal. This is a tough business, and it eases their minds to know that we're here to help and support them.
Bottom Line
Annual revenue:
$20 million.
2015 goals:
We recently lost a director of operations on the Checkers/Rally's side, so I've taken over the ops of those restaurants. We're really focusing on quality food and are aiming for a 7 percent bump in revenues.
Growth meter: How do you measure your growth?
By same-store sales. We've opened four stores in a year, so we've pulled back this year and will probably step up again next year.
Vision meter: Where do you want to be in 5 years? 10 years?
In 5 years, we want to have near 20 stores on the Checkers/Rally's side and another 6 or 7 Qdobas. By 10 years, we'll probably stop from an operations point of view and start doing things with our district managers moving in.
What are you doing to take care of your employees?
We offer cruises and other incentives and try to be flexible. The restaurant business is known to be a 50- to 60-hour week, so we help them get long weekends off because we want them to have a personal life, too. Financial rewards come as we grow.
What kind of exit strategy do you have in place?
I don't know what else I would do, although we don't want to work as much as we have been. I can't see myself ever leaving restaurants. I'm not one who sits back and fishes all day. Skiing is still my passion, but I'm slowing down some. I'm not sure if my kids will join the business. They've been around it all their lives, but they won't have a free ride. My oldest, Michael, is already working at Checkers/Rally's corporate and loves it.
2015 MVP Multi-Brand Leadership Award
Why do you think you were recognized with this award?
We were surprised and honored by the award. We complement each other. Tracy is true ops and I do more of the business end of things. We are just doing what we love and are driven to do.
How have you raised the bar in your own company?
It gets difficult because nobody ever runs things the same as you would. But it's important to give people a sense of ownership and family. I have a crew member who was an original hire in December 1991 and still works for us. We have managers who've been with us for 20-23 years. We watched their kids grow up and shared the good and bad with them.
What innovations have you created and used to build your company?
We're not trying to reinvent things. We're just ops-driven--that's the key to our success.
What core values do you think helped you win this award?
I'm competitive and love to succeed and win. Winning is also seeing the success of the people who work for us.
How important is community involvement to you and your company?
We've been very involved in our communities and give back every chance we get. I've volunteered as a high school football coach, and my wife is involved in charities. We sponsor little league teams, bands--anything that has to do with sports and kids, because we believe that's important.
What leadership qualities are important to you and your team?
Leadership means being willing to make tough decisions, go in and look at all angles, and listen.
Published: October 26th, 2015
Share this Feature
Recommended Reading:
Comments:
comments powered by

Disqus

Multi-Unit Franchisee Magazine: Issue 3, 2015
Marco's Pizza is the nation's fastest-growing pizza brand* with 1,100+ stores and counting. It is America's No. 5 pizza brand based on annual...
Cash Required:
$286,852
Build a Future with the Computer Service Industry Pioneers. NerdsToGo is paving the way as innovators, entrepreneurs, franchisees, and successful...
Cash Required:
$70,000