Winning Hearts: Keeping It Simple at Golden Corral
When David Gronewoller was asked to be part of this "Dominators" issue, the Golden Corral franchisee expressed sincere surprise. "There are a whole lot of people more deserving of this," he replied.
President of GC Partners, a Winston-Salem-based company that owns and operates 12 Golden Corral locations in North Carolina, South Carolina, and Florida, Gronewoller is an employees' employer. With more than 20 years of franchise experience, he believes "more in the man than the method" in overseeing his family-style restaurants. This people-centered formula success has spilled over into the neighborhoods his restaurants serve.
Gronewoller's commitment to the community is far-reaching: in 2013, his restaurants served and delivered 1.1 million fresh meals to senior citizens in five counties. It's also personal: when his mother was battling pancreatic cancer under home hospice care, Meals on Wheels delivered food to the family's Colorado home. His mother signed on for the service as a paid participant to ensure that her husband would eat at least one nutritious meal a day after she was gone. But when Gronewoller came to visit, he noticed his father threw out most of the delivered meals because it "looked horrible, was way overcooked, and smelled worse."
When the opportunity arose to bid to be a meal provider in his own community, Gronewoller knew he could do better. He estimates the program, which provides fresh, high-quality prepared, packaged, and delivered meals priced below the company's cost, loses $150,000 to $180,000 annually--a negative financial proposition that is winning the hearts of those it serves. Because of the reduced price, the county's senior services organization has been able to provide as many as 36,000 additional meals, reaching up to 7,200 more elderly residents each year than the previous provider had.
Gronewoller says the company's community projects aren't done for recognition. In fact, he says, he didn't even realize the impact the effort has until he delivered meals himself. The real value to the community, he ays, is the connection the volunteers make with those who open their doors.
"The biggest thing is not providing them with nutritious food, it's that somebody sees them and says 'Hi' every day. That is the important thing," he says. "They smile and they're glad to see you. You acknowledge that they are a human being. It makes you want to cry."
Gronewoller, former chair and board member of the North Carolina Restaurant & Lodging Association and 2004 recipient of its Restaurateur of the Year award, takes the same thoughtful approach in his restaurant operations. His goal is to hire the best general managers, pay them what they are worth, and let them do their jobs.
"I believe that in any successful restaurant or business, the decisions are made as close to the customer as possible," he says. "I have to have the best people, and train those individuals so they have an awful lot of autonomy. I can't work for someone looking over my shoulder telling me what to do."
His foray into the restaurant industry began like many--out of necessity. Gronewoller, whose father was an economics professor and mother a librarian, dropped out of college in Colorado at age 19, "before I got kicked out," he says. "I wasn't a bad student. I just couldn't sit in a classroom."
In need of a job, he washed dishes at a Sambo's restaurant, only to discover he actually enjoyed the ritual and liked things "spotless, organized, and in place." Soon he was working long days, jumping from his early morning dishwasher shift to the cook line to learn the restaurant business. Nine months later he was in management training and the start of a career that would ultimately--with a few address changes across the U.S.--lead him to operations within Golden Corral and his first franchise in 1993.
Today Gronewoller projects continued growth with construction for Golden Corral locations in Miami and Hialeah, Fla., scheduled for the first quarter of 2015, and he has several more deals in the works. Yet it is the lessons learned in those early years that he still keeps in mind as a multi-unit operator. "The one thing I learned from those days is the basics. Any time we would have problems came when I would fluctuate from the simple basics. If I went back to the basics, those problems went away," he says. "Don't overanalyze it. Keep it simple."
Name: David Gronewoller
Title: President & CEO
Company: GC Partners
No. of units: 12 Golden Corrals
Age: 61
Family: Wife, Donna and five children: son Brian and wife Morgan; son Keith and wife Suzanna; daughter Ashley and husband Davey; son Brendyn and wife Stephanie; son Nathan; 9 grandchildren.
Years in franchising: 21
Years in current position: 21
Personal
First job:
Dishwasher at a Sambo's in Phoenix.
Formative influences/events:
My first job. Don Bowen, the restaurant manager and partner, asked me if I wanted to learn the business or make a higher hourly wage. I chose to learn the business. He worked me at minimum wage, 18 hours a day (many not paid), 7 days a week. I learned the business from him and was in management training 9 months later!
Key accomplishments:
Putting all my children through college--with no debt. The work we do with local charities, most especially Senior Services and Meals on Wheels. In 2013, we served over 1.1 million meals to needy seniors in our community. My very first restaurant, which was part of a chain of over 700: in 21 months, we moved from one of only three restaurants losing money to the third most-profitable restaurant in the chain. Starting GC Partners in 1993. Selected as the North Carolina Restaurateur of the Year by the members of the North Carolina Restaurant & Lodging Association in 2004; and serving on the board of the most effective association of its type in the country for 18 years, including chair in 2006. Helping one of my general managers become a now very successful franchisee. Being the first franchisee to win Golden Corral's Caring Culture Award.
Biggest mistake:
Developing a fast-casual Mexican brand franchise in the Carolinas. When I go to work every day it is to operate the best damn restaurant there is in each market we serve, not improve their brand value to go public. We had several locations that we leased. We sold the leased locations, closed the restaurants we owned, and sold the properties after a few short years!
Smartest mistake:
This really wasn't a mistake, because I knew when I said it that I would get fired, but it needed to be said: The president of a company owned by IMC (Golden Corral's parent company) terminated my employment after I gave him my opinion of a decision he made. (Yes, I used some really bad words during a staff meeting that I shouldn't have.) Before I could even get out of the building, a Golden Corral exec ran me down in the hallway. He wanted to talk to me about joining GC. I said, "No." I didn't want any part of it. They continued to call, but I had no interest. A couple of weeks later James Maynard (Golden Corral's founder) made sure that I received compensation he thought I was owed, but had been told I would not get. He certainly didn't have to. Heck, I didn't think he even knew about it. As a result, I decided that this was the type of individual I was looking for in my new employment search and went back to talk with Golden Corral. This happened 30 some years ago!
Decision I wish I could do over:
Finish college. Because of that, my kids did not have a choice.
Work week:
Monday through Saturday (sometimes Sunday).
How do you spend a typical day?
Up at 5:15 a.m., coffee, check email and reports, and plan my day. I am in the office by 7 a.m. to make calls/meetings, then try to get out to the restaurants.
Favorite fun activities:
Sailing in the British Virgin Islands, hunting, and Beach Week with all my family--five great kids with three wonderful daughters and sons-in-law and nine grandkids (for now).
Exercise/workout:
Let me get back to you on that!
Favorite tech toys:
Not sure I have many. iPhone, iPad, I guess.
What are you reading?:
George Washington's Secret Six. I just finished I Am Malala.
Do you have a favorite quote?
"I want to be all used up when I die." (George Bernard Shaw)
Best advice you ever got:
Don't ever, ever, ever give up!
What gets you out of bed in the morning?
People who rely on me.
What's your passion in business?
To make a positive difference in the lives of my employees and customers every day.
How do you balance life and work?
I'm not sure I do. By nature I want things (everything) done right--accurate, timely, efficient, and effective. If there is something not fitting into those parameters--work or personal--it's on my mind.
Last vacation:
A private sailing charter in the BVI with our last two graduates and new daughter-in-law in May; a week in Argentina hunting with a couple of great friends in June; then Beach Week with all our family in August.
Person I'd most like to have lunch with:
Pastor Philip McLain, the man I most wish I could be like; and Ronald Reagan if he were alive.
Management
Business philosophy:
Do the right thing well, giving thanks to God for the opportunities given to us!
Management method or style:
Very simply put, we want the right decisions made at the right time, at the closest level to our customer. So we hire only the best, most talented managers, clearly communicate expectations, and let them manage!
Greatest challenge:
Challenging my people at a higher level every year. Our shortest-term general manager has been with us for over 10 years, I believe.
How do others describe you?
Diligent.
One thing I'm looking to do better:
Spend less time behind my desk and more time with my family and in the restaurants.
How I give my team room to innovate and experiment:
As in any business, especially a franchise, there is a foundation we must operate within. So inside that I'm open for anything that will make our business grow and operate better. Our people are very good at that!
How close are you to operations?
Very close.
What are the two most important things you rely on from your franchisor?
Protect and execute the brand successfully and use the experience in its franchise community to do this.
What I need from vendors:
A partnership. We need each other to stay in and grow our businesses. When we work together, improving product, efficiencies, expectations, and quality, we can do that far more profitably. In line with this, we continue to shop the market to keep everyone honest.
Have you changed your marketing strategy in response to the economy?
Not really. If anything, we have increased frequency.
How is social media affecting your business?
We don't yet advertise on social media, but it is also a huge threat. An employee can do something stupid that can be photographed or recorded and go viral within minutes or hours.
How do you hire and fire?
We search out and hire experienced managers who have great talents and achieved identifiable successes. We then look carefully at them to make sure they are not only right for us, but that we are right for them (a great fit). When someone doesn't work out we consider that it is as much our fault as theirs, and most of the time we have another job lined up for them so they and their family don't suffer financially.
How do you train and retain?
Golden Corral has a great training program for all levels that shows the mechanics of managing a Golden Corral. And by hiring successful, talented managers. They each add to our culture positively. We strive to be the preferred employer in every market we serve.
How do you deal with problem employees?
Communicate the problem with them, outline a strategy, and establish the expectation and time frame. If substantial improvement isn't made we help them find another employer with whom they can be successful.
Fastest way into my doghouse:
Don't perform what is expected of you.
Bottom Line
Annual revenue:
More than $40 million.

2014 goals:
Reverse the current trend driven by economic conditions and high commodity prices. Get two new Miami locations under construction and open.

Growth meter: How do you measure your growth?
Did we expand our share of the market in the markets we operate in?

Vision meter: Where do you want to be in 5 years? 10 years?
Retired, spending time with my kids and grandkids, sailing and hunting. And being on the board and a landlord for this business!

How is the current economy affecting you, your employees, and your customers?
It has hurt everybody. The "dining out" incidence in the country has declined significantly, as most have less to spend and those who don't are more careful where their money is spent. All are spending more at the grocery store and in the gas tank, thus they have less to eat out with.

Are you experiencing economic growth in your market?
This year and last year the answer is no. I do expect economic growth in 2015 and going forward.

What did you change or do differently during the economic downturn that you are continuing to do?
The same things we do every day, just much more intensely and thoroughly. We revisited every P&L line item and contract; met with each vendor to improve efficiencies; and eliminated waste, regardless of how small, to reduce costs and improve the value our customers expect from us. This continues every day.

How do you forecast for your business?
That is my CFO's job, though I am very involved. We try not to over-analyze things and to set realistic expectations, which has been difficult the past few years.

Is capital getting easier to access? Why/why not?
Yes, I believe it is easier, as long as you have good credit and a solid operation. Lenders seem to have tightened down whom they will lend to, so for those with good credit and a solid business plan, money is available and interest rates low.

Where do you find capital for expansion?
We get calls and emails nearly every day from lenders. Golden Corral Corp. has excellent contacts and is very helpful. We closed about $20 million with GE Franchise Finance in late 2010, consolidating our restaurant property mortgages into one note with a great interest rate (at the time). They were great to work with--and man, was it fun watching them plow through the paperwork. An impressive team!

Have you used private equity, local banks, national banks, other institutions? Why/why not?
Never used private equity. Up into 2010, we used local banks, who are great to deal with. We shopped for the best rate and terms and the local bankers gave them to us. In 2010, GE had the best rate and terms to fit our needs.

What are you doing to take care of your employees? Give them everything I possibly can to succeed in operating their restaurant successfully. The financial rewards follow.

How are you handling rising employee costs (payroll, healthcare, etc.)?
At all levels, we are expecting more. We have significantly reduced the number of "key"

part-time employees. Those who do not perform have a very short life in our business.

How do you reward/recognize top-performing employees?
In lots of ways, the most important is their compensation. Compensation enhances not only their life, but their family and community as well. We communicate regularly, and everyone knows when one has done an extraordinary thing.

What kind of exit strategy do you have in place?
This is a moving target, considering the economy. My ultimate desire would be to sell the operating entity to the key staff who made it successful and be their landlord.

Published: December 17th, 2014
Share this Feature
Recommended Reading:
Comments:
comments powered by

Disqus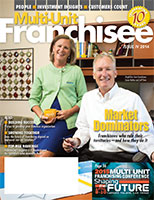 Multi-Unit Franchisee Magazine: Issue 4, 2014
At Nautical Bowls, we combine healthy, fresh superfood bowls with an uplifting atmosphere, giving you energy to life a full life! Our goal is to...
Cash Required:
$100,000
It's time for a fresh start. Join Kona Ice today! We're a low-investment, fast-growing business with over 1,500 franchises in the last 12 years. And...
Cash Required:
$20,000