Work in Progress: Change Comes Early And Often For This Mega-Owner
With 324 Subways in Oklahoma and Kansas, Don Rottinghaus knows his brand and his market. Must be time for something new.

"I work those areas constantly," he says. He has to. Over the past 20 years, the multi-unit franchisee has built a huge chain of Subway locations in the region. And now he's taking on a new challenge, bringing a taste of Southern California sunshine to the Midwest. Over the next 5 years, Rottinghaus will develop 12 new LA Sunset Tan locations in Oklahoma and 25 in Kansas.

"A friend of mine got me interested in it," says Rottinghaus. "He went to a franchise trade show, thought it was a solid concept, and talked me into going out and looking at it. What really got me into it was the quality and experience of the management team."

When he's done, Rottinghaus plans to run some of the locations himself, but he also will hunt high and low for the right people to open most of the new parlors.

"It crosses over well with some of the properties I own," says the veteran franchisee. "And it's a perfect time for the tanning industry to consolidate. The way these guys go about the real estate side of the business is innovative and creative, and the stores are fantastic."

Rottinghaus is also a good fit for the successful franchisor. His knowledge of the market coupled with his operating experience will help him find the right people to make it go. Besides, he's always looking for a new challenge, a new way to grow his business. "I believe that change is a constant," he says.

Challenge and change came early and easily to Rottinghaus. Fresh out of college, he was up and running with several dozen Subway locations before he realized that he had no corporate office to track the numbers and manage a business that size. Luckily, he did have the available cash flow to swiftly staff a headquarters office. After a period retrenching and refocusing on the management structure, Rottinghaus was back on the road making deals and adding new locations.

Despite all he's accomplished, one of his biggest problems these days is finding a lender willing to finance his growth plans. But it helps that his Subways specialize in meals toward the bottom of the fast food price chain. During down economic cycles, his units still trend upward as people look to stretch their fast food dollar.

It's still all a work in progress for Rottinghaus. Today, with nearly 4,500 employees in his organization, getting everyone to buy into his way of doing business is a big challenge. He makes it happen, though. And every day he makes time to go into one of his Subways to see how the staff is operating. After all, a man has to eat.

Name: Don Rottinghaus
Title: Co-owner
Company: Rottinghaus Co.
No. of units (by brand): 324 Subways; just named area developer for LA Sunset Tan in Oklahoma and Kansas
PERSONAL
Age: 46
Family: Four kids: Kirsten, Baili, Austin, Cooper

Years in current position: 20
Years in franchising: 20

Key accomplishments: We've been effective identifying and developing outstanding management people. I believe that change is constant. Growth demands better and more efficient ways of doing things. Good management must identify necessary changes and execute necessary improvements.

Biggest mistake: Probably growing too fast early on. We had to totally retrench. We started out with no restaurant experience, no franchise experience, no management experience, relatively fresh out of college. We didn't understand back office, accounting.

Smartest mistake: Exactly the same as the biggest mistake. Luckily enough at 50 restaurants we had the economies of scale to make it all work. Because we got to that critical mass we had the revenue we needed to hire the accountants and other people we needed.

How do you spend a day, typically? That's different from day to day. A lot of my day involves real estate stuff, acquiring sites. I spend most of it in a car. I live in Kansas City.

Work week: A normal work week would include, but not be limited to, advertising meetings and team meetings. I also spend a lot of time evaluating sites for new locations and relocations.

Favorite fun activities: Going to a lot of sporting events and concerts. Seeing the Kansas City Royals and Chiefs and going to games at K State.

Exercise/workout: I work with a trainer three days a week.

Favorite stuff/tech toys: I don't really have any. I just do enough to survive.

What are you reading? I don't.

Do you have a favorite quote or advice you give? Attitude is contagious.

Best advice you ever got: Protect your margin. Don't panic and cut prices if sales go down. Destroying your margins will put you out of business that much quicker.

Formative influences/events: A professor of mine, Dr. Norton, was a mentor to me. He taught me to be competitive and don't give up. Always take that next step.

How do you balance life and work? I'm not good at it but I keep trying.
MANAGEMENT
Business philosophy: It's all about working together. No one can do it alone. I know that's a cliché, but it's true.

Would you say you are in the franchising, real estate, or customer service business? We're in the franchise fast food business.

What gets you out of bed in the morning? I love making deals.

What's your passion in business? Creating new things, making deals, figuring out what will work and what won't. It's the next unknown, hitting a wall and trying to figure out how to retool to get around it. Every year or two you hit a wall. How do you take the next step?

Management method or style: I delegate.

Greatest challenge: The greatest challenge is to get everybody on the same page. It used to be I could talk to 10 people and delegate what to do. Now we have nearly 4,500 people working for us. So getting everybody on the same page and getting everybody to feel like part of a team is a challenge.

How close are you to operations? Fairly close. I don't get to every store, but I can walk into a restaurant and know what's right or wrong. I do that on a daily basis. After all, I've got to eat.

Personality: On the edge.

How do others describe you? On the edge.

How do you hire and fire? Other people do it because I'm not good at it. I'm very ADHD, very entrepreneurial and very innovative in the way I think. I'm always looking to change things, move forward, create something new. I'm good at coming up with a system but not executing it. That's too boring. So I surrounded myself with people, some who have worked for me for many years, who are good at executing. My brother Dennis is totally the reverse of me. He's an industrial engineer, into the nuts and bolts part. They do the hiring. The same for firing.

How do you train and retain? It's a difficult scenario. It's always a moving target. We have training and retraining, but we've been focused so much on growth that we haven't done enough to train people. Getting people to take ownership helps with retention. You get good people and they help retain good people. A lot of retention starts with who you hire.
BOTTOM LINE
Annual revenue: $125 million

2009 goals: A solid 10 to 15 percent growth in Subway. I want to get two to three LA Sunset Tan locations in each of the two major markets, Oklahoma City and Kansas City.

Growth meter: How do you measure your growth? Year-over-year revenue.

Vision meter: Where do you want to be in 5 years? 10 years? We've had three years of back-to-back growth with an average rate of about 30 percent. It's time to start managing what we have a lot tighter. So we're looking for a 10 to 15 percent cumulative growth rate.

How is this economic cycle affecting you, your employees, and your customers? Because of the price niche our business is in, we tend to run the reverse of the major economic cycles. Year-over-year sales growth will run 14 percent for the year, so we're having a very, very good year. You hear about more and more people getting pinched financially, and more employees are getting second jobs.. The other thing I'm seeing is that I can't go anywhere without finding a great location. I've never seen such good quality real estate. And that doesn't matter where I go.

What are you doing differently in this economy? Money is almost inaccessible. We can still get it, but it's a lot of work. We've just tightened up as a country. Money was way, way too easy to get. You could get money for smiling a year ago. Now they want your first born.

Where do you find capital for expansion? Banks, primarily.
Published: April 20th, 2009
Share this Feature
Recommended Reading:
Comments:
comments powered by

Disqus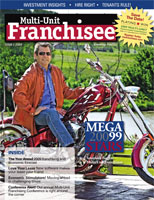 Multi-Unit Franchisee Magazine: Issue 1, 2009
Pizza Factory houses hardworking owners, family-friendly dining and high-quality products. Restaurant design options include a Pizza Factory Express...
Cash Required:
$90,000
The door to the future is through technology. Each iCode Computer School for Kids franchise teaches children to create technology—not just play...
Cash Required:
$100,000