Worldwide Marketing: Global Consumer Marketing Trends in 9 Countries
Consumer marketing around the world is both the same and different from country to country. Adapting to the differences is critical in marketing a brand successfully overseas. To help sort out the similarities and differences in global consumer marketing, we asked leading franchise specialists in countries with a high level of franchising activity to tell us what they're seeing with respect to PR, social media, and local marketing.
China. Although there is no Facebook or Twitter allowed, Chinese consumers have local social media tools with similar functions and service quality. China has two dominant social media operators: Sina Weibo and Tencent's WeChat. Advertisements have been drastically reduced in traditional print media. Brand broadcasting in social media is widely adopted by brand owners, especially by PR through accounts of well-known people or celebrities. Most brand owners very much value the importance of social media marketing by setting up their own official accounts in both services. In 2015 there were 697 million users of WeChat and more than 500 million users of Weibo. --James Liu, Managing Director, FranChina
India. India is a multifaceted market with a huge population (1.3 billion) and large geographical area. Today's young Indian customers are educated, smart, equipped with technology, and well informed through various media channels. Consumer marketing in India is driven largely by the growth of smartphones. India, already the world's second-largest smartphone market, expects the number of smartphones to grow strongly to more than 650 million by 2019. Increasing emphasis is being laid on social and mobile marketing such as text messages and social networking sites such as YouTube, Facebook, Twitter, blogs, and paid online advertisements like Google Ads. These platforms not only disseminate information, they also enable customers to discuss issues, likes and dislikes, and make recommendations. --Rajeev Manchanda, Managing Director, Inventure India, New Delhi
Japan. Even in what was once considered a conservative country, Japanese consumer behavior has totally changed over the past 10 years, characterized by the increase in online shopping and the use of social media. Online shopping continues to increase, with annual growth of 15.9 percent and is now above US$110 billion a year. Most young consumers order tickets for sports events, concerts, and movies with their smartphone and tablet. Japanese consumers continue to enjoy conventional window shopping as a way of confirming quality and tastes; then they actually order the products online. The Japanese consumer decides which franchised restaurants they will go to through their analysis of brand reputation by social media. In a few years, more than 25 percent of the Japanese population will be over 65. These seniors will prefer online shopping and will use social media to determine brand reputations. --Ichiro "Roy" Fujita, President and CEO, I. Fujita International, Torrance, Calif.
Mexico. Public relations plays an important role in creating opinion leaders and building the reputation of thousands of companies and organizations by virtue of the close relationship PR professionals have with public media outlets and the people they reach. PR today has a role in transmitting products, services, events, and activities not only for companies and organizations, but also for people and individuals with certain standing in society, politics, or economic circles and has transformed into a mainstream source of information. --Roberto Litwak, COO, Feher & Feher, Mexico City and Sherman Oaks, Calif.
New Zealand. Social media is all-important. While there is still advertising in newspapers, magazines, and Yellow Pages, social media is taking over with LinkedIn, Twitter, Facebook, and Instagram becoming large marketing platforms. Sixty percent of the population is on Facebook, so consumers with Facebook accounts see banners that relate to pages they may like and items that they may typically search for on the Internet. Advertisers often place their ads on Google, which allows advertisers to target specific audiences through the use of categories, keywords, and content. --Stewart Germann, Partner, Stewart Germann Law Office, Auckland
Peru. Peruvians are early adopters and have embraced social media and mobile applications at a fast pace. Facebook is the tool of choice by far. There are 16.6 million Facebook users in Peru (50 percent of the population). Marketing strategies closely follow U.S. practices. Retail business is very similar to the U.S. model. Peruvian Millennial consumer patterns and preferences are identical?to those of their U.S. counterparts making Internet-researched purchasing decisions, with increasing ecological and health consciousness and strong lifestyle preferences. As a sign of the times, a major bank that owns foreign restaurant franchises frequently contacts their bank clients through email with special offers for their food franchises. --Jose Rivera-Santander, Owner, Santander Alliances & Partnerships, Los Angeles
Turkey. The growth in the Turkish economy within the past decade attracted more players into the market in almost all sectors, triggering a more competitive business climate. As competition has become more intense, companies that want to differentiate their products and services evolved in terms of consumer marketing. The young population of Turkey adopted the usage of social media to become the country with the 7th-highest number of Facebook users. Considering the many options and continuously developing technology, consumer marketing through social media has created a completely new level of marketing medium that is expanding not only in size but also in creativity with each passing year. --Enver Celikbas, COO at Kale & Co., Istanbul
United Kingdom. Traditional marketing is still very strong in the U.K. Despite the move away from printed media, if you go into any newsagent (newsstand), the shelves are filled with glossy magazines that cater to every imaginable interest, from personal health to knitting. There is a seemingly inexorable move to promotions designed specifically for mobile devices and the growing role of bloggers who can influence buyer behavior. We see the growing use of video and image-based content?and more effective use of data to allow relevant targeting of specific consumer categories. Finally there is the growth of reactive marketing where pizza companies will send special offers to people who are in the vicinity of one of their (or even their competitors') outlets. --Iain Martin, Managing Director, The International Franchising Centre, U.K.
Vietnam. More than half of the 91 million people in Vietnam are on the Internet, with more than 136 million mobile connections. The Vietnamese make extensive use of Facebook, LinkedIn, and Google+ with more than 30 million subscribers. Vietnam's communist government, which once blocked Facebook, now has its own page to reach young Internet-savvy users who turn to it for news. Retailers must be especially competent in shaping consumer marketing initiatives that evolve around the mobile devices and the social media platforms that Vietnamese consumers continually depend on as their main platform for information, news, e-commerce, entertainment, and even in areas such as food delivery services. --Sean Ngo, CEO, VF Franchise Consulting, Ho Chi Minh City
Conclusion
Even as consumer marketing through mobile marketing is the growing trend in rapidly developing countries, traditional marketing avenues such as PR and print ads still have a place in many countries. The key is knowing what works best for each.
William Edwards, CEO of EGS LLC, has 40 years of international business experience. He has lived in 7 countries, worked on projects in more than 60, and has advised more than 50 U.S. companies on international development. Contact him at 949-375-1896, bedwards@egs-intl.com, or read his blog at edwardsglobal.com/blog
Published: September 22nd, 2016
Share this Feature
Recommended Reading:
Comments:
comments powered by

Disqus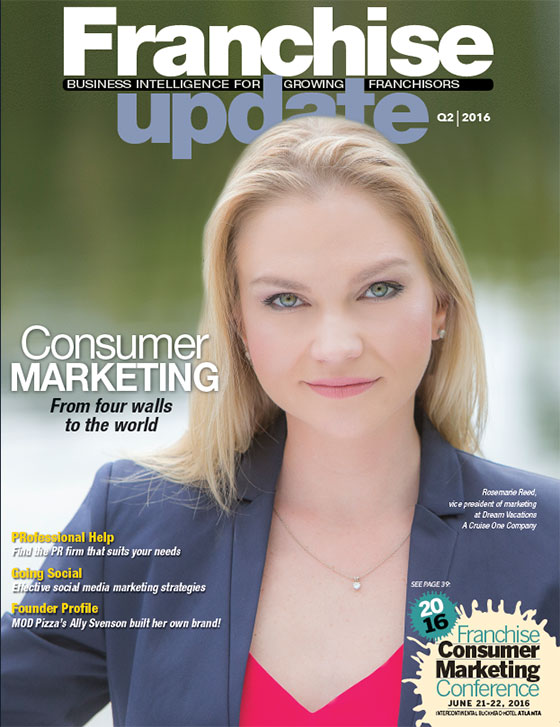 Franchise Update Magazine: Issue 2, 2016
April 25 - April 28, 2023, Caesars Forum, LV. The Multi-Unit Franchising Conference is the premier annual event for the country's leading...
UMI has over 23 years of experience supporting fast-growing multi-unit brands. From strategic planning to design, execution to analysis, UMI...