Youth Movement
Red Mango's youngest (and largest) franchisee is a brand ambassador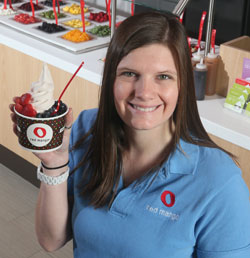 In less than three years' time, franchisee Samantha Goldsmith opened a whopping 10 Red Mango locations on her native Long Island.
That's quite an accomplishment, even for a veteran franchisee, but Goldsmith is a bit of a prodigy since the 25-year-old woman has only been in the business for three years. She is currently the healthy yogurt system's youngest franchisee and largest multi-unit owner, and has made Long Island the single largest market for the brand.
That list of accomplishments, punched up by multiple Facebook, Twitter, and Foursquare accounts, is the reason why Goldsmith is something of a rock star at her store grand openings and the recipient of Multi-Unit Franchisee magazine's Influencer Award. "It's great when young people come to the manager and ask if I'm there because they want to talk to me about being successful in business," she says.
Born on Long Island, Goldsmith spent her childhood on father Harvey's heels. "I've wanted to be like my dad since I was five years old. He had an inventory business - he rented out scanners to companies to use when taking inventory. I'd sit in the back of his office, making boxes and watching him do business," she recalls.
At 16, she started work at Bed, Bath & Beyond, where she was promoted twice in less than four years. "I liked managing and being part of a team," she recalls. But she "couldn't see" spending four years in college when she already knew what she wanted to do.
When she and her father came across the Red Mango franchise at a franchise expo, she liked the "delicious and healthy" products the stores offered. She approached the franchisor with confidence - they didn't seem "taken aback by her age," she says - and opened her first unit early in the chain's national development. "Red Mango appealed to me because I'm health conscious like most people between 24 and 50. We're all concerned about calories, fat free, and gluten free. I thought our products would be popular and the stores would thrive right now," she says.
Her instincts were correct, and Goldsmith has kept a rapid pace, opening her other nine stores in less than three years. Her husband, Tim Gatto, is COO, and the pair closely mentor their 10 store managers.
Red Mango founder Dan Kim has described Goldsmith as an "inspiration." But her father is her biggest fan. "He tells me how proud he is all the time," Goldsmith says.
Name: Samantha Goldsmith
Title: Founder
Company: Goldsmith Companies, North Babylon, NY
No. of units by brand: Red Mango, 10 (all on Long Island, NY)
Age: 25
Family: Husband Tim Gatto, company operations manager, and three stepchildren
Years in franchising: 3
Years in current position: 3
Personal
Formative influences/events:
My dad had his own company for 42 years. As I grew up, I watched the way he built it from the ground up. I wanted to be like my dad and have my own business.
Key accomplishments:
I'm most proud that I was able to get 10 stores off the ground in a short period of time and that I'm able to run them without issues.
Decision I wish I could do over:
Nothing.
How do you spend a typical work week?
I'm in the office early and I'm constantly in the stores or visiting other franchisees' stores. My life is Red Mango 24/7.
Favorite fun activities:
I have three stepchildren whom I dearly love, so my husband and I enjoy spending family time with them every other weekend and a couple of days during the week. They go to Mangos with me and we play in the park.
What are you reading?
I read all of James Patterson's books.
Best advice you ever got:
My dad told me to think everything through. He said, 'don't be impulsive when it comes to business and the bottom line. Think of all the possibilities and outcomes and make your decisions based on that.'
What's your passion in business?
Being successful - I strive to be the best I can be. I want my stores to be as profitable as they can be and I want people to see how clean and well-run the stores are.
How do you balance life and work?
It's difficult, especially since bringing my fiancé (now husband) onboard as COO. When you work together, regular conversation can easily turn into work conversation. We've had to say, let's leave the office at the office and interact at home as if we worked in different places.
Last vacation:
Hawaiian honeymoon in May.
Management
Business philosophy/management style:
My management style is to try to give as much information as I can give my team so they can do their best job. I'm open and I encourage people to feel free to bring ideas to me or to discuss anything they like. Most of my managers are in their 20s, so we're the same age, which helps. My biggest issue is respect. I'm the boss and I expect them to respect that, just as I respect them.
Greatest challenge:
I used to travel all the time, but my biggest challenge now is walking away from work for a while to do family-related things.
How I give my team room to innovate and experiment:
We have group meetings - the 10 managers, myself, and operations manager. We bounce ideas off each other. Some are good and some are not for us, but everybody has a chance to discuss things.
How close are you to operations?
Pretty close. I work hand-in-hand with Tim on daily operations. Since I have him onboard, I can now walk away from certain parts of it.
What do you rely on/expect from your franchisor?
Advice mostly. I can call Red Mango and ask anything I want. They support us with great products and we have open communications.
What do you need from vendors?
We may have special issues on store openings and need to ask for special deliveries, and they've been very accommodating about that.
How is social media affecting your business?
Social media is striking positively for us. At a grand opening last weekend (May 2013), a lot of young people wanted to talk to me and pick my brain, because they view me as young and successful. They've read about Red Mango and me since we have 10 Facebook accounts, 10 Twitter accounts, and 10 Foursquare accounts.
How do you hire and fire?
We check resumes on craigslist and other hiring sites. The GM does the interviewing, and if he or she feels a candidate is hire-worthy, the operations manager interviews him. We try not to fire anyone. I wrote the Goldsmith Manual, and everybody we hire knows if they violate anything in the manual, they're subject to termination.
Fastest way into my doghouse:
By disrespecting me - I don't like lying or disrespect.
Bottom Line
Annual revenue:
Can't tell at this point.
2013 goals:
Right now, I'm steady where I am. I want to get my 10 stores perfect before I continue to open stores.
Growth meter: How do you measure your growth?
We measure based on customer percentages, social media responses, and customer feedback.
Vision meter: Where do you want to be in 5 years? 10 years?
I want to continue to be successful, whether I stay with Red Mango and work through 20-year leases or add another concept, too. I want to stay busy and involved.
Are you experiencing economic growth and recovery in your market?
It's a bit challenging, but I'd say yes.
How do you forecast for your business?
We follow trends, use innovative products, and thrive as a chain off our new ideas.
Where do you find capital for growth/expansion?
Smith Barney Mortgage.
What are you doing to take care of your employees?
We have a good work environment and we run lots of programs. We offer health insurance to full-time employees and have award programs. We also have an open door policy - because I'm on the younger side, I understand where they're coming from when it comes to supporting their moms or paying college tuition.
How are you handling rising employee costs (payroll, healthcare, etc.)?
The best I can.
How do you reward or recognize top-performing employees?
We have an Employee of the Month award at each store, and the winner gets a gift card to the store of his or her choice. I generally promote from within, so if I see someone supervisor-worthy or manager-worthy, we give them the opportunity. A couple of my managers started as $7.50 per hour employees and they now run full stores. They've earned what they have.
2013 MVP Questions
Why do you think you were recognized for the Influencer award?
Well, opening and operating 10 stores is not easy. I'm young - I started with Red Mango when I was 21 - but I have a good head on my shoulders and I know what to do and have passion for what I do.
As a multi-unit franchisee, how have you raised the bar within your own company?
I have high expectations, and I reward employees with incentives to push sales and percentages up and to be the best they can be.
Give an example of innovations you have created and used to build your company.
Of course, we follow the system, but at Red Mango, we have input on flavors or products. We try them all before we sell them, check out the taste, feel, texture.
What core values do you have that you feel led you to winning the MVP Award?
I have a tremendous work ethic. I'm honest, communicative, and determined to be successful.
Explain the role of community involvement to you and your company.
We do lot of fundraisers. My stepson has Down syndrome, so we've given percentages of sales from blocks of hours to the organizations that benefit children with Down syndrome. We're quick to donate to raffles and baskets for people. Whatever is a big need in the community, we care about.
What are the important leadership qualities to you and to the members of your team?
Honesty and determination.
Published: October 16th, 2013
Share this Feature
Recommended Reading:
Comments:
comments powered by

Disqus

Multi-Unit Franchisee Magazine: Issue 3, 2013
Basecamp Fitness is empowering entrepreneurs to build an innovative fitness franchise in their markets while helping create happier, healthier...
Cash Required:
$250,000
With many attractive development territories available for multi-unit growth, there has never been a better time to become a Penn Station franchisee.
Cash Required:
$300,000