Zane Tankel builds Apple-Metro in New York with care and absolute integrity
"It's personalities that makeany business," says ZaneTankel, and he shouldknow. He's owned a number ofthem, starting withcommercial printing. Now he'schairman and chief executiveofficer of Apple-Metro, Inc.,the sole franchisor in the NewYork metropolitan area ofApplebee's and Chevys.

In between, he has been investor andoperator of various public relations, security,consulting, and real estate companies, and aradio station. He has started and sold at least ahalf a dozen different businesses. He's also anavid outdoorsman who has stood on both theNorth and South poles, and was a part of the1984 Canadian Everest Light Expedition. He isan avid cyclist, martial artist, swimmer, andweight trainer.

But he loves the restaurant business. He gotinto it with a few celebrities—Regis Philbin andMikhail Baryshnikov among them—withColumbus and Cameos in New York City.

"I like people, and the interfacing andchallenges of the restaurant business," he says.So when a partner proposed taking on multiplefranchises, he took at the opportunity "to getinto it with both feet"—but not without somecareful investigation first.

"I visited a number of Applebee's," saysTankel, "and I just thought this was a conceptwhose time had come. Forget fine dining or fastfood—just watch peoples' faces."

But he found something strange. In general,he says, "the more you appeal to everybody, themore you appeal to nobody." But the Applebee'srestaurants he visited "were appealing toeverybody—I couldn't identify the market. If youhave a key that can open that door—wow! That'swhat I saw in the early-on stage of Applebee's. If Icould get on board at the early stage, I thought itwould satisfy a whole lot of needs."

So Apple-Metro, Inc. was born in 1994."We just started with one in Staten Island, andwe thought that maybe we could build a secondone, and it just evolved."

That's putting it mildly. Apple-Metro'scurrent portfolio includes 25 Applebee's,three Chevys, and two of the company's ownZanaro's Italian restaurants. The companygot into Zanaro's because it had a site with alarge Applebee's and wanted an Italianconcept to pair with it.

"After six months of looking at concepts,there was nothing we could see that was reallymagical," Zankel says. "We had had goodtraining on replicating a concept withApplebee's and Chevys. But we had to come upwith a concept and a name, and we startedexperimenting with sauces, baking our ownbreads. After a year of tweaking, we thought wehad it, though we are still evolving."

Now he's thinking about franchisingZanaro's in six months to a year.

Like a lot of successful CEOs, Tankel says,"It's all about the people." But he has a differenttake on that easily said truism. Growingrelatively quickly, especially in a market likeNew York, requires good people, and Tankelsays, "I think good people find you if you'regood people." How do you get to be known as"good people"?

"We have certain things we promote andyell from the tallest building," he says. Andhere's where the surprise comes in: "Ethics arenon-negotiable, and morality is nonnegotiable,"he says. "Truth is at a premium inthis industry, and telling the truth is ourmantra. Good people want to work for acompany like that."

The word gets out through the way you act:"First you've got to start with morality andintegrity. If a guy lies to his people he doesn'twork for us, no matter how much money hebrings to the bottom line. I just interviewed aguy this morning who said he came to usbecause he heard we were like that."

That foundation, he says, goes back to theway he was brought up, and as a result, "I haveno tolerance for dishonesty. It has to be said atthe top. If we're able to be flexible in that areaand say we'll let it go this time—no, you can't.We found one guy misrepresenting the truth tohis people, and although he was verysuccessful, we just dismissed him. It made areal hole in our management ranks, buteverybody knows why he was let go eventhough he was a performer."

The truth is, he says, that lying doesn't payin the long run: "You don't have time to liebecause, owning multiple units, you don't havetime to remember what you said before. Thetruth comes out the same way every time."

There's more to it than that, of course, butthe foundation has stood the company well, hesays. "We have over a hundred managers and acouple thousand employees. First, you have topay a fair wage. After that, it's whatever else youcan do to retain good employees." Thecompany is planning a five-day cruise for allmanagers and their families to Bermuda. This isnot, he stresses, a sales or general managementmeeting. "It's totally a perk."

His philanthropy is planned carefully. "I'mnot a philanthropist who goes around reachingout all the time," Tankel says. But the chance towork on Bridging the Rift, a project to build ascience research center on the desert border ofJordan and Israel, appealed to him. The projectseeks to use education and economicdevelopment in desert agriculture as thebinding elements to help ensure the stability ofpeace between Jordan and Israel.

"It's an opportunity to be helpful and giveback—not often in life do we have theopportunity on a large scale. We've been verylow key, working on it for 7 years, and only lastyear we've gone public. We didn't wantsomeone to put a stop to it."

Tankel thinks ahead, and admires carefulgrowth and perseverance. "We've all seen in thisindustry how fast growth can lose," he says. It'slike the time he climbed Everest at age 44: "Itwas an ordeal, showing a strong mind toovercome the weaknesses of my body."

"Perseverance."
Published: December 21st, 2005
Share this Feature
Recommended Reading:
Comments:
comments powered by

Disqus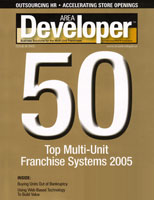 Multi-Unit Franchisee Magazine: Issue 3, 2005
Vitality Bowls specializes in acai bowls, smoothies, juices, salads, grain bowls, wraps, toast & panini, made with unique superfoods like pitaya,...
Pizza Factory houses hardworking owners, family-friendly dining and high-quality products. Restaurant design options include a Pizza Factory Express...
Cash Required:
$90,000