2018 MVP Winners: These Multi-Unit Franchisees Show the Way
Selecting the winners for our annual Most Valuable Performer (MVP) Awards means analyzing applications submitted on behalf of some of the best multi-unit franchisees in the business. This year we selected 9 winners, who were recognized on stage at the 2018 Multi-Unit Franchising Conference in April at Caesars Palace in Las Vegas.
To qualify, multi-unit franchisees must have at least five operating units and have been in a franchise system for at least two years. This year's recipients demonstrated outstanding performance in growing both their organizations and their brands.
Congratulations to this year's Most Valuable Performer Award winners, who exemplify the best of what franchising has to offer.
Pro Athlete Influencer Award
Angelo Crowell, a 12-unit Jersey Mike's franchisee and former NFL linebacker, credits a heart-to-heart talk with his big brother for his fast start in franchising. He was drafted by the Buffalo Bills in 2003, just as his brother Germane was retiring from football after 5 seasons. The talk was a game-changer for the younger Crowell. "That conversation started my thought process on what my next step would be when the game ended."
American Dream Award
Shahin Urias learned early in life that giving up was not an option. Urias, who grew up in survival mode during a tumultuous era in Iran, later protected her own children from harm in the war-torn country inside a mud basement turned makeshift bomb shelter, with no electricity or running water. Today, as owner of six Sport Clips salons, she was honored for achieving remarkable success in a new country.
Single Brand Leadership Award
David & Joye Griffin have always had a singularly focused mindset to succeed, dating back to their college days when they ran a car detailing business from the back of Dave's pickup. "Our intention was to be the best at whatever opportunities were before us," says Dave. Their family-owned business operates 55 Jiffy Lube stores in 3 states and continually leads the system in sales, customer count, and other key indicators.
Community Involvement Leadership Award
For Alexander C. Johnson, giving back to his community is part of his nature. This second-generation franchisee is now paying it forward, sharing his know-how and leadership skills with the next generation as they navigate their way through the food and hospitality industry. Advocacy for others is a core value for Johnson, who operates 5 Cinnabons and 5 Auntie Anne's Pretzels in the San Francisco Bay Area.
Noble Cause Award
Joe Brumit and his wife Janice are noted philanthropists whose already significant contributions to a wide range of charitable, civic, and nonprofit organizations continue to grow. "We are trying to make a difference in other people's lives," says Brumit, who operates 53 Arby's in North and South Carolina. "I don't know that a lot of people in business really concentrate on that any more. It is more about bottom line and me, me, me, versus what I can do for other people."
Influencer Award For Husband & Wife Team
Michael & Lou Ann McLaughlin. When Hurricane Harvey devastated Greater Houston in 2017, the staff and management at their Primrose Schools leapt to the aid of storm victims--without a word from the McLaughlins, who were dealing with flooding at their own home. Team members were simply following the example set by the McLaughlins, who have been business partners for nearly half of their 44 years of marriage.
Multi-Brand Growth Leadership Award
Robert Middleton has never been a status quo kind of guy. "I have always tried to improve and be the best I can," he says. "Having that mindset has created unexpected opportunities throughout my career." Middleton, who operates 4 brands with 42 restaurants in Michigan and Canada, is now gearing up for growth as part of a joint venture with Jersey Mike's to expand the brand in Canada.
Spirit Of Franchising Award
Paul Booth Jr. This Cincinnati entrepreneur is not only a second-generation McDonald's franchisee, he's also a sixth-generation minister and founder and lead pastor of Legacy Pointe Church. "I believe that the purpose of business is greater than business," says Booth, who operates ei8ght McDonald's. "We serve Big Macs, fries, and Cokes. But at the end of the day, this is very much about people who have a heart for serving others."
Mega Growth Leadership Award
Jay Pandya, founder and chairman of Philadelphia-based Rohan Group, presides over a commercial real estate, retail, and construction empire. Pandya, who immigrated to the U.S. from India at age 14 with "pockets that did not run very deep," today is the country's largest franchisee of Checkers & Rally's. A die-hard cricket fan, he is backing the launch of a professional cricket league in the U.S by 2020.
We also caught up with Greg Cutchall, chairman of next year's Multi-Unit Franchising Conference. When we profiled him in 2013, his company was doing about $55 million in annual revenue. Today he's riding along at $75 million, "mostly due to growth in Domino's, First Watch, and Jams American Grill," says the 66-year-old operator.
Looking to the future of franchising, we've profiled 29-year-old Chris Rigassio, a Jersey boy who grew up loving Jersey Mike's. Fresh out of college and just 22, he approached the brand about franchising, but was met with skepticism. Today he not only has 9 stores open, he's also director of operations for Northern New Jersey.
Finally, be sure to look into our annual Multi-Unit 50 rankings, beginning on page 53. It lists the brands with the highest number and highest percentages of multi-unit franchisees.
Published: August 2nd, 2018
Share this Feature
Recommended Reading:
Comments:
comments powered by

Disqus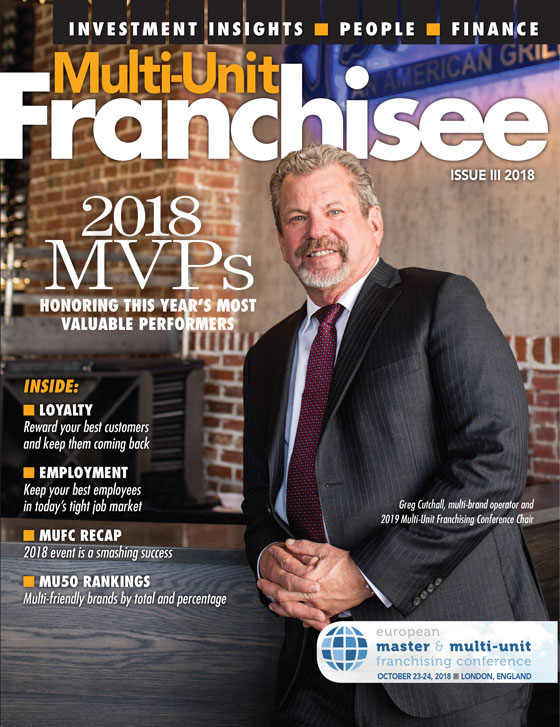 Multi-Unit Franchisee Magazine: Issue 3, 2018
Founded in 1959, Ziebart provides premium automotive appearance and protection services to extend the life of vehicles. Recently ranked #1 in its...
Cash Required:
$150,000
Einstein Bros. Bagels is the largest fast-casual bagel brand, known for its freshly-baked bagels, made-to-order hot sandwiches, signature shmears...
Cash Required:
$564,300