Franchising, the Industry of Opportunity
Spending my summers growing up working at my father's A&W Root Beer stand, I had a love for the business when I was only 10. However, by the time I graduated high school I did not consider it a career path and had been accepted into the prestigious Brooks Institute School of Photography in Santa Barbara, California, which required a year of college before attending. I enrolled at the University of Nebraska at Omaha and took an assistant manager position at a KFC to help pay for school.
I saw my father Ray Cutchall and my uncle Bob Cutchall labor for years making a modest living with their A&W Drive-Ins, putting in long hours making their business succeed. Finally they got their break when they introduced KFC to the Omaha market with a partner. It was possibly the first-ever dual concept as they sold Kentucky Fried Chicken at their respective A&W restaurants, then soon followed with 10 standalone KFCs. It was never really a family business, just a business that I had little interest in.
During my planned short stint as a KFC manager I saw a huge untapped opportunity to grow business. Catering. Yes, like all KFCs back in the '70s we accommodated Cub Scout banquets with large orders of fried chicken and coleslaw. We would use empty paper cup boxes, line them with foil, and fill them with chicken. We scraped the labels off gallon mayonnaise jars and filled them with coleslaw, made a $200 sale and never contacted the guest again.
Taking my idea to my marketing genius father, we contracted with the Omaha Box Company to build a catering box to our specs and with Wilkinson Manufacturing for aluminum pans, and introduced "The Colonel's Buffet." Great parties made simple for $3.95 a person!
I put photography school aside and with a truck, a Yellow Pages ad, a solid marketing plan, and a lot of sales calls over the next 3 years I grew catering sales from $20,000 a year to $500,000 a year (the volume of a good KFC restaurant back in those days and opened at a fraction of the cost). Sadly my father passed away a few short years later.
By that time I had decided I would stay on and follow in his footsteps. His partners wanted me to stay on board, and I had fallen in love with the business again like I did when I was 10. Later they promoted me to director of marketing and eventually vice president.
In the mid-'80s my bosses decided to retire and sell the company. I was determined to buy the company my dad co-founded years earlier. No money? No problem. On a chicken wing and a prayer I organized a leveraged buyout of the 12 Omaha locations, became president, 20 percent owner, and at 35 maybe KFC's youngest franchisee at that time.
After three very successful years and receiving Operator of the Year award from KFC, I realized I had made a bad choice of investing partners and left in 1989 to form my own company, Cutchall Management Company. Starting with a purchase of a failing Mexican restaurant in Lincoln, Nebraska, I turned it around then proceeded to open, develop, or acquire more than 100 restaurants and 17 different brands during the following 28 years. Some were brands I developed, but most were great franchise brands like Popeyes, Sonic, Domino's, and First Watch to name a few.
During many of those years the Multi-Unit Franchising Conference was always a rewarding, beneficial part of my growth. I am honored, humbled, and proud to be your 2019 conference chairman. This is truly the industry of opportunity and the MUFC is clearly the conference of opportunity!
Look forward to seeing you there next March!
Greg S. Cutchall
President, CEO
Cutchall Management Company
Published: November 1st, 2018
Share this Feature
Recommended Reading:
Comments:
comments powered by

Disqus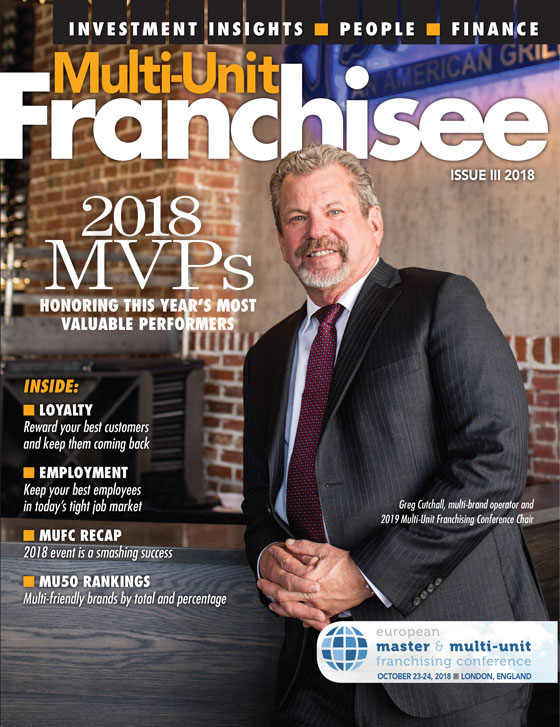 Multi-Unit Franchisee Magazine: Issue 3, 2018
With more than 230 locations operating and 350 more sold and in development, Dogtopia is the largest and fastest-growing dog daycare provider in the...
Cash Required:
$300,000
Subway has new and existing franchise opportunities available for experienced multi-unit franchisees. Build your portfolio with a globally recognized...
Cash Required:
$100,000