2022 Franchise Economic Outlook: New data sees sunnier prospects ahead
Franchises had an exceptional year in 2021. And 2022 is expected to be another year of impressive growth across every sector. The strong rebound in the U.S. economy was powered in large part by these local businesses, their millions of employees, and the entrepreneurs who lead them. As the pandemic continues to evolve, both the performance and projections for franchises in every region and across every sector suggest that owning and operating a franchise continues to be one of the savviest moves an American entrepreneur can make.
According to the IFA's newly released report, the "2022 Franchising Economic Outlook," 2021 saw an explosive rebound of franchises' economic output to nearly $788 billion, an increase of 16.3% over 2020. While it is true that part of this impressive increase was driven by franchises' renormalization after a sharp contraction in 2020, that is not the whole story, since 2021 surpassed output in 2018 by a substantial $20 billion.
With or without the pandemic, 2021 was a remarkable year of growth, as seen in every business line. The lodging sector saw the most explosive growth in output, increasing more than $30 billion from 2020 to 2021 to total nearly $83 billion. U.S. gyms, entertainment venues, beauty salons, and other businesses in the personal services sector also saw a remarkable resurgence, increasing in output by almost 38% over 2020 figures. With an exploding housing market, real estate had an impressive year as well, outgrowing its pre-pandemic output by a healthy $5 billion.
The story of this remarkable increase is the same across franchise employment and in the number of new establishments that opened in 2021. The number of employees increased by 8.8% to nearly 8.2 million, bucking the "Great Resignation" narrative to show the attraction of jobs statistically likelier to pay higher wages, provide better benefits, yield greater career advancement, and retain more employees than other independent businesses.
All this derives from the increased training and support franchisors provide their franchisees, even as employment remains the responsibility of the franchisee, and it partially explains how the U.S., coming off a pandemic, could see a 2.8% growth rate in the number of franchises established, surpassing the pre-pandemic total by more than 1,000 establishments. Last year's figures show the attraction of franchise employment at every level, from early career to owner/operator.
We expect franchising to continue to trend upward in 2022, although as the economy evolves into a new normal, the growth rate will likely slow and stabilize as well. Franchises' economic output is expected to increase by another 5% to more than $826 billion, surpassing 2019 levels. To account for this continued growth, we project franchises will add another 257,000 jobs to the U.S. economy, an increase of 3.1% over 2021.
We also predict the number of franchised establishments will increase by 2.2%, outpacing the pre-pandemic rate to add about 17,000 new locations in 2022. As in 2021, we expect the sectors with the most growth in 2022 to be personal services, with a projected 3.1% rate of expansion, and commercial and residential services, for which we forecast a 2.7% expansion rate.
Franchises' rate of growth will depend less on sector than on their location within the country. From employment to the number of establishments and their economic output, franchises across the U.S. will likely keep trending upward in 2022. However, regional differences in business climate, migration trends, and changes in consumer preferences will determine, at least in part, whether this growth rate is impressive or middling.
State of the states
A sleeping giant for the rate of growth depends on state policy choices, such as the California FAST Act. Introduced after the federal failure of the Protecting the Right to Organize (PRO) Act, it threatens to upend the franchising business model. What happens in California tends to spread to other states as well, so 2022 could bring headwinds to states across the country. As with any business decision, careful consideration of any potential challenges is necessary to avoid prematurely taking the plunge without the full context of the business' likelihood for success.
Still, it's not surprising the states that will likely see the largest overall upward trajectory for franchises are the states that reject these misguided policies and that attracted the most in-migration during the pandemic. Texas, Florida, and Arizona are projected to round out the top three, with Nebraska, North Carolina, and Idaho joining the list as well. Regionally, we forecast the West and South will see the most significant growth in 2022, in part because so many have moved to these regions in the era of remote and hybrid work, and in part because their state leaders have generally enacted favorable policies to allow franchises to expand.
Conclusion
Franchising's exceptional performance in 2021 was no outlier. Its unique business model and low barriers to entry encouraged impressive growth that helped drive the overall U.S. economy to its explosive rebound. In 2022, franchises across every sector and every region will continue to see growth that likely continues to outpace the pre-pandemic rate, particularly because the franchise business model insulates entrepreneurs from inflationary pressures because of the economies of scale brands are able to build with suppliers. These businesses' 2021 performance and 2022 projections make it obvious that America's economic recovery is being led by franchises—and by the entrepreneurs who lead them.
Matt Haller is president and CEO of the International Franchise Association.
Published: June 17th, 2022
Share this Feature
Recommended Reading:
Comments:
comments powered by

Disqus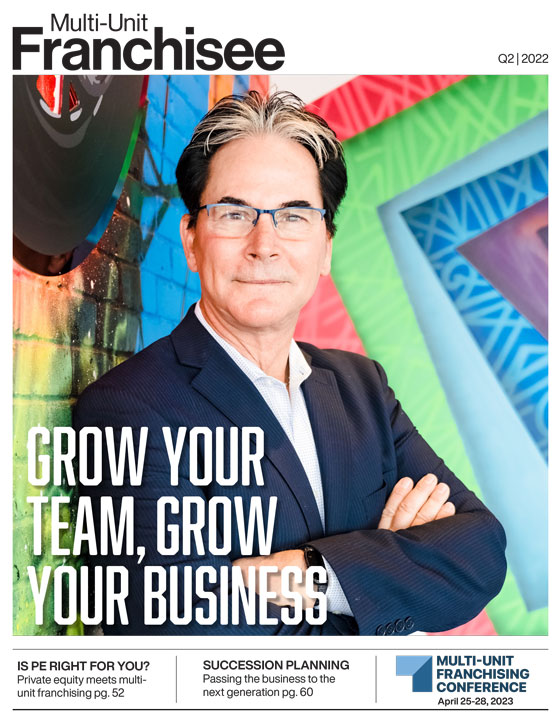 Multi-Unit Franchisee Magazine: Issue 2, 2022
With more than 230 locations operating and 350 more sold and in development, Dogtopia is the largest and fastest-growing dog daycare provider in the...
Cash Required:
$300,000
Vitality Bowls specializes in acai bowls, smoothies, juices, salads, grain bowls, wraps, toast & panini, made with unique superfoods like pitaya,...