20 Years Strong: FLDC Celebrates Two Decades of Growth
"20 Years Strong" was the theme of this year's Franchise Leadership & Development Conference (FLDC), held in Atlanta October 9-11. For two decades now, Franchise Update Media has hosted this industry-leading annual conference focusing on franchise recruitment, sales, and leadership.
The FLDC's 20th anniversary was celebrated in numerous ways at the event. As always, the focus was on presenting speakers, panelists, and sessions on strategies, tactics, and solutions aimed at helping attendees improve their recruitment and development practices.
This year's conference, held at the InterContinental Buckhead Atlanta, drew 420 total attendees, including 270 franchise professionals representing 164 brands in the food, retail, and service sectors.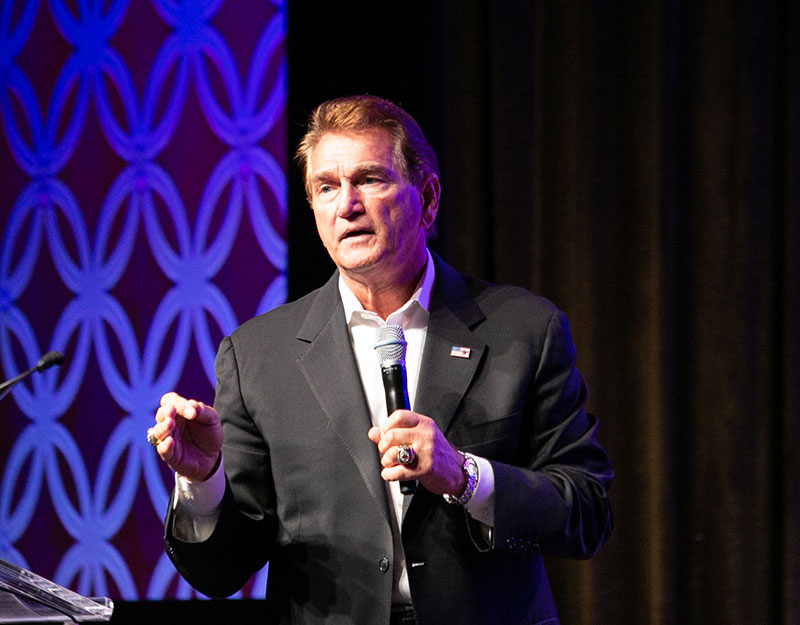 Working alongside Conference Advisory Board members, Franchise Update executives and staff identified the topics and issues deemed most important to the current state and future growth of franchising--and selected the panelists and speakers best able to address those issues in breakout sessions, roundtables, and general session panels.
NFL Hall of Famer quarterback and Super Bowl champion Joe Theismann was a dynamic and inspirational keynote speaker. Ryan Dohrn, sales and marketing expert, business coach, and author conducted a combination keynote and roundtable workshop session. And Ginger Hardage, Southwest Airlines's former senior vice president of culture and communications made a special presentation at the CEO Summit.
Networking opportunities abounded in the Sponsor Networking Gallery, where exhibitors and suppliers lined up to meet with franchise executives to explore and shop for business solutions, strategies, and products and services to help them grow. The hall, which once again was sold out, overflowed into the adjacent hallway.
The platinum sponsor this year was Silvercrest Advertising. ApplePie Capital sponsored the STAR Awards dinner. Gold sponsors were 919 Marketing, Hot Dish Advertising, GbBIS, LSM, and Synuma. AmVenture sponsored the keynote speaker, and FRM Solutions sponsored the mobile app.
Pre-conference workshops
The first day kicked off on a Tuesday with full-day pre-conference workshops, including the annual CEO Summit; IFA Fran-Guard (the IFA's sales management and compliance program); and workshops on sales and development (see below).
The CEO Summit began with a presentation from Ginger Hardage called "Building a Brand from the Inside Out." She focused on Southwest's famous customer-centric culture, illustrating her theme with stories from her 25 years at Southwest, where she served as a member of the CEO's executive leadership team. The day was filled with guest speakers who discussed private equity, the role of CEOs in development, innovation, workforce challenges, and legislative and regulatory threats. There also were roundtables where franchise founders and leaders could brainstorm and problem-solve with their peers--and build relationships that will last long beyond the conference.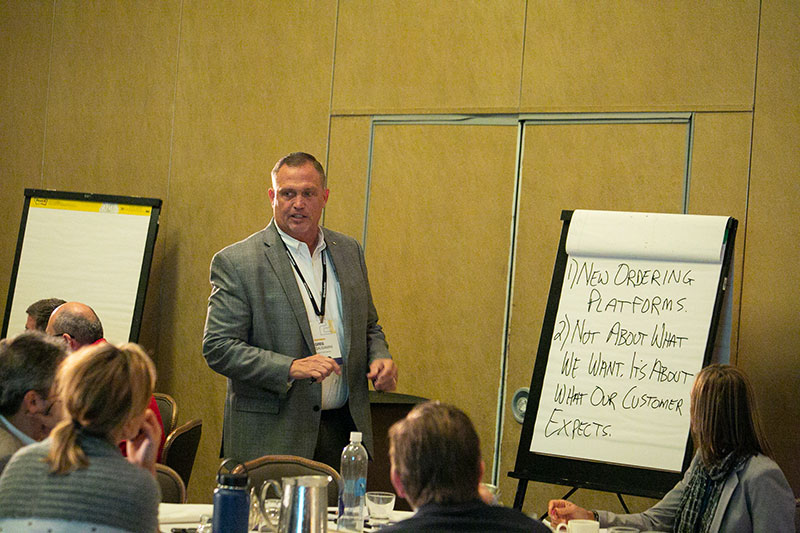 Just down the hall, running simultaneously, sales and development professionals had their own opportunity to participate in pre-conference sessions. Two 3-hour morning sessions--Franchise Development Process & the Culture of Growth, and Mastering Sales Fundamentals--offered deep dives into the challenges and opportunities facing development professionals, and on ways they can refine their sales process.
In the former, Cheryl Fletcher, senior vice president of development at Tropical Smoothie Cafe, moderated a panel that included Candace Couture, vice president of franchise sales at Planet Fitness, Mark Jameson, executive vice president of franchise support and development at Fastsigns, Scott Thompson, chief development officer at Level 5 Capital Partners (Big Blue Swim School, CorePower Yoga), and Matt Stanton, chief development officer at WellBiz Brands (Elements Massage, Amazing Lash, Fit36, Fitness Together).
Their discussions ranged from organizational structure, lead generation, and franchise candidates to real estate, training, and support. A recurring theme throughout the session was the importance of brands building a "culture of growth." To achieve this, said Fletcher, every department within the brand must understand the importance of growth and of supporting the development team.
Nearby, the Mastering Sales Fundamentals session dug into sales basics and ways that sales teams can improve their skill sets. Moderated by Chris Cheek, COO at Newk's Eatery, the seasoned panel of sales and development professionals discussed how they move a prospect from lead to engaged candidate to franchisee.
One of the two afternoon tracks kicked off with a session called Engaging with the Modern Customer (Prospective Franchisee). This session was moderated by Maureen DiStefano, vice president of development at Magnolia Bakery. Panelists were Wes Barefoot, director of franchise development at ShelfGenie; Dan Collins, director of franchise development at Pilates ProWorks; Dan Henry, director of franchise sales at Tough Mudder Bootcamp; and Laura Tanaka, director of franchise development at Del Taco. The group focused on how brands must tailor their communications to different prospects, and how to establish a relationship and better engage with those prospects.
Barefoot emphasized having a CRM system that's more engaging to prospects, while also investing in the technology and content to provide as much important information as they need. Collins spoke about how his prospects are Millennials. For this group, he advised, "have brevity in your message."
Another afternoon session, Grow Your Team and Yourself, was exclusive to leaders of franchise sales teams. Facilitated by Michael Arrowsmith, chief development officer at Pinch A Penny, the workshop focused on how sales team leaders could build bench strength to grow, take on new responsibilities, and prepare for the next step up toward executive leadership.
As the sessions wound down, attendees, panelists, and CEOs headed for the Sponsor Networking Galley for the conference's Welcome Reception. There was plenty of food, drink, and conversation with exhibitors, suppliers, and fellow franchisors, bringing the day to a buzz-filled close.
Day 2: Keynotes, sessions
Gary Gardner, Franchise Update Media Chair, began the day by welcoming attendees to the conference. He then handed the microphone to Sam Liotta of AmVenture, the keynote sponsor, who introduced Joe Theismann.
The former NFL star quarterback spent 12 years in the NFL, playing in 163 consecutive games. He won a Super Bowl, was league MVP, and holds several Washington Redskins team records, including career passing yards and completions. In his post-football career he's been a motivational speaker, sports commentator, and said he's been in the restaurant industry for 40 years.
Perhaps best known for having his career ended by a gruesome leg injury on national TV in November 1985, Theismann used that situation and other events from his life to demonstrate why business executives need to face and embrace change in today's world. He spoke about the importance of setting goals (personally, professionally, spiritually, and financially) and writing them down; having the right attitude ("If you don't believe in yourself, who's going to believe in you?"); and giving back to the community.
"Success is what happens when you reach a certain point and you start giving back," he said. "It's not what we get for ourselves, but how we can influence other people and affect their lives in a positive way." He's also a big believer in lifelong learning. "You need to know more today than you did yesterday, and more tomorrow than you do today," he said, and recommended attendees ask themselves every morning, "What am I going to learn today?"
After the enthusiastic "standing O" for Theismann quieted down, Therese Thilgen, Franchise Update Media's CEO, introduced this year's conference chair, Paul Pickett, chief development officer at Wild Birds Unlimited. His energetic, inspiring address emphasized not only how attending past conferences had benefited both himself and his brand, but also about the long-lasting relationships he has built over the years by attending the conference. (Pickett is one of the few who attended the first FLDC.)
Next up was a presentation on the state of the economy by FRANdata's CEO Darrell Johnson and President Edith Wiseman. Calling for greater honesty, transparency, and standards on the part of franchisors, their presentation was titled the "Era of Information Warfare." One example: A brand claims it is "best" in training--but what does that mean, and according to who? Making overblown or unsubstantiated claims about your brand, said Johnson, endangers both the brand making those claims and the franchise business model itself, putting it under the spotlight of both the public and regulators. "The facts must correlate with reality to combat 'alternative facts' and mistrust," said Johnson.
As for the economy and its impact on franchising, "The economy is slowing," he said. "GDP and manufacturing will decline over 2018, 2019, and 2020." And while he said that no big shocks are on the immediate horizon, a number of factors could rock the boat in the coming years: tariff issues, fewer benefits from the massive tax cuts than promised, record world debt and the huge amount of debt coming up for refinancing; and the end of the era of cheap capital.
What it all means for 2019 and 2020, they said, is that while franchise growth is slowing, it still is growing; that business and consumer confidence should remain high; that the cost of capital will continue to rise; and that what franchisors present to candidates and the public must correlate with reality to build trust.
AFDR & mystery shopping
Each FLDC includes the presentation of the much-anticipated Annual Franchise Development Report (AFDR) and Mystery Shopping survey. Diane Phibbs, Franchise Update's executive vice president and chief content officer, presented an overview of the findings from the 2019 AFDR and Mystery Shopping survey. (See full coverage of both elsewhere in this issue.)
In a general session panel, the mystery shoppers who posed as qualified prospects discussed how they conducted their research and what they uncovered about best recruitment practices. Art Coley, CEO at CGI, Rick Batchelor, CEO of Qiigo, Wendy Odell Magus, president of Magus Marketing and Communications, and Jason Pearl, president of ServiceScore detailed their methods and results.
One recommendation from Batchelor: to improve both recruitment and SEO results, franchisors should fold their franchise development website into their consumer site.
The mystery shoppers were joined by Josh Wall, chief development officer at Christian Brothers Automotive, and Lori Merrall, senior director of franchise development at BrightStar Care. The star-studded panel, which included three previous STAR Award winners, was facilitated by this year's Conference Chair Paul Pickett.
The Sponsor Networking Gallery reopened for lunch and new opportunities to meet, greet, and do business. Then it was time for the afternoon's first group of four concurrent breakout sessions: Mastering Lead Qualification, Operations' Importance in Franchise Development, Maximize Market Penetration, and Making the Decision To Grow International. These were followed by another set of concurrent sessions: Understanding Lead Attribution, Exit Strategies and Resales, Right-Size Franchisee Deals To Maximize System Growth, and Preparations for International Growth.
The session on operations was moderated by Eric Lavinder, director of franchise development at Saladworks, and featured a panel that included Todd Leonard, vice president of operations and development at Executive Home Care, and Charles Willis, president and co-founder of Pinot's Palette. This session tackled the importance of the relationship between the franchise development and operations departments, and how critical that relationship is to the all-around success of the brand, especially franchisees. As Lavinder put it, "Your sales team plus the operations team equals successful franchisees."
Two general sessions closed out the day. The first was called Amp Up Your Franchise Development Program Using Real Data. Pete Lindsey, CEO at Franchise Drivers, led a panel consisting of Christina Chambers, senior vice president of franchise development at Huddle House; Jeff Sturgis, chief development officer at Fazoli's; and Jennifer Durham, chief development officer at Checkers & Rally's. Panelists shared their stories on how they are tracking prospects in this "age of data" and the unique ways they use data from their CRM systems.
The final event of the day was a business solutions roundtable/keynote led by Ryan Dohrn, a sales and marketing expert, business coach, author, and founder of Sales Training World. His mixture of humor and insight shed light on sales and marketing tactics that get results. He used his own experience working with such Fortune 500 organizations as Boeing, Lockheed Martin, Ford, and Bayer, and allowed plenty of roundtable interaction. The goal of the session was for participants to come up with six sales ideas they could put to use right away to grow sales in the next 30 to 60 days.
That evening, attendees braved the pouring rain from Hurricane Michael, which skirted the Atlanta area but still made its presence known, to attend the annual STAR Awards dinner and ceremony at nearby Maggiano's Little Italy. This year's winners and their thoughts on why they were recognized begin on page 46.
Day 3: Action planning!
The final morning of the conference wrapped up with a session designed to turn the previous two days' fire hose of information, data, analysis, and perspective into an actionable take-home package participants could take home and implement. The stated objectives of the day were: 1) discuss key components of planning, 2) gain some insights from others (best practices), and 3) get started to plan for your best year yet!
Art Coley, CEO of CGI, led the session, called Build Your 2019 Action Plan for Success. Coley was joined by Red Boswell, global chief development officer at ActionCoach Global, and Larry Sidoti, chief development officer at Garbanzo Mediterranean Fresh (and founder of Juice It Up!).
Participants broke into small groups based on their job titles (development directors/recruiters, CDOs/VPs, CEOs/CFOs, support and other roles) and worked with their peers to create a plan to spur growth when they returned home.
"If you are serious about franchise leadership or development, you're going to be here," Boswell said of the FLDC. "This is the only place I'm going to go that is focused on what matters: building franchise organizations and then managing them correctly. CDOs and CEOs, you should be here."
Plans are already under way for the 2019 Franchise Leadership & Development Conference, which will take place October 15-17, 2019 at the same venue. To learn more about this year's FLDC and register for 2019, visit www.franchisedevelopmentconference.com.
2018 Conference Numbers

420

Total Attendees

270

Franchisor Professionals

164

Franchisor Brands

51

Sponsoring Companies

Franchisor Profiles BY TITLE

19%

CEOs

3%

CFOs, CIOs, COOs

35%

CDOs, SVPs development

34%

Directors & managers of franchise development

9%

Real estate, communications, compliance professionals

By Category

Service

56%

Food

27%

Retail Non-Food

10%

Retail Food

8%

By Investment Level

> $1 million

13%

$500,000 - $1 million

16%

$250,000 - $500,000

31%

$100,000 - $250,000

20%

$50,000 - $100,000

11%

< $50,000

9%

By Number Of Units

> 1,000

9%

501-1,000

9%

251-500

21%

101-250

22%

26-100

19%

< 25

10%

0

9%

By Annual System-Wide Gross Revenue

> $100 million

37%

$80 million - $100 million

7%

$60 million - $80 million

7%

$40 million - $60 million

9%

$20 million - $40 million

12%

$8 million - $20 million

7%

$1 million - $8 million

9%

< $1 million

12%
Published: November 24th, 2018
Share this Feature
Recommended Reading:
Comments:
comments powered by

Disqus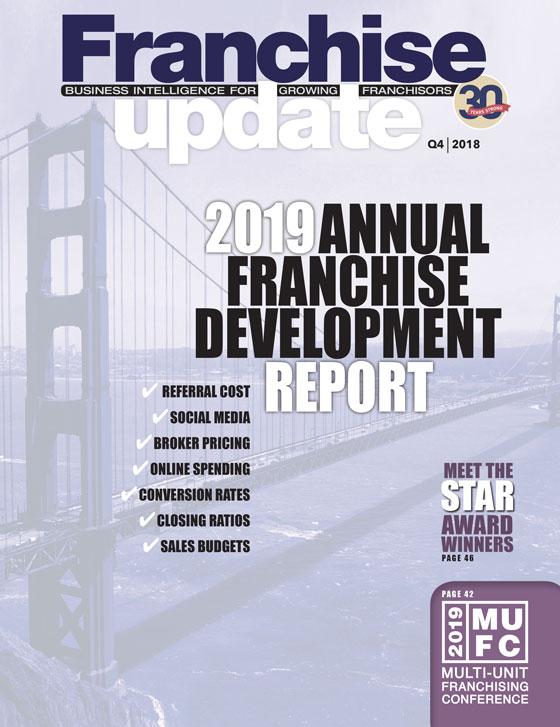 Franchise Update Magazine: Issue 4, 2018
Conferences
InterContinental, Atlanta
OCT 18-20TH, 2023
ApplePie Capital provides a fresh new approach to franchise financing that is focused on your growth and success.
April 25 - April 28, 2023, Caesars Forum, LV. The Multi-Unit Franchising Conference is the premier annual event for the country's leading...