3 Tips for Staffing Up for Summer for Customer Service Success
This promises to be a spectacular summer for U.S. businesses as the pandemic gradually eases and consumers get out and about in record numbers.
However, despite the optimism, franchisees are well-advised to reevaluate their hiring strategy now for the upcoming seasonal surge. Why? Given today's tight labor market, where open jobs outnumber available workers by two-to-one, it's going to take fresh thinking to fill these many open roles—especially as job seekers reconsider what's important to them in the workplace, and what it will take for them to consider open positions.
To help you understand the dynamics of our evolving job market, Snagajob recently surveyed more than 3,000 hourly workers and employers. The resulting report, The Impact of Today's Job Market on Summer Hiring, provides valuable insights into the changing landscape of work. Here are some highlights of what we learned.
1) Businesses that evolve will get the workers.
When searching for seasonal workers in 2022, business as usual isn't going to work. Workers today have a new outlook, now fully understanding their value to companies and asking more of employers. With this new mindset, businesses must rethink what they offer or risk losing ground to more-savvy competitors.
Where possible, higher pay, greater flexibility, and increased benefits are great initial steps in changing your strategy for hiring. Among employers who reported success in hiring this summer, 66% confirmed that they're offering higher wages or paid time off.
2) Have some faith in soft-skilled candidates.
A common thread to franchisees' summer hiring difficulties is that teams are seeing fewer candidates come through the door. In fact, a low volume of applications is why 53% of employers reported that they can't hire enough workers to fill their open positions.
If this is the case for you, consider expanding your hiring criteria to reach more potential job seekers. Look for workers who might not have the exact skills you're looking for, but can grow into the position. Remember that technical skills such as learning a POS system can be taught.
However, soft skills, such as communication, organization, and teamwork are unique to each applicant. Look for strength in these areas, regardless of a candidate's previous job experience. These skills are paramount for a successful hire, yet are often overlooked in the staffing process.
3) Invest in your company culture.
With so many job opportunities available to workers, simply raising wages and benefits may not be enough to attract workers. This is particularly true with younger workers who are reevaluating what's important to them after sitting out during the pandemic.
More than 70% of Gen Z job seekers (workers up to 25 years old) are looking for work this summer. Sixty percent of surveyed workers rated "sharing social values" as one of their top three factors in choosing a job.
Teenagers and Gen Z workers are looking to support the causes they stand behind. You can stand out by aligning with their needs and wants. Reevaluate how to make your business attractive to these young workers. This includes investing in ways to enhance your company culture and improve the overall employee experience.
With 51% of employees in our survey reporting that they're willing to change industries this year, any investment you make in this area could pay large dividends in your summer hiring success.
Small steps, positive progress
While many of these suggestions may require some effort, even small steps in the right direction can have a positive impact on your hiring success this summer.
As our Summer 2022 Hourly Hiring Report shows, working is changing quickly and will never be the same. The pandemic has dramatically altered how hourly workers look at jobs. They now realize their value in the workforce and are looking for new opportunities that match their worth, values, and interests.
Also keep in mind that many industries will be affected more than others, particularly those with low pay and minimal flexibility.
Bottom line, a new hiring playbook is essential for standing out and attracting these qualified but elusive workers. Even when the economy fully recovers and a healthy balance of jobs returns to workers it's still going to take a fresh approach to attract employees. By offering more and respecting the goals of workers, the result will be a success for everyone.
Mathieu Stevenson is CEO of Snagajob, the country's largest platform for hourly work, with 100 million registered job seekers and job opportunities at 700,000 employer locations in the U.S. and Canada.
Published: June 21st, 2022
Share this Feature
Recommended Reading:
Comments:
comments powered by

Disqus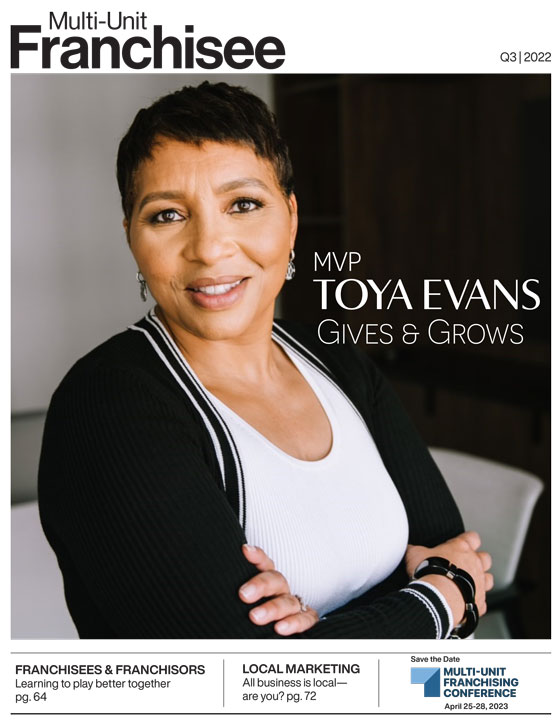 Multi-Unit Franchisee Magazine: Issue 3, 2022
America's mid-market Alehouse sensation bringing handcrafted food, regional beers, Crazy Good Wings and Fingers, sales, and profits!
Cash Required:
$250,000
Buddy's is one of the fastest growing rent-to-own franchises in America with 60 years of proven success. Franchise owners enjoy a 0% royalty fee the...
Cash Required:
$150,000