5-Brand Powerhouse: On the road to 200 with latest deal
Name: Sudesh Sood
Title: President
Company: Warner Food Management
Units: 154 Jack in the Box, 14 Noodles & Company, 7 Panera Bread, 4 Black Bear Diner, 1 Popeyes
Family: Married with 2 daughters and 3 grandchildren
Years in franchising: 40
Years in current position: 40
As many have done before him, Sudesh Sood came to franchising because he wanted to do something on his own. He arrived in the U.S. after several years in the United Kingdom, where he'd built a successful career as an accountant. But something was missing.
His first job in the U.S. was in management with a large corporation, but that wasn't working for him. Then he spotted an advertisement for a Jack in the Box franchise location. Between what he could gather from selling his house in London and a fortuitous loan from a small local bank, that first franchise was his.
Today, as president of Warner Food Management, with 180 locations across five brands, Sood's philosophy is the same as when he started out: Work honestly, work hard, stay hands-on, and look for opportunities. His latest expansion move is an exclusive partnership in California with Noodles & Company. He's formed a new company, NorCal Noodles, to develop 40 locations in the next 12 years.
Although his successful foray into franchising shows no signs of abating, Sood says, "I am not afraid of unplugging when needed so I can spend quality time with my family." He credits his wife as "the secret behind my success. She is my number-one supporter and has always encouraged me to follow my dreams and pursue my passions."
PERSONAL
First job: Accounting clerk.
Formative influences/events: While working in London, I noticed many people visiting from the United States. After listening to their success stories, I decided to move to the USA to achieve similar success in this promised land. I was always hunting for opportunities to better myself and achieve my childhood dream.
Key accomplishments: From my first job as an accounting clerk to CFO of a multi-department store in London, I'm now an entrepreneur with ownership of 180 restaurants here in the U.S. and now looking to venture into hotel development.
Biggest current challenge: Like most restaurant operators, we are facing the challenges of hiring, along with the economic inflation in every industry.
Next big goal: We hope to continue to grow in the restaurant space and surpass 200 locations in our portfolio. The next goal is expanding into the hospitality industry and developing quality hotels.
First turning point in your career: When I was selected to be a franchisee of Jack in the Box. Given the opportunity to grow with the brand, the acquisition was the best decision of my career.
Best business decision: To put my trust in the right people. In addition to getting my family involved, I found the right business partners—Ben Nematzadeh and Eddie Nieves—along with the long-tenured administration staff who are with me today.
Hardest lesson learned: It's exciting to grow your business, but not too quickly. Expanding too quickly in different states was the hardest lesson for me. I had to make the difficult decision to pull out of those opportunities and refocus my expansion strategy.
Exercise/workout: Five days a week.
Best advice you ever got: Work hard, be honest, and stay within your means.
What's your passion in business? Hospitality and food has always been my passion, and has been for the last 40 years! I enjoy what I do and can't wait to do more.
How do you balance life and work? There is no perfect work/life balance, but I prioritize my health and I love my job. I am not afraid of unplugging when needed so I can spend quality time with my family. We have family dinners regularly and I love traveling. We take family trips and spend quality time together.
Guilty pleasure: Traveling the world and eating sweets. I love watching and playing tennis.
Favorite book: I do not have a favorite book. I prefer reading magazines and newspapers; it keeps me current.
Favorite movie: "The Godfather."
What do most people not know about you? My wife is the secret behind my success. Without her, I would not have been able to accomplish what I can today. She is my number-one supporter and has always encouraged me to follow my dreams and pursue my passions. Since the beginning of my journey, when I did not have any money, she's been by my side. I do everything with her.
Pet peeve: I hate clutter.
What did you want to be when you grew up? An entrepreneur.
Last vacation: Portugal.
Person I'd most like to have lunch with: I love having lunch with my wife.
MANAGEMENT
Business philosophy: Work hard, treat people right, be honest, and take calculated risks.
Management method or style: Hands-on.
Greatest challenge: Keeping and growing a successful business year after year.
How do others describe you? Quiet, smart, straight shooter.
One thing I'm looking to do better: I always want to do better, and I always learn from mistakes.
How I give my team room to innovate and experiment: I let them be themselves, I let them do what they do best. I'm very supportive of their ideas, and I implement them if they make sense. I guide them by asking the right questions.
How close are you to operations? Very close. I am aware of day-to-day events. Super close!
What are the two most important things you rely on from your franchisor? Leadership and innovation.
What I need from vendors: Honest people who work effectively and efficiently.
Have you changed your marketing strategy in response to the economy? How? Yes, we adapt our strategy based on the environment, and we support and rely on overall brand directions. I believe timely strategy change is key to the success of the business.
How is social media affecting your business? Social media has become an integral part of all businesses, especially to keep generations engaged in a brand. Everyone has adopted the new ways, and as we continue to grow and adapt I will continue to learn and grow my business.
How do you hire and fire? Hire extremely carefully, and look for quality and attitude. We cross all our t's and dot all our i's before we terminate someone. We believe in people and are always trying to work with them.
How do you train and retain? For the most part we tend to follow our brands' training systems, recommendations, and timelines.
How do you deal with problem employees? We engage head-on but keep it consistent. I have dedicated staff to address every employee concern, particularly problem employees.
Fastest way into my doghouse: Dishonesty.
COVID-19
How did Covid-19 affect your business? The short answer is that it taught us to adapt literally daily. Because 98% of our businesses had a drive-thru when dining rooms were closed, we were able to continue operating. The majority of our brands really flourished. We also found an opportunity to give back and become a pillar to our community.
How have you responded? In the long run, it made us stronger. We implemented many systems during Covid that are still in place today.
What changes do you think will be permanent? None. I think as a society we will continue to learn, and we will adapt.
BOTTOM LINE
Annual revenue: $300-plus million.
2023 goals: Keep expanding, keep the existing business profitable under the current cost pressures, and work with our brands' management to improve standards.
Growth meter: How do you measure your growth? Number of locations, number of brands and new development.
Vision meter: Where do you want to be in 5 years? 10 years? To me this is already retirement. I enjoyed doing what I do, so I just see myself continuing to grow in the next 5 to 10 years.
Do you have brands in different segments? Why/why not? Yes, QSR, fast casual, and sit-down. The diversification really helps when one brand or segment is not doing that well.
How is the economy in your regions affecting you, your employees, your customers? Should I just say most of our locations are in California. I love the state, but it is probably the most-regulated state in the country and we are facing the same economic challenges as the rest of the U.S., particularly with inflation and even more with wages.
Are you experiencing economic growth in your market? Yes, the California market is constantly growing and we are growing along with it. We have plans to develop Noodles & Company throughout the state by adding 40 locations. And we are growing our Jack in the Box by developing 6 more locations in Central California and 18 in Southern California. We are working on adding two more locations in our Black Bear Diner portfolio. We're constantly looking for good real estate sites and opportunities to grow and expand. Even now, as we have upcoming unit openings/locations in the pipeline, we're looking to expand into the hospitality industry through a partnership with Hilton.
How do changes in the economy affect the way you do business? We had to increase prices more than we liked, but we have worked hard to keep them below our competitors' prices.
How do you forecast for your business? We are constantly observing trends and recommendations from the brand along with market performance.
What are the best sources for capital expansion? We prefer to keep our debt low and expand using our cash flow. It helps to build strong relationships as we have with big traditional banks.
Experience with private equity, local banks, national banks, other institutions? Why/why not? Mostly national banks since we have long-term established relationships.
What are you doing to take care of your employees? We keep improving our benefits, and for many years we have operated under the Service Profit Chain model: take care of your employees, they take care of the customer who will return, and profits will improve to continue to take care of our employees. I believe that providing a great environment and treating employees like family is one of the best things we can do for them.
How are you handling rising employee costs (payroll, minimum wage, healthcare, etc.)? It's a delicate balance, and we're constantly looking for ways to improve efficiency and balance the rising rates.
What laws and regulations are affecting your business and how are you dealing with it? PAGA claims and the new FAST Recovery Act are just two of the big ones. We have put many systems in place to make sure we are in full compliance and work with our brands and legislation to put laws in place that protect our employees.
How do you reward/recognize top-performing employees? We always keep our employees and their well-being top of mind. We diligently find ways to improve benefits and provide certificates, bonus, recognition, etc. to boost employee satisfaction.
What kind of exit strategy do you have in place? None. I want to continue to grow and pass it to my family.
Published: February 18th, 2023
Share this Feature
Recommended Reading:
Comments:
comments powered by

Disqus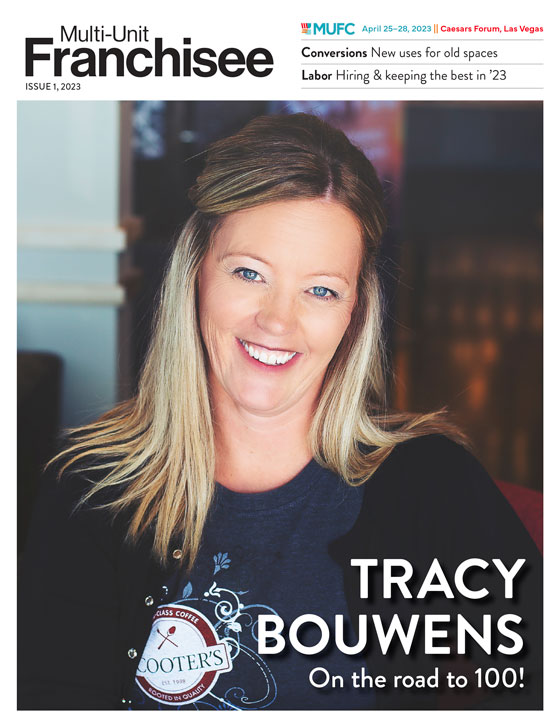 Multi-Unit Franchisee Magazine: Issue 1, 2023
The Habit Burger Grill comes equipped with its unique flavor created by chargrilling over an open flame and a diversified menu which appeals to a...
Mr Jeff is an innovative laundry franchise model that has expanded to over 30 countries, by making technology the core of the business. Mr Jeff adds...
Cash Required:
$100,000