6 Tips To Create Emotional Connections and Enhance Your Customer Experience 
When is the best time to invest in your customer experience? 18 months ago! When is the second-best time? NOW! Now is the time to make your organization's customer experience your single biggest competitive advantage. To be the brand customers can't live without, you must focus on creating an emotional connection on every interaction with your customers. Here are six ways to do that.
1) Focus on the micro moments
Too many companies and employees think if the results/outcomes are achieved customers will be happy. However, outcomes have the least to do with customer loyalty. The order was accurate, my meal was prepared perfectly, my tooth no longer hurts. Those all had better happen. But by themselves, results/outcomes are a commodity. Customer loyalty is a result of consistently delivering on the micro moments at each touchpoint, whether a customer calls, emails, checks in, or needs support. Were your employees knowledgeable, empathetic, patient, passionate about their job, easy to do business with, and willing to make it right?
2) Address the relationship deficit
Technology has made it easier for us to navigate through our busy lives, but it also erodes the fundamental element of human connection. Communicating digitally often can lack a human touch, which creates a sterile transaction and lack of emotional connection. Forced into a virtual world is adding to these unintended consequences, which we call a relationship deficit. As we've been forced to practice social distancing, people have realized how much they crave human connection. Not being able to dine with friends, see family members, or interact with co-workers has put a strain on the human spirit. Businesses that create emotional connections will dominate.
3) Avoid empathy fatigue
Empathy fatigue usually occurs in industries that constantly deal with customers who have high emotional pain (e.g., funeral homes, therapy, oncology). However, in today's world, every business is dealing with customers who have high stress and anxiety. This can cause employees to feel emotionally and physically drained, which leads to a diminished ability to empathize or feel compassion for others. As leaders we must constantly help our employees reenergize, rejuvenate, feel appreciated, and understand the critical role they play in their customers' lives. Customers will feel better and employees will be less likely to burn out.
4) Make your customers feel something
The #1 best customer service we can provide is being a positive escape with every person we come in contact with. You have to create an emotional connection that's so engaging and compelling that the customer literally "feels" something afterward.
In her blog, "Why Is Starbucks So Successful Despite Its Mediocre Coffee?," Liraz Margalit wrote: "What drives today's customers are emotions and feelings, some of which can't be expressed in words and are triggered unconsciously. The most important element in customers choosing who they buy from is how a brand makes them feel. Companies like Apple don't sell a product, they sell a brand that embodies a delicate mix of dreams and aspirations."
So how do you create such an experience and train your employees to provide it? Examine every touchpoint in the customer journey to see if you have built in the feeling of "cared for" in the journey.
5) Find the conversation gifts
There is a gift in every conversation. If you look for it, you will find it. By now most of you are familiar with FORD (Family, Occupation, Recreation, and Dreams). If not, find out more on my website. Now more than ever, focusing on FORD during conversations, especially virtually, is critical – and it is easy. This helps you find the conversation gift, both professionally and personally.
Many of the clients we work with have customized their CRM system to add FORD fields, something to check before or during an interaction with a customer and update afterward. FORD not only helps collect key customer intelligence during calls, it is also a great tool to prep for a call. Typically, I will fill out what I already know from what I may remember, what we have in our CRM system, the city they live in, any FORD already documented, and their past purchase history. It also reminds me to do some recon on LinkedIn for mutual connections and where they may have graduated from.
Videoconferencing calls are so much better than the old traditional conference call. Recently I was on a Zoom call with someone I had never spoken with before. There was so much FORD info in plain view behind him: his diploma, a photo of his wife and kids, and his favorite sports team. This type of info allows for the conversation gift follow-up.
6) Use relationship hacks
Many small investments in relationships are key to building that emotional connection. I learned a great relationship hack from Adrienne Bankert's new book, Your Hidden Superpower. She talks about taking a few minutes to videotext people instead of just texting them, and the power of it. So I tried it. To my amazement it was fast, easy, and the responses I got were incredible. I have always texted my employees on their company anniversary dates to thank them. Now instead I send a videotext, which actually takes less time than typing and has a significantly bigger impact. I am trying to force myself to think before I text anyone: Would this be more powerful as a video message?
You absolutely can become the brand customers can't live without by training your employees to create an emotional connection every time they interact with your customers.
John R. DiJulius III, author of The Customer Service Revolution, is president of The DiJulius Group, a customer service consulting firm that works with companies including Starbucks, Chick-fil-A, Ritz-Carlton, Nestle, PwC, Lexus, and many more. Contact him at 216-839-1430 or info@thedijuliusgroup.com.
Published: March 9th, 2021
Share this Feature
Recommended Reading:
Comments:
comments powered by

Disqus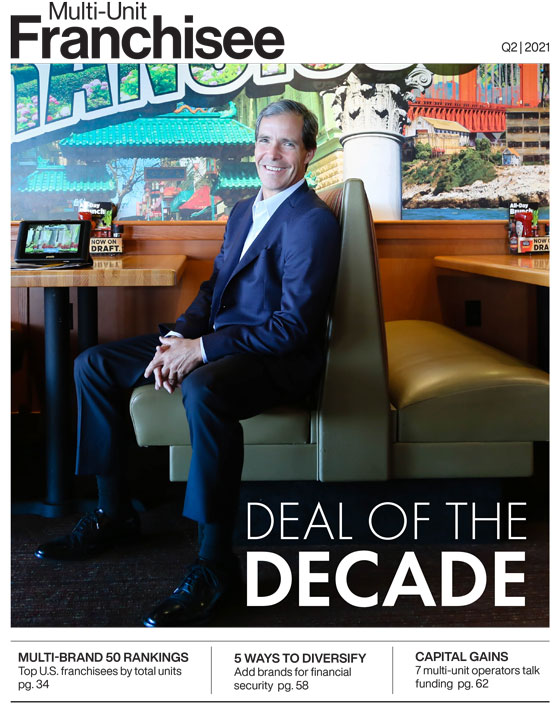 Multi-Unit Franchisee Magazine: Issue 2, 2021
Find the support you need to find success with your small to mid-sized business. Explore the PEO services offered by Integrity Employee Leasing.
Slick Marketers is reinventing franchise marketing with a hyper-customized and ultra-localized marketing approach with measurable results and growth...