A New Lease on Life
12 years in franchising and shooting for $80 million in revenue

Five careers. That's how 65-year-old Charles Smithgall, III, categorizes his business life. And that's not even including his service in the military. Or rustling cattle on Canadian ranches as a young man in the late 1960s.

Things have settled down somewhat today. Smithgall is chair and CEO of SEI/Aaron's, the largest Aaron's Sales multiunit franchisee, with 61 stores in seven states and annual revenue topping $68 million. And he's only been in franchising for 12 years.

Before his life in franchising began, Smithgall worked in the construction business in his hometown of Atlanta. He also spent a few years in the media industry (his dad had been a media pioneer), ultimately overseeing cable TV and radio companies. But in the mid-1990s, an old college buddy turned investment banker approached him with a different kind of proposition: one in the franchise world.

"I wasn't too impressed at first," admits Smithgall in his disarming southern drawl. But he went to a meeting with Aaron's founder and owner Charlie Loudermilk anyway. He liked what he heard.

"I saw his passion and vision for the business and what it could become, and I wanted to be a part of that," says Smithgall.

So he kick-started his franchising career with one store in Louisville in 1995. Despite some initial cash flow scares, he quickly grew to eight units before realizing, "I needed help running this thing."

In 1999, as he expanded into the New England states, Smithgall found just the help he needed in Dave Edwards. Edwards was part of a rent-to-own competitor in Providence, R.I., that Smithgall swallowed up upon entering that market. But there was something about Edwards.

"I saw a great young guy who was smart and a true hard worker, and so we teamed up," says Smithgall. Edwards now is COO for the company and handles much of the company's marketing and purchasing needs from his office in Hartford, Conn.
Smithgall is quick to discuss the value of his core management team. "Dave, Ray Simmons, my COO, and Angie McIntosh, my controller and real estate manager, have all been key to this company's success," he says.

And the company has certainly had its share of success and recognition. For example, in both 2001 and 2002, SEI/Aaron's was selected by Inc. magazine as one of the 500 fastest-growing companies in the U.S.

Smithgall says his franchise offers a number of advantages over its competitors--things like quality, selection, and pricing--but he believes one of the fundamental keys to the company's success is the compensation program for general managers. "This is just exceptional, and I believe it's the best in the industry," says Smithgall. "We pay our general managers 16 percent of the pretax profit and 2.5 percent of the revenue of the store." If they succeed, the store succeeds, and the whole system succeeds, he says.
"Franchising is such a great business model because somebody else does all the research, hands you what works, and you just run with it," he says.

Smithgall operates his business with "a reputation for quality, responsibility, and integrity," which he says is carried out with a philosophy of treating associates and customers the same way he would want to be treated, developing an outstanding leadership team, and planned financial growth. "Goals are important, but you either achieve them or you don't. You never achieve values; you just continue to strive for them."

Smithgall says he loves the fact that "We serve only about 5 million of the 50 million people who have bad, poor, very little, or no credit. There's plenty of room for growth." n

Title: Chairman and CEO
Company: SEI/Aaron's, Inc.
Years in franchising: 12
Years in current position: 12
No. of units (by brand): 61 units in 7 states
PERSONAL
Age: 65
Family: Wife Griff, son, Chas, daughter Meghan, and daughter Jessica
Key accomplishments:Opening first store on November 29, 1995. Setting goal in 1999 to open 100 stores in the next 10 years. We've fallen short but should still have 70 open by then (end of 2008).
Biggest mistake: In the beginning, we paid too much for real estate and didn't follow the franchise program to the letter in the early years. At one point, I didn't have enough cash and almost gave up.
Smartest mistake: Figuring out that time is our friend and learning that it's okay to wait because good opportunities will come again.
How do you spend a day, typically?: Worrying a lot about going broke again. I'm the company cheerleader. I call our outstanding store performers to encourage them and I visit our stores in person.
Work week: I usually travel two days each week. Eventually, over the course of the year, I visit every store four times. I talk several times daily with my partner, Dave Edwards, in Connecticut.
Favorite activity: Cheering on our general managers for outstanding performance and visiting with our store associates.
Exercise: Golf, hunting, fishing. I run, and I get up at 4:45 every morning to work out with my trainer.
What do you do for fun?: I love to travel. So far in 2007 I have been to Australia, Cuba, England, Scotland, Canada (3 times), France, Argentina, and a three-week horse pack trip through British Columbia.
Books/magazines recently read/recommended: Talent Is Never Enough by John Maxwell; The Mulligan by Ken Blanchard.
MANAGEMENT
Management method or style: Routinely congratulating outstanding performers; constantly reinforcing our company values, and making sure we don't run out of cash.
How close are you to operations?: I'm in our stores every week and constantly on the phone with our COO several times a day.
Greatest challenge: Get out of the way and let everyone do their jobs.
Personality: Type A, ADD, can't hear, attention span of a gnat.
How do you hire and fire?: Based on performance. Your numbers reflect who you say you are. And we never give a second chance when it comes to issues of integrity.
Find good people?: Our own associates are great sources for new employees. We promote them whenever possible. We're always on the lookout for good people.
Train them?: We have great training programs here, online and face-to-face. We spend a lot of time and effort on our GMs because they are so critical to our success.
Retain them?: In one word: compensation. I think we have the greatest compensation program in retailing. Our people earn 16 percent of profit and 2.5 percent of gross revenue. We also have great insurance and retirement packages.
"Growth meter"--How do you measure your growth?: Number of stores, customers per store, revenue, profit, value of company.
Annual revenue: We should do $68 million this year.
2008 goals: 70 stores open and $80 million in revenue.

Published: January 25th, 2008
Share this Feature
Recommended Reading:
Comments:
comments powered by

Disqus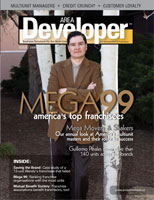 Multi-Unit Franchisee Magazine: Issue 1, 2008
With 500+ restaurants in development worldwide, Wayback Burgers is America's favorite hometown burger joint and one of the world's fastest-growing...
Cash Required:
$250,000
At LeafSpring Schools, we differentiate ourselves by a proven approach to early childhood education, validated by more than 35 years of successful...
Cash Required:
$400,000