A New Level of Sophistication
Finding the right type and mix of financing can mean the difference between success and failure for many franchisors. While your main choices are debt, equity, self-funding, and external funding, experts say the best-managed companies often mix their financing sources and choices, at different stages of development, to achieve the best business results.

Raising capital through a public offering, for example, can result in a substantial amount of funding. But many franchisors are not in a position to take a company public.

As you know, there are many elements involved in successfully accomplishing an IPO. For example, it is important to have a history of successful operation as well as the necessary monetary resources to complete the process.

Attorney Kenneth R. Costello says companies looking to go public must have a fairly significant base of operations that the public will view as likely to expand over the years. A partner in the Los Angeles office of Jenkens & Gilchrist LLP, Costello specializes in franchising and e-commerce.

In addition, orchestrating a successful IPO is an expensive proposition. The cost of going public, including legal and accounting fees and related expenses, can easily exceed $1 million. "In addition, the annual costs of maintaining a public company are typically in the multi-millions of dollars, including required legal and accounting compliance," he says. A recent Korn/Ferry International study reported that the expense of complying with the Sarbanes-Oxley Act has reached over $5 million for the average U.S. company.

While some entrepreneurs have expanded their franchise companies to 200 units or more, they may not have the mindset or necessary regimentation to operate as a public company, Costello adds. Further, "many smaller franchise companies simply don't have the necessary track record to garner the interest of investment bankers and the public," he points out.

In addition, smaller companies may be better suited to raise capital in a gradual manner through one or more exempt private placements of securities. Under such offerings, it may be possible to sell $1 million or more in securities to the public without filing a registration statement. It is not as expensive as an IPO, with small offerings costing as little as $25,000 for legal, audit and print fees.

Going public and using a franchise model to raise funds are not mutually exclusive. There are a number of publicly traded franchising companies. They successfully raise money in the public market to fund expansion of company-owned units, while simultaneously selling franchises.

While going public offers a number of benefits, Costello says it's important to keep in mind that although a public company retains 100 percent of the profits from company-owned units, it also must bear 100 percent of any losses sustained from failed stores or outlets.

With a franchise model, on the other hand, profits and losses are shared with franchise units. In addition, it is possible for e-tailers or others to use franchising to establish a chain of outlets quickly, sometimes as a precursor to an IPO. For example, if a company's goal is to open 300 stores, which could cost $100 million to do on its own, Costello says it is possible for a company, through franchising, to identify some 30 area developers who each agree to open 10 units at a cost more manageable than what would be required with an IPO.

Costello offers the following example of the benefits of using the franchise model over an IPO: An area developer often pays the franchisor, in advance, an initial per store development fee of one-half of the total anticipated initial franchise fees, for example $25,000 of an anticipated $50,000 initial fee, in exchange for the territorial rights for their particular market. So in this model, instead of the company spending $15 million to build 300 stores, it would collect $7.5 million from the developers upon signing the area development agreements and an additional $7.5 million when the promised stores open.

Within recent years, area developers have taken the place of many small mom-and-pop single unit franchise owners. They have amassed capital from successful business operations and have the ability to borrow from outside sources. Area developers provide a number of benefits. For example, they are responsible for and pay for the cost of hiring the staff and creating the infrastructure necessary to oversee the construction and to operate the stores.

Says Costello "Franchising and the financing that sustains it have not only gained greater sophistication over the years, but the popularity of the franchise model will continue to grow."
Good News from SBA

President Bush recently signed legislation making more than $21 billion available to small companies through the Small Business Administration's two main loan programs. Under the law, the SBA's flagship 7(a) loan guarantee program was boosted to a $16 billion level, $3.5 billion above what the program provided last fiscal year, when $12.55 billion in financing was made available to small business.

The 7(a) loan program is the most basic and most used type loan of SBA's business loan programs. These loans are only available on a guaranty basis and commercial lenders make and administer them.

Another positive change to note is a boost in the government loan guarantee from $1 million to $1.5 million. In addition, the program will now operate without a congressional appropriation or at a zero subsidy, meaning that the program will be self-supported through modest fees paid by lenders and borrowers.

An additional enhancement to the 7(a) program is the fact that Congress made the popular SBA Express program permanent, raising the maximum loan size to $350,000 with a 50 percent government guarantee.

The law also includes expansion of the agency's 504-loan program to the $5 billion level. The 504 loans may be used for the purchase of real estate, buildings and machinery.

The agency also announced that, in 2004, it provided more than twice as many loans to small businesses as in fiscal 2001. The SBA surpassed its previous lending records in both the 7(a) program and 504 loan programs, and established volume records in loans to women, minorities, and veterans.


Joan Szabo is a Virginia freelance writer who specializes in finance.
Published: March 14th, 2005
Share this Feature
Recommended Reading:
Comments:
comments powered by

Disqus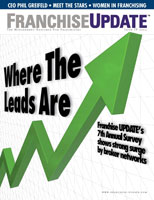 Franchise Update Magazine: Issue 4, 2004
The Titus Center for Franchising, one of Palm Beach Atlantic's Centers of Excellence, offers a concentration in franchising to business students.
MSA provides domestic and international franchise advisory services to franchisors and companies seeking to establish franchise and licensing systems.