Above And Beyond: Steve Baliva Uses His Friday's To Go Extra Mile During Hurricane Sandy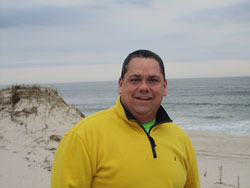 Just before Hurricane Sandy slammed into the New Jersey coast, Tom's River, N.J., resident and franchisee Steve Baliva was huddling with team members from his area T.G.I. Friday's restaurants to try to prepare for what many forecast to be the storm of the century.
"We knew it was coming and thought that we had five restaurants in the path of it," he recalls. "Turns out we had seven in the path - five in Jersey and two on the border of the Pennsylvania side. We were laying up plans to close down on Sunday, Oct. 29, since we knew we'd lose power."
Baliva, Friday's 2011 Franchisee of the Year and vice president/restaurant operations for Metz Culinary Management, lives within 10 minutes of several of the restaurants, so on Tuesday, he headed out to check on things. Four of the restaurants - along with 85 percent of Ocean County - had no power. "There was wind damage and we'd lost awnings, but we weren't close enough to the water for flooding, so it could have been much worse," he says.
By Tuesday night, Baliva had mobilized his team to check on employees' safety and to get power up at two restaurants. "We opened on Wednesday, and set up charging stations so people would have somewhere to get warm, re-charge their phones, watch the news, and get coffee or a bite to eat," he adds. "It was crazy and chaotic - we were the only ones open in town."
Baliva and two of his directors helped employees move food to other nearby locations and donated, delivered, and served food from Friday's in shelters, where it benefitted many, including some of his employees. He also led a company-wide drive for supplies - mainly water and clothing - and filled a large truck with much-needed supplies.
As bad as Sandy was, Baliva says he'll remember that time spent with guests as "the best I've ever had working in restaurants. We were short-handed and would be out of 10 items, and our guests were great about it. It was almost like a family gathering, with people talking from table to table about what was going on," he adds.
Baliva, the recipient of Multi-Unit Franchisee magazine's Noble Cause Award, says he wasn't thinking during the storm about making money. "We're stable financially and we have insurance, so it wasn't about what kind of business we'd do. We have so many employees who live paycheck-to-paycheck and they needed to get back to work immediately. Our goal was to get open, give people a sense of normalcy, help where we could, and get people back to work."
Name: Steven Baliva
Title: VP Restaurant Operations
Company: Metz Culinary Management, Dallas, Penn.
No. of units by brand: T.G.I. Friday's, 13; Ruth's Chris Steak House, 1; Wolfgang Puck Express, 1; Lucky's Sporthouse, 1
Age: 51
Family: Married
Years in franchising:15
Years in current position:10
Personal
Formative influences/events:
I worked in restaurants all through school never intending to stay.  My goal was to be an accountant but after working in various positions I found that I really enjoyed the interaction with employees and guests. And 34 years later, here I am.
Key accomplishments:
I spent many years at Friendly's restaurants where I was a trainer for district managers and a test region. In addition to other awards, I was named T.G.I. Friday's Franchisee of the year in 2011. I'm also proud that my manager turnover is less than 10 percent annually.
Decision I wish I could do over:
None
How do you spend a typical work week?
I'm in the office two days a week. The rest of the week I'm in the field visiting restaurants and working with the directors.
Favorite fun activities:
I recently discovered I liked cruises after going to Alaska for my 50th birthday. In down time, I read, visit Atlantic City, or work on my lawn (I'm obsessed!).
What are you reading?
John Grisham's The Accidental Hero.
Best advice you ever got:
Take care of your people and they will take care of your business.
What's your passion in business?
I love the high pace, working with people and seeing hourly employees grow in to management and beyond.
How do you balance life and work?
That's a tough one.  I love what I do but in recent years I have tried to take more time off to do things. My Alaskan cruise was the first time I have been without a cell phone in 15 years. Rough!
Last vacation:
My house in Florida for a week of just hanging by the pool.
Management
Business philosophy/management style:
I try to allow people the room to do their job without being micro-managed. I expect a lot but people need to feel they own it.
Greatest challenge:
 Letting people make mistakes and learning from them.
How I give my team room to innovate and experiment:
Again, I allow them to run the business and try to manage each person's style.
How close are you to operations?
Very - I am very active in day-to-day operations.
What do you rely on/expect from your franchisor?
Since I have three different franchisors, I often get three different answers, but communication about what is happening is most important.
What do you need from vendors?
We need support for initiatives we are pursuing and quick follow-up on any issues the GMs experience. It truly is a partnership.
How is social media affecting your business?
We are very active in Facebook and email blasts. The speed of getting the word out today vs. 15 years ago is amazing.
How do you hire and fire?
We have a pretty lengthy interview process involving several different people. We are very protective of who gets to play on our team. I truly believe that people fire themselves. We set the expectation up front and it is their decision from there. Outside of lying or stealing, we will do what we can to help an employee who may have lost his way.
Fastest way into my doghouse:
Lie or steal - no go-backs from there. I tell that to every manager who comes on board. Anything else we can coach them through.
Bottom Line
Annual revenue:
Prefer not to say.
2013 goals:
We've been holding steady, because we're getting ready to enter the re-imaging program with all our T.G.I. Friday's restaurants. We do plan two more T.G.I. Friday's in New Jersey, and perhaps another in Pennsylvania. We've also been very successful with our Ruth's Chris, so it's a matter of timing and the right location for another.
Growth meter: How do you measure your growth?
Sales are not the number to look at anymore. The true measure of success is in guest count growth year on year. You can attract as many new guests as you want, but if you don't retain your base you go backwards.
Vision meter: Where do you want to be in 5 years? 10 years?
In 5 years, I'd like to have additional restaurants of our current brands. In 10 years, I can see us with one or two other brands and starting a new growth strategy.
Are you experiencing economic growth or recovery in your market?
We have been fortunate in most of our markets. Sales have rebounded nicely across all concepts.
How do you forecast for your business?
We look at forecast quarterly and adjust based on trends.
Where do you find capital for growth/expansion?
Prefer not to say.
What are you doing to take care of your employees?
We try hard to be the employer of choice. We do an annual for any employee over five years. Last year we had 200-plus employees fall in that category. We constantly look at our benefits to make sure we are best in class. But nothing replaces simple communication and caring about your people.
How are you handling rising employee costs (payroll, healthcare, etc.)
Prefer not to say.
How do you recognize top-performing employees?
We have a number of different programs from time off to cash bonuses based on sales and profits.
2013 MVP Questions
Why do you think you were recognized for the Noble Cause award?
I live in the middle of the area hardest hit by Superstorm Sandy. In the days and weeks following the storm, 80 percent of the area had no power. We were able to get a few restaurants up and running to provide at least some temporary normalcy for people. I tried to help in area shelters by serving food and providing supplies. We organized a company-wide drive to bring much needed supplies and food to the shore from our Pennsylvania employees and guests. The outpouring of help was incredible. I have to say that there are other people in our company who did more than I did, so I'm honored to be recognized.
As a multi-unit franchisee, how have you raised the bar within your own company?
We try and improve our business daily. The standard is not good enough - we need to be above it at all times. When a guest chooses a restaurant, they choose based on a number of different factors and we want to be the lead choice in all of them.
Give an example of innovations you have created and used to build your company.
We have utilized a number of guest enhanced systems to improve the guest experience. We were among the first with free Wi-Fi and were on board in the early stages of text blasts, email blasts, and Facebook.
What core values do you have that you feel led you to winning the MVP Award?
Treat people the way you want to be treated. We have a huge responsibility to the communities that we operate in. Our partnerships with local charities and organizations are as important to us as our business. You have to constantly give back.
Explain the role of community involvement to you and your company.
We spend much time developing relationships with chambers of commerce, other businesses, children's charities, etc. When we run our bar competitions, we partner with local charities for each restaurant. We've raised over $500,000 for local charities over the past eight years.
What are the important leadership qualities to you and to the members of your team?
You need to walk the walk. You can't ask someone to do something you would not do. I try and set the example every time I walk into a restaurant by helping where it's most needed. People need to feel that there is an open line of communication and an avenue to discuss any issue. I think we have met that at every level.
Published: July 31st, 2013
Share this Feature
Recommended Reading:
Comments:
comments powered by

Disqus

Multi-Unit Franchisee Magazine: Issue 3, 2013
Own a slice of one of the fastest growing, profitable franchise opportunities available. Our UNIQUE business model equips our franchise partners with...
Cash Required:
$60,000
As a fast-growing concept dedicated to serving fresh, cooked-to-order cheeseburger sliders, the Smalls Sliders franchise opportunity brings real...