All Customers Are Not Created Equal: It's Time To Start Treating Them Differently
So many companies today train their employees to "duplicate" the customer experience, to treat every person who walks through the door exactly the same way. I have seen too many companies fail using this strategy. Forget about what is easier to train your employees to do: not every customer wants the same experience.

When buying a car, some people like to shop online without ever taking a test drive. Others prefer to drive the car, kick the tires, meet the service manager, and then "cut the deal." To maximize your value to your customers, it is crucial to understand how the customer wants to purchase your product or service. Are they looking for an ongoing relationship with your organization, or just a one-time deal? In my book, "Full Price: Competing on Value in the New Economy," I recommend learning to segment your customers. The sooner you treat them the way they want to be treated, the sooner you experience full price.

When I meet with companies to help with customer segmentation, I always start them at step one: Recognize the different customer segments that exist for your product or service. Our country is becoming more diverse by the hour, making segmentation a true challenge (and opportunity!). Most companies acknowledge the importance of distinguishing the different attributes of individual customers, but they fail to build their products and services around this. Based on my work with thousands of companies across North America, I am thoroughly convinced that most companies are still coming up short in properly targeting their products and services to different segments of customer demand. I have never seen plush carpet in a Wal-Mart, nor have I seen a concrete floor in Gap stores, because these are not the surroundings their customers expect.

In its essence, segmentation is a matching game in which you identify customer demand categories and then segment product and response models to best serve each category. Too many companies waste time and money on large numbers of customers who couldn't care less about the additional benefits they receive. In many cases, customers like these are not profit centers, and may even be losers for a company's bottom line. Dishearteningly, for a huge percentage of U.S. firms, billions of dollars and millions of human hours are tossed to the wind as they blindly attempt to treat all of their customers as their best clients. Many mistakenly treat their least profitable customers the same as their most profitable ones.

After years of this futility, some companies are finally starting to realize the error of their ways. Businesses that once sought to capture any customer at any price are concluding their "any customer is a good one" strategy may not have been the right idea. Citibank, one of the nation's largest banks, increased the minimum required for a no-fee checking account. This pushes away the costly, small account customers who don't want to (or can't) meet the minimum amounts. Las Vegas casinos are famous for focusing their efforts on the high rollers.

Smart companies don't throw away their best response, service, or product on customers who will never appreciate it, and never come back. Instead, market leaders focus their greatest energy on their premium customers and streamline basic resources devoted to non-premium customers.
Develop customer categories
The second step to meeting customer expectation is developing categories within customer segments. Many businesses erroneously try to plow forward into the marketplace, much like the farmer who continually fails to grow corn on his land instead of analyzing which other crop might grow there. They focus on having great products, rather than great customers. From my point of view, I'd always prefer to have great customers. Developing great relationships with existing customers and earning great news customers is done through properly determining the different levels of customer service within each customer segment.

Based on my work with some of the country's most successful firms, the best practice for analyzing your customers within market segments and locating your premium customer is to place them into one of three categories: relationship, choice, or transaction.

Relationship customers have the highest level of intensity for what you have to offer. They want service, information, and support after the sale; an ongoing relationship. Choice customers purchase product and everything else that goes with it, but need nothing beyond that. They do not need support after the sale and do not have any great intensity for your product; they lack loyalty. Transaction customers are driven solely by price, or by some other minimal factor that adds nothing to your future relationship. Relationship and choice customers deliver the highest profit margins. If your company is being supported primarily by transaction customers, it is crucial to shift away from them toward your more loyal clients to ensure stability and long-term success.

Once you have determined which customers are in which category, it is necessary to benchmark your response, product, and service to each segment. This is the final step. I want to warn against pursuing the transaction customer outside of telephone ordering, e-commerce, and other inexpensive methods. Low-cost transactions are fitting for low-cost customers.

With the creation of its Residence Inn/Courtyard and Fairfield Inn facilities, Marriott International has created business success around the different profiles of business travelers. Taco Bell and Northwest Airlines have also developed their customer profiles on a very specific basis. After you have done so, tailoring your products and services to each profile will have its reward of higher margins and increased loyalty.

The desire to train your employees to treat every customer the same way is difficult to put aside (especially in some franchise concepts such as fast food, or any segment in which the product is commoditized and competition is based on price). But companies that want to be successful in this economy must be willing to treat their customers unequally. Even in fast food, employees can be trained to greet the "regulars" by name, or reward them with coupons.

By developing customer segmentation, creating categories within segments, and benchmarking the process for each profile, companies can experience the long-lasting benefits of customer loyalty and success. Without proper attention to these crucial steps, low margins and frustration are likely to cloud your horizon.

Thom Winninger has been referred to as America's Market Strategist. His expertise is in value differentiation and revenue growth, and he speaks at over 75 conferences a year. His message has appeared in over 300 trade publications, and he has authored four books. View him live at www.winninger.com.
Published: September 12th, 2006
Share this Feature
Recommended Reading:
Comments:
comments powered by

Disqus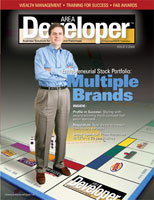 Multi-Unit Franchisee Magazine: Issue 2, 2006
High AUVs + 8-hour operating days in a food category that's not oversaturated = an eggs-straordinary life.
Join the growing $811 Billion grocery industry. Save A Lot is the nation's leading independent grocery chain. Our proven licensed model provides the...
Cash Required:
$300,000