Area Developer 50: 1-800-Got-Junk
Start with one and grow from there!
Fourth in the overall rankings on the this year's AD50 list is 1-800-Got-Junk? All of its franchisees are multi-unit owners (or potentially), says CEO Brian Scudamore. "It's a pretty simple strategy," he says. "Find the right people, and once they've been successful with one franchise, then offer another."

One kind of multi-unit franchisee Scudamore is not looking for is someone already involved with another franchise system. "We want people focused just on this business, so we're not looking for franchise partners from another franchisor," he says, unless the brand is compatible--a cleaning service, for example.

The company itself recently joined forces with Handyman Connection to offer one-stop shopping for home improvement and removal of the scrap and debris that results.
In terms of its growth strategy, the company views expansion and development in terms of territories. "Our territories are population units of 120,000. Toronto has a population of 4 million, and we have one franchisee there. So they have that many territories."

The franchisees managing multiple units are 1-800-Got-Junk's most sophisticated, and were always in the franchisor's plans. "But we wanted to stay focused on one who could grow, who had a proven track record with us. Then it's great," says Scudamore.
Multi-Unit Franchisee Judith Briggs: Expect The Unexpected
Judith Briggs has two territories in the Boston area. But junk was not top of mind when she and her husband Rich went looking for a business. Judy was a human resources director and Rich was a police sergeant.

"We had always wanted to do something on our own," Briggs says. "It's hard to work for somebody else. We looked at landscaping, at eBay kind of stuff, Krispy Kreme, and things like that, but our net worth did not reach their standards. We never found the right niche until this."

Then a news article about 1-800-Got-Junk? set them on course, Briggs says. "My husband read an AP article about the company. We knew how difficult it was to get rid of large, bulky items, and we thought it was a great idea. We did research for three or four months and everything we read was fantastic, so we made the phone call. We liked what they had to say, and were invited to join the system."

And it has worked out well. Their first franchise territory opened in Worcester, Mass., in the autumn of 2003. When it was going well, they opened a second in March of this year in west Boston. Briggs operates them as separate franchises, with one central staff but separate truck operators.

Massachusetts is now sold out, but Briggs does not want to have a franchise in a different state. "I know other franchise partners have others in other areas. But we're very hands-on, so owning one out of state would be very difficult."

It comes as a surprise to her that she likes the business so much. "No two days are the same, no two customers are the same. You never know what you'll get."

Since she had been a human resources director, she knows how to hire. "We only hire the best," she says. "We have a high standard. There may be people that interview very well, but then when they're on the job, they're not the right fit, and they know that, too. We have people who don't interview well and yet turn out to be superstars, because sometimes interviews can be intimidating. We try to put people at ease in the process."

Fortunately, she has a good start in her own family: her husband and four sons. All the sons work for their parents, "so one day when I decide to retire they'll be to the level of comfort that they'll take over."

For herself, Briggs says, "Failure is not an option. I love to see the numbers grow every month. It's like playing a video game—you play one level and you want to get to the next level. Every day is like that; let's do better today. We're constantly looking at historic data. I beat our record-breaking month already in the current month with three days to go."

Her success is not in doubt—she has quadrupled revenues in one year, and she expects to do $1 million this year. Not bad for picking up junk. "I never thought at 40 years old I'd be in the junk business," she says with a laugh.
Judy Briggs up close
Memorable first job: I began working at a very early age (12) for Kensco Communications. It was similar to today's Radio Shack. I did inventory and mailings to potential customers.
Professional tip: If you want to be successful, you must have the drive, must be focused, and you must be passionate about what you do.
Key education: MBA from Anna Maria College in Paxton, Mass.
Role model: My mother has always been my role model. She was a single mom, and she taught me in life that if you want anything you have to work hard for it, and if you work hard you can succeed at anything.
Currently reading: Poor Charlie's Almanack, by Charles T. Munger
Others say you are: Determined, focused, and hard-working
Business news sources you regularly read: Entrepreneur, Wall Street
Journal
Favorite web sites (besides your own): msnbc.com and foxnews.com
Franchise systems (besides your own) that are creative: The Maids Home Services. They are very customer focused and guarantee 100 percent satisfaction. They do an amazing job.
Favorite quote: "A goal without a plan is just a wish." (Antoine de Saint-Exupéry)
Best advice anyone ever gave you: Never jeopardize your integrity.
Best advice you ever gave: Never jeopardize your integrity.
Biggest project for the year: Training for the 2007 Boston Marathon
What you do to unwind: Besides traveling, I love to golf.
Published: October 10th, 2006
Share this Feature
Recommended Reading:
Comments:
comments powered by

Disqus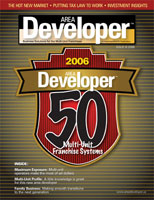 Multi-Unit Franchisee Magazine: Issue 3, 2006
$1M+ Avg. Revenue per Location. No medical experience necessary. Manage the manager franchise. Comprehensive training and support. Unique business...
Cash Required:
$75,000
With 5 locations currently open and several in the development pipeline, Bobby's Burgers by Bobby Flay has launched its full-scale U.S. and...
Cash Required:
$500,000