Area Developer 50: Dunkin' Donuts
Will America Run to Dunkin'?
The legend is familiar: In 1950, Bill Rosenberg opens the first Dunkin' Donuts store in Quincy, Mass. In 1955, he licenses the first franchise. In 1960, his dream of franchisors and franchisees working together is realized in the founding of the International Franchise Association. In the coming years he would become involved in philanthropy and be called the "father of franchising as we know it today" by Nation's Restaurant News.

So, nearly 60 years later, what's new in the world of "a-cuppa-Joe-and-a-sinker"? Just about everything, as today's Dunkin' Donuts follows in the footsteps of its pioneering founder. With a recharged management team, a new slogan, a new menu, a new national expansion plan, and a new franchising strategy, Dunkin' continues on its innovative way. And let's not forget the $2.4 billion acquisition this spring by three of the world's premier investment companies.

In its backyard, the Northeast, many of the brand's longtime franchisees are looking for exit strategies as they eye retirement. For these smaller, veteran owners--the backbone of today's company, which reported $3.6 billion in worldwide sales in 2004--Dunkin' is looking to help them "out" by bundling four to five units and selling them to other successful operators looking to stay in the game and expand. This is one part of the brand's strategy to fill in and maximize its existing base, says Lynette McKee, vice president of franchising.

Casting an expansionary eye southward and westward, Dunkin' is employing a bevy of strategies to attract new owners and operators as it continues its national roll-out program. One strength as it rolls up against giant Starbucks with its 10,000 units (Dunkin' is approaching 6,700, with a target of 15,000 by 2020), and against local regional brands with their own loyal customers, is that Dunkin' is riding a wave of 97 to 98 percent brand recognition wherever she goes, says McKee.

"We have a very strong R&D arm that has identified consumer desire across the country. If I walk into a market where we are currently looking, people grab my arm and tell me they love our brand, and ask when are we going to open there," says McKee. Dunkin' is counting on this "passion factor" as it opens in new markets.

McKee, with 18 years in franchising, knows a few people herself as she moves about the country. Prior to Dunkin' Donuts, she worked in franchise development at Earl of Sandwich, Burger King, Bennigan's, Steak and Ale, Ponderosa, Bonanza, and Denny's. "People know me and my background. Something I've always been very passionate about is getting out and meeting people," she says. McKee plans to spend a lot of time meeting people at networking events to "understand who's out there and to provide education about the opportunities we have."

So who is she looking for? Multiple brands are fine, as long as it's a noncompeting concept. If a franchisee can combine a Dunkin' operation with an already efficient infrastructure, so much the better, she says. "And if a group of investors comes to us with no operator, we may have the opportunity to introduce them to one."

Dunkin' knows the importance of a regional strategy and understanding your customer. As the brand expands nationwide, plans call for the company to "live in the market," says McKee. In other words, Dunkin' will work with regional managers, rather than export its own people.

Will there be preference to current owners? "Absolutely," says McKee. "We are very passionate about our relationship with our existing franchisees." With all the changes coming down the pike, the franchisor has undertaken an extensive communication process with its franchisees to keep them abreast of the changes. "Those interested in additional development and meeting our criteria get the first opportunity," she says. Now there's a loyalty program!
Mark Cafua, Dunkin' Donuts franchisee
As Dunkin' Donuts transforms itself into a 21st century national brand, some of its old New England franchisees are feeling left behind. Not Mark Cafua!

Cafua, 32, was five when his parents bought their first Dunkin' Donuts. Today he and his two brothers run the family-owned company. They operate 156 units (104 on their own and 52 in partnerships) and see 200 by the end of 2007. (See "Smooth Transitions," page TK, for more on how the parents transferred the business to their sons.)

This second generation of the Cafua Management Co., based in North Andover, Mass., is embracing change and looking to grow--exactly the kind of multi-unit franchisee Dunkin' wants for its aggressive expansion strategy.

New departments--human resources and training, for example--are the most important parts of the organization today, says Cafua, as the company adds a more customer service-based attitude to its historical focus on operations.

"We have to get people in the organization to understand the changes that need to be made," he says. "It's more about the beverages; selling donuts is less than 20 percent of our business. It's more about retail service, more front of the house than back."

It's easy changing attitudes or finding new employees to fill the new positions. "Right now we're going through a big change with people," says Cafua. "Finding the right people--from the counter all the way up to senior management--that's the most difficult task."

Nine of his stores are co-branded with Baskin-Robbins, but the new ones will be strictly Dunkin'. "It's something we worked on, to try to drive afternoon business," says Cafua. "But it's two different businesses. Trying to find the right people to manage them is challenging. Now we're into different things."

With the parent company branching out with new beverages and a re-branding effort, he's sticking with Dunkin'. "We're still trying to attract new customers at different day parts. We've done very well with the smoothies."

What motivated him as he grew up in the business, and what continues to motivate him today, says Cafua, is "the passion--being in the stores and becoming very passionate for the business and for what I do." If all goes as planned, he'll have plenty of new stores to be passionate in.
Mark Cafua: Up Close
Memorable first job: My school years working at Dunkin'. I had a great experience, I met a lot of great people. Really one of life's best learnings is when you do work when you're younger, and you get to see what transpires. It's amazing the things you see working with customers. It's been great.
Professional tip: Set your goals and really keep on track, and focus on achieving those goals. We lose sight of what we're trying to do sometimes. There are barriers that may come up and sometimes people just give up. You have to step back and find ways to make it happen.
Key education: From a lot of my employees. When you become a network of our size it's very important to listen to them all. When companies grow, sometimes they don't listen to people who are on the front lines. Find out what they need to fulfill their day-to-day duties. A lot of us do a lot of talking sometimes, but we don't listen enough. It's really about listening.
Role model: My father, in every aspect, the qualities he has. He was really supportive of me.
Currently reading: Execution: The Discipline of Getting Things Done, by Larry Bossidy; The 21 Indispensable Qualities of a Leader, by John C. Maxwell
Business news sources you regularly read: Business Week, Restaurant News
Favorite web sites (besides your own): Vacation destinations to go and enjoy life sometimes. That's where I try to do a lot of my reading.
Franchise systems (besides your own) that are creative: Hurricane Wings & Grill. A fellow franchisee is becoming the franchisor. We're in the process of buying his Dunkin' locations in Florida. It's a very creative brand.
Favorite quote: "Every day's a holiday." No matter what challenges are in front of us, we joke about it, but we take it seriously. We're able to overcome anything as long as we take a positive attitude.
Best advice you ever gave: Set your goals in concrete--and go after them. Be able to overcome any obstacle anyone puts in front of you to achieve your goal.
Biggest project for the year: Acquisition of 12-store network with the partner in Florida. As an organization, reorganizing and restructuring from within, around people.
What you do to unwind: Go on cruises to the Caribbean with my family.
Published: October 17th, 2006
Share this Feature
Recommended Reading:
Comments:
comments powered by

Disqus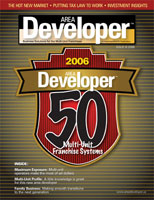 Multi-Unit Franchisee Magazine: Issue 3, 2006
Hungry Howie's is currently EXPANDING! Top Markets are available for single or multiple unit development. Get the EDGE over the competition with...
Cash Required:
$220,000
Proven, Successful, Desired: Your Lucrative Franchise Option.
Cash Required:
$230,000