Area developers use Web-based technology to build value and promote brand
Much has been made of the benefits of web-based technology as it applies to the franchise corporate office and how it can easily and effectively collect financial data from its franchisees.

But there are many benefits for area developers, their franchisees, and ultimately their customers as well. Developments in technology now allow real-time posts and replies, streaming audio and video, e-mail coupons, online quotes and customer database management. Multi-unit operators using this technology say it's the fundamentals of communication that make intranet and Internet sites so valuable. Whether it's the privacy, security and functionality of a password-protected internal intranet site, or the multi-faceted tool that a public Internet site offers, you want franchisees and customers coming back again and again. In fact, they should feel they can't live without it.

"Give people a reason to return," says Allan Gorman, a marketing and branding consultant and author of the book Briefs for Building Better Brands. "Web site stickiness is important; giving people a reason to return is essential." In addition to providing important franchise and operational information, Gorman recommends creating relevant, interesting, and involving surveys, tests, and educational and interactive components that bring people back to the site repeatedly – this is true for intranet and Internet sites.

Intranet Solutions
Dan Martin is founder and president of San Diego-based IFX Online, which designs and customizes web sites and intranet sites for franchise companies throughout the U.S. Martin says there are a number of ways that franchisees benefit from regular use of intranet sites.

"Motivating franchisees to use the sites is important. Some of my clients have implemented unique ways to get their franchisees to regularly use the sites," says Martin. "Contests are a good way; maybe you give an award to the franchisee who logs on the most times during a given month. Others have posted a franchise spotlight recognition section on their intranet with the profiled store and photo updated each month. Online quick polls that can offer real-time results are another unique idea."

Online bulletin boards and FAQ
(frequently asked questions) sections have long been staples of good intranet sites. Martin cites one company that has created a "moderator mentor forum" in which a franchise operator who has excelled in a particular area hosts an online Q&A session, offering advice where he or she fields questions from other franchisees.

"Automatic news feeds that show up whenever a franchisee logs on are also great tools to keep people coming back. You'd be surprised how often people will log on to get info like their local weather report," says Martin. One franchise company he knows has even obtained a license to post "Herman" and "The Far Side" comics on its site.

Rob Mascari is an area developer in Montgomery County, Md., where he currently operates two Merry Maids stores (www.merrymaids.com). "The intranet system provided by Merry Maids is incredibly informative and provides a great forum to share ideas, review operational issues, employee and customer issues, and get answers to various cleaning questions," he says.

Mascari utilizes the intranet to order cleaning supplies online. "That's one of the most popular components of the site for me," he adds.

Franchisees can review and order the company's products through the site. In addition, the site provides a myriad of advertising and marketing materials in all shapes, sizes, and colors for franchisees to download and use. Operators can also quickly find e-mail addresses for all other Merry Maids franchises.

Drawing users in regularly is important.
The Merry Maids intranet site features a front page story that is updated weekly. Mascari says the informative stories typically offer operations tips and interviews with other franchisees. Meetings schedules, product information, and on-sale details are available. Forms, applications, and training guides are also available for quick and easy download.

Mascari says the corporate office just recently added a new "public relations tool kit" component to the site. He says it's filled with great ideas and ways to build PR within the local communities where franchises operate.

With 13 PostNet stores (www.postnet.com) throughout Minnesota and Wisconsin, area franchisee John Francis used to have to rely on a Yahoo groups page he set up for his franchise operators to communicate and get information. Today, PostNet's intranet system takes care of that for him. He says the system is packed with information, including training materials and advertising and marketing materials. PostNet, known for embracing technology, provides a wealth of information available at the click of a button. "The message board is popular for my franchisees because it's searchable by keyword and they can get quick answers to questions," he says.

The system even allows each of his 13 locations to have their own message boards.

PostNet networks all of its stores to its intranet system and it negotiates pricing with vendors who can also be tied in. That's convenient for operators like Francis because shippers like UPS and DHL are linked into the system and just a mouse-click away.

Additionally, the system also handles credit card processing, does remote data backup, and automatically submits electronic reports to corporate.

AlphaGraphics (www.alphagraphics.com) offers its franchisees an intranet site filled with resources for the graphics-intensive industry.

Franchisees can get instantaneous post-andreply feedback in discussion groups, marketing materials, policies, manuals, forms, and a number of other resources—regularly updated and easily accessed. All are tools that multiunit operator Patrick DiLeonardo takes advantage of at his three stores in the Research Triangle area of North Carolina.

"Corporate provides some great tools for us on the intranet site. It's all extremely professional looking, and the electronic storefront is very well done," says DiLeonardo, a former IBM employee. "With my background in computers, I have augmented my system to create some other tools." He says he collects data daily from his three stores, tracking and measuring the information. For example, he receives daily cash receipts, financial reports, and past due accounts.

As a graphics-intensive operation, AlphaGraphics provides a huge storage capacity for its intranet site to allow franchisees to quickly upload and download the enormous files, graphics, and images that would otherwise be too cumbersome for email.

This eliminates the time and expense that would be required to deliver these materials through traditional mail.

DiLeonardo has taken advantage of the system to implement what he calls a "push" strategy for his stores' customers. "We have a system where we can create a pdf file for a client that shows them what their document will look like. We e-mail them a link to a private area where they can then go to view, proof, and approve their documents or images." It's another way to provide additional services to customers, and save time.

Internet Solutions
Intranet systems provide great solutions internally, but many franchises are using webbased technology tools to offer more or enhanced services to their customers as well.

E-mail may be ubiquitous, but it's a successful marketing tool at Children's Orchard (www.childrensorchard.com). Sandy Porter operates two Children's Orchard stores in the Massachusetts and New Hampshire area and she is taking advantage of the franchise's M.O.M.S. Club initiative. The program allows franchise operators to actively collect email addresses and other information from customers in the store and online. From there, operators like Porter can regularly send e-mails to their customers. The frequent contact may include coupons, product recall information, or information about a new product.

"I've been e-mailing my customers for the past two years," says Porter. "I've found that most people prefer e-mail over snail mail." The M.O.M.S. Club allows franchisees to send special promotions just before a customer's child's birthday –usually a special message with an offer for a free gift when they visit the store. Porter says it's another great tool. She says she currently has about 1,000 customers receiving her regular e-mailing. System-wide, there are more than 76,000 members in the M.O.M.S. Club.

Interestingly, Porter has found that the tools of technology have created another simpler benefit. "I know that when my customers receive the e-mails, they talk about them with their friends and ask 'did you get the latest e-mail?' It's great word-of-mouth advertising."

E-mail has become a great customer service tool for Mascari at Merry Maids as well. "We try to capture e-mail addresses whenever we can, even when people call in. Then, we can send reminder e-mails to customers the day before we are scheduled to come clean for them," he says. They also send follow-up e-mails after the service has been completed.

Mascari says he was just involved in a corporate pilot program for a series of "e-mail blasts" where three rounds of e-mails were sent to customers over the course of a few weeks.

He says he's anxiously awaiting results. The Merry Maids web site (his personalized site is at www.merrymaidsclean.com), also features a tool that allows customers to fill out forms online to get a quote or estimate for a cleaning job. As a result, Mascari captures the customer information for future reference.

"We've done about 1,200 online estimates," he adds. Mascari has also arranged to have the Internet search engines pull up his stores for customers searching online for cleaning services in the Montgomery County area.

Though not yet in Francis' stores, some PostNet stores are using another progressive technology tool. ExpressPay allows customers to use a credit card or store-value card to operate copiers, printers and computers in a faster and more efficient self-serve environment. So far the company has identified better revenue capture, enhanced reporting and tracking, more effective staff utilization, and an increased high-tech image.

Once customer data has been captured, e-mail marketing can be implemented, locally and nationally. Francis says he uploads his customer list twice annually making them eligible for enewsletters and e-coupons among other offerings.

Furthermore, Francis says the web site enables visitors to get to "his" store and subscribe to "his" newsletter. Customers can send an e-mail directly to any of his stores or upload files to an ftp site for his stores.

Future Solutions
AlphaGraphics' DiLeonardo is hopeful that he'll soon be able to use web-based technology to schedule and maximize the operations of the equipment in his stores. "Maximizing our printing time and doing an even more efficient job of scheduling our resources would improve our customer service and bottom line," he says. He adds that ideally his customers would be able to log on to a site and view details about the status of their print jobs.

Merry Maids' Mascari envisions a day soon where his customers will simply log on to the web site and schedule an appointment to have their house or property cleaned. "With a simple password and user ID, my customers could schedule or change appointments, find out how much they owed, view a history of their cleanings, and even check to see which employee had done the cleanings."

He's also hoping to soon provide his sales staff with Blackberrys (instant messaging devices). That way they could all communicate instantly about scheduling, appointments, and changes.

The two-way flow of communication and information is what makes web-based technology such a versatile and powerful tool in franchising today. And through regular use, the technology is helping to build stronger franchise communities.

Kerry Pipes is a Texas-based business writer.
Published: January 9th, 2006
Share this Feature
Recommended Reading:
Comments:
comments powered by

Disqus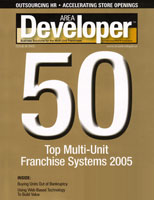 Multi-Unit Franchisee Magazine: Issue 3, 2005
Anytime Fitness makes wellness approachable for millions of members and gives franchisees the opportunity to be a part of a worldwide family of...
Cash Required:
$225,000
With a 46-year track record, 1.3M+ Avg. Gross Sales* and flexible footprints, Potbelly is a perfect addition to your portfolio. *Top 25% of...
Cash Required:
$250,000