Back to Basics: Do You Know The Difference Between Good And Great?
These are adverse times for franchise industry executives and operators. Everywhere they turn it seems they are faced with weakening markets. The "get big" strategy of the last decade, which was driven by low interest rates and growing markets, is collapsing under the pressure of shrinking consumer demand.

So what's the survival strategy? Many feel that it's time to get back to basics and focus on winning customer loyalty. With marketing budgets getting tighter and competition increasing for fewer consumers, it's becoming more and more difficult to attract new customers through mass media. It makes sense to build an unpaid army of loyal followers who will come back more frequently and tell others about their great experience.
1. Great customer experiences increase average transaction amount.
In retail environments, creating positive customer experiences can make any customer more valuable to the business, sometimes increasing average transaction amount up to 50 percent. In restaurants, creating a positive experience for the customer and executing service standards has shown a 2 to 3 percent increase in average restaurant ticket amounts.

Part of this increase can be attributed to up-sell effects. However, higher average checks are not merely the result of suggestive selling; restaurant staff can play a role by creating a great dining experience customers want to enhance and prolong by sampling additional menu items. The immediate effect on sales from providing a great customer experience makes a big impact when multiplied over thousands of transactions for multi-unit franchisees.
2. Converting satisfied customers to loyal ones creates long-term value.
Customers who have a "highly satisfying" experience tell us time and again they are going to return to that business more often than those who don't have a "highly satisfying" experience. That's pretty intuitive, right? What may not be as intuitive is the difference between a good experience and a great experience.

On average, customers who say they had an exceptional experience tell us they are twice as likely to return and almost three times as likely to recommend that business to their friends and family than those who were merely "satisfied" with their experience. Simply put, creating a great customer experience creates loyal customers.

But just because someone says they are a loyal customer, does that mean they will return? They may really intend to come back more often, but will they actually do it when the reality of a tightened home budget hits? We can test this by tying customer satisfaction results to credit card or loyalty club data. In fact, for several franchise concepts we researched, customers who said they were "highly likely" to come back in the next 30 days did so at almost twice the rate of customers who said they were "likely" to return in the next 30 days

Imagine the impact on traffic and revenue if franchisees could provide the kind of experience that would convert just 5 or 10 percent of their customers from having good experiences to having the kind of experience that would engender this kind of loyalty.
3. Earning loyalty is healthier than discounting.
A new advertising campaign or discounts on certain items may produce an immediate boost in traffic and sales. This gets executives excited and they want to do it again. They run promotions more often and at deeper discounts until they realize that as they chased increased traffic and sales, their marketing budget and price cuts have significantly reduced their margins. What's worse, our research shows that these new customers are extremely price-sensitive, less loyal to the brand, and are likely to migrate to the competition for a hot new promotion.

In contrast, when customers visit a retail or restaurant business because of a recommendation or a previous positive experience, they spend more money than customers who visited primarily because of a promotion or ad; this latter group actually spent less than people who visited for any other reason. In one franchise restaurant study, the people who visited because of a positive recommendation from a trusted friend or family member spent approximately 14 percent more than those who came only because of a promotion or ad This suggests that the healthiest way to grow is by creating the great customer experiences that make customers want to return and recommend the business.

In these tough days, franchisors and multi-unit franchisees have a place to turn for hope: their loyal customers. By creating a great customer experience, you can create a legion of loyal supporters who drive the business forward through word of mouth. The days of low interest rates and rapidly growing markets are on hold for now, but loyal customers continue to be the cornerstone of sustained financial success.

Jack Mackey is vice president of Service Management Group. Contact him at jmackey@servicemanagement.com or 816-448-4556. For information about accurately measuring customer satisfaction, send him an email requesting "Five Things We Learned from Talking t
Published: July 13th, 2009
Share this Feature
Recommended Reading:
Comments:
comments powered by

Disqus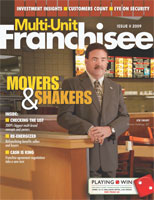 Multi-Unit Franchisee Magazine: Issue 2, 2009
The hottest new franchise is here (literally 150°). Perspire has developed, formulated and tested the most superior infrared sauna studio model...
Einstein Bros. Bagels is the largest fast-casual bagel brand, known for its freshly-baked bagels, made-to-order hot sandwiches, signature shmears...
Cash Required:
$564,300