Baked in Success: Mara Fortin for the Defense--Of Franchising!
Mara Fortin wears many hats as a Nothing Bundt Cakes franchisee: taste-testing in one of her seven San Diego-area stores, meeting with local business owners, advocating before Congress on issues of concern to franchisees and small-business owners, and mentoring young women.
A single mother with two pre-teen daughters, Fortin graduated from law school at 26 and moved to Las Vegas, where she defended doctors and nurses in malpractice cases. After 8 years, she left her legal practice and, armed with her undergraduate degree in business, relocated to San Diego to become the first franchisee of Nothing Bundt Cakes. Today she is the brand's largest individual owner in a region and her stores recently won "Best Dessert" honors from the San Diego Union-Tribune.
She's also become a vocal advocate for franchising. In 2015, the IFA recognized her work in this area with its second annual Franchise Action Network "FAN of the Year" award, acknowledging her "consistent voice in speaking to the media and lawmakers about the recent NLRB joint employer ruling" and her work to "protect, promote, and enhance" franchising.
Despite the public recognition of her energy and dedication, getting to where she is today has not been easy, she said, dealing with stress generated by working so many hours, spending too much time away from her daughters, and tackling the learning curve that comes with franchising.
"I was the first franchisee for our brand, have served as chair of the Franchise Advisory Council, and have received the Outstanding Franchisee (Circle of Honor) award, but sometimes I still feel the need to prove myself," she says. "I tell other women who want to start in franchising not to doubt themselves. There's no reason they can't do what they want to do. I tell them to have confidence--and when the naysayers come along, listen to the words they say and pull the nuggets of wisdom out, but don't let yourself be surrounded by negative energy."
Fortin also advises female franchisees to seek out female executives as mentors. "I mentor quite a few young women as well as my team members. I'm watching the young ladies grow and become leaders. Someday they will own their own companies and I couldn't be more proud to have had some type of influence on that path," she says.
As a mentor, she shares what she's learned as an entrepreneur and business owner. For example, she says, "Being smart and capable is a plus in business, but it's even better when one empowers and trains others who are equally capable." And, "the best days of a business leader come when one actually practices the highly touted commitment to serve the company and its team members."
Her strong beliefs about the virtues and values of being a small-business owner and franchisee led her in September 2015 to testify before the House Committee on Education and the Workforce about her concerns with the NLRB's redefinition of joint employer. She also led a press conference of small-business owners who spoke to members of Congress on Capitol Hill on issues facing their businesses during the annual FAN meeting in Washington, D.C. Today she remains focused on advocacy--and on perfecting her bakeries and continuing to grow her company.
"I love our product--it's like Starbucks for cake. They make coffee, which is easy to make at home. But because they do it well and consistently and have a presence, people want to go there for the experience," she says. "It's the same with our bundt cakes. We do one product and we do it well over and over again. That's why we're able to be successful even in health-conscious San Diego."
Knowing her demographic and the role the cakes (many topped with thick cream-cheese icing) play in people's lives has been integral to Fortin's success. "I love talking to people and hearing how much the cakes have meant to them," she says. "They tell me how our cakes have been used to brighten people's days, to say thank-you, or to celebrate wedding or baby showers. I also clued in early to how important the cakes are as a community relations tool and a way to give back." She regularly donates proceeds to Rady Children's Hospital in San Diego and to Susan G. Komen for the Cure.
Also key in her company's success has been the creation of the right company culture, says Fortin, daughter of a clergyman and one of four sisters. "We've built a culture that's not just about teamwork, but like a family environment. I recently interviewed someone for a job who was clearly overqualified. I asked him why he wanted to work here and he said, 'Because my wife works here and I know how great the company culture is.' That's important to people. They like us and feel comfortable and know that we have their best interests at heart."
When Fortin looks ahead, she sees a time when she might run for Congress or another elective office. But whether it's baking cakes or passing laws, for Fortin it's still all about people. "I'm not in the cake business," she says. "I'm in the people business."
Name: Mara Fortin
Title: Founder, president, owner
Company: MV Kakery, K&K Kakery
No. of units: 7 Nothing Bundt Cakes
Age: 43
Family: Daughters Kendall, 12 and Karyn, 10
Years in franchising: 10
Years in current position: 10
Personal
First job:
Babysitter.
Formative influences/events:
I grew up in a family of four girls. My father was a traveling pastor and we moved frequently, staying in a state for only a brief time. We moved to San Diego when I was eight.
Key accomplishments:
Graduating from law school (undergraduate degree in business administration from Ambassador University in Texas, and law degree from University of Arizona); the birth of my daughters; becoming the first franchisee to open a Nothing Bundt Cakes bakery; being recognized as a female leader in my local market by several chambers and other organizations; and receiving the IFA's FAN of the Year award in 2015.
Biggest current challenge:
Trying to navigate and grow my business given our current regulatory environment and doing business in the "country" of California.
Next big goal:
To fight for the interests of small-business owners, possibly through an elected position.
First turning point in your career:
Moving to Las Vegas and becoming an attorney opened up many doors for me.
Best business decision:
To take a risk and grow beyond two units of my current brand.
Hardest lesson learned:
Not everyone will do the right thing, and words often don't follow with the promised action.
Work week:
Flexibly crazy; typically Monday through Friday with quite a bit of travel.
Exercise/workout:
Daily at the gym. It's my stress reliever.
Best advice you ever got:
Trust your gut and surround yourself with people you want to be like.
What's your passion in business?
Fighting for the rights of small-business owners.
How do you balance life and work?
I don't (laughing). I force myself to step away, and traveling helps with that.
Guilty pleasure:
French fries.
Favorite book:
To Kill a Mockingbird by Harper Lee.
Favorite movie:
"The Shawshank Redemption."
What do most people not know about you?
It was surprising for my team as they got to know me that I have a sense of humor and like to laugh a lot, especially when under stress. We often just take breaks and find a humorous topic to focus on for a few minutes.
Pet peeve:
Passive-aggressive behavior. I'd rather have someone say it straight to my face than behind my back.
What did you want to be when you grew up?
An attorney.
Last vacation:
For the first time in 10 years, I traveled quite a bit this summer.
Person I'd most like to have lunch with:
Retired Supreme Court Justice Sandra Day O'Connor.
Management
Business philosophy:
If you are honest and treat others fairly, you can lead with a certain freedom, knowing you are making the correct decisions, even when you have to make tough ones.
Management method or style:
I ask a lot of questions to get others to come up with the answers they already have inside them.
Greatest challenge:
Managing growth and dealing with regulatory compliance, all while continuing to run a top-notch company.
How do others describe you?
Tough, stern, intimidating at times, but fair and respectful.
One thing I'm looking to do better:
Be more organized!
How I give my team room to innovate and experiment:
It's okay to speak up and disagree professionally, and it's okay to make mistakes. It's how we recover from those mistakes and take ownership of them that matters.
How close are you to operations?
I oversee all departments and speak with my leadership team daily.
What are the two most important things you rely on from your franchisor?
Maintaining a top-notch product line and expanding in a smart manner with the right unit owners.
What I need from vendors:
Reliability and consistency. I agree to pay my bills on time so you need to get my product/service to me on time as well.
Have you changed your marketing strategy in response to the economy? How?
With our growth and saturation in San Diego, we've been able to move away from deal-based offers to more exposure and community involvement.
How is social media affecting your business?
The more popular our bundt cakes become, the more searches are done, and blogs are popping up. It's exciting to watch the momentum we are gaining on all social media outlets.
How do you hire and fire?
We use a company called Hireology. We also have a fully developed HR department, and all decisions are run by them before a hire is made or a termination is performed.
How do you train and retain?
We have developed a detailed onboarding program to introduce and go through the initial training. We retain by engaging our team members and trying to understand what they need in the workplace. We try to go above and beyond to be a fair and desirable employer.
How do you deal with problem employees?
We have learned over the years that immediately addressing the situation is critical. We have been successful in rehabilitating some who have gone on to be very successful with us. If that is not possible, we move them out of the company quickly so that the problem doesn't metastasize.
Fastest way into my doghouse:
Be disrespectful to me or to any of my staff.
Bottom Line
Annual revenue:
$8+ million.
2016 goals:
For each bakery to exceed $1 million in sales; three already are.
Growth meter: How do you measure your growth?
We compare sales year over year, of course, and also more specific measurable points to see if we are trending in the right direction, such as percentage of retail sales, add-ons, average ticket, etc.
Vision meter: Where do you want to be in 5 years? 10 years?
Definitely, 5 years from now, I'll be staying with my brand and growing. I love to grow, whether by owning my own units or partnering and building bakeries in different parts of the country. I also enjoy advising and coaching. In 10 years, I could see myself shifting to politics and advocacy, speaking on behalf of small-business owners, which seems to be a natural fit for me.
How is the economy in your region affecting you, your employees, your customers?
California is a very tough state and the costs of doing business continue to rise. We are trying not to raise prices, but it is difficult to maintain the quality we need and post strong financials. With the steady minimum wage increases, we are becoming more selective in our hiring, among other initiatives to attempt to control costs.
Are you experiencing economic growth in your market?
Absolutely. I am fortunate enough to be part of a successful, sought-after brand, and the growth overall has been remarkable.
How do changes in the economy affect the way you do business?
More than the economy per se, which hasn't greatly affected us yet, we have adapted over the years to more regulations in California, which in turn affect the economy. We have a fully developed HR department, even though we are relatively small. We are very mindful of labor costs and we work on our efficiencies constantly, maybe more so than someone in another state.
How do you forecast for your business?
We take historical sales data, growth trends, upcoming offers, seasonality, and we set weekly, monthly, quarterly, and yearly benchmarks.
What are the best sources for capital expansion?
I like to keep my cash flowing through my business. If I can get a low-interest loan, that's how I've done it.
Experience with private equity, local banks, national banks, other institutions? Why/why not?
I work with a local bank out of Las Vegas that has a relationship with Nothing Bundt Cakes. We have also had luck with SBA loans, which are tough administratively, but the rates are relatively low.
What are you doing to take care of your employees?
We work on this constantly. We offered healthcare well before Obamacare was on the horizon, in order to keep our talent. We try our best to fit a person's skill level with the correct position, and we're willing to move them around with extra training so they can master new positions. We offer an expansive bonus program, a retail bonus program, and a referral fee program. If an A team member brings in another A team member, they get $200. If anyone on the team scores 100 percent on mystery shops or any type of review, they get $100.
How are you handling rising employee costs (payroll, minimum wage, healthcare, etc.)?
We do a combination of biting the bullet and incentivizing our team with bonus programs to manage labor dollars, and we are jumping ahead of the minimum wage trend so that we aren't constantly reactive. We are far more aware of the costs of a $13 to $15 per hour employee with insurance and paid sick leave benefits. We expect them to perform and, if they do not, we move them out of the company.
How do you reward/recognize top-performing employees?
See above.
What kind of exit strategy do you have in place?
NA.
Published: January 9th, 2017
Share this Feature
Recommended Reading:
Comments:
comments powered by

Disqus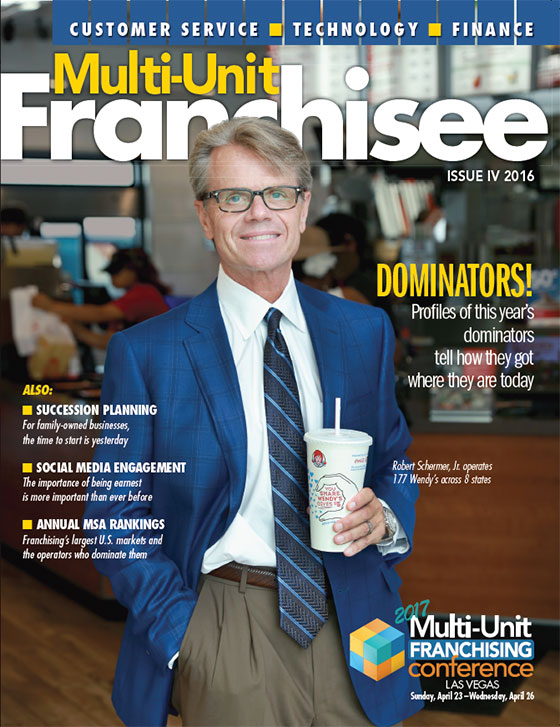 Multi-Unit Franchisee Magazine: Issue 4, 2016
Demand for The Bar Method continues to grow as more people discover the benefits of a barre-based workout and feel the empowerment after each...
Cash Required:
$150,000
With a 46-year track record, 1.3M+ Avg. Gross Sales* and flexible footprints, Potbelly is a perfect addition to your portfolio. *Top 25% of...
Cash Required:
$250,000