Donuts for Soldiers! George Hart wants a Dunkin' on every U.S. base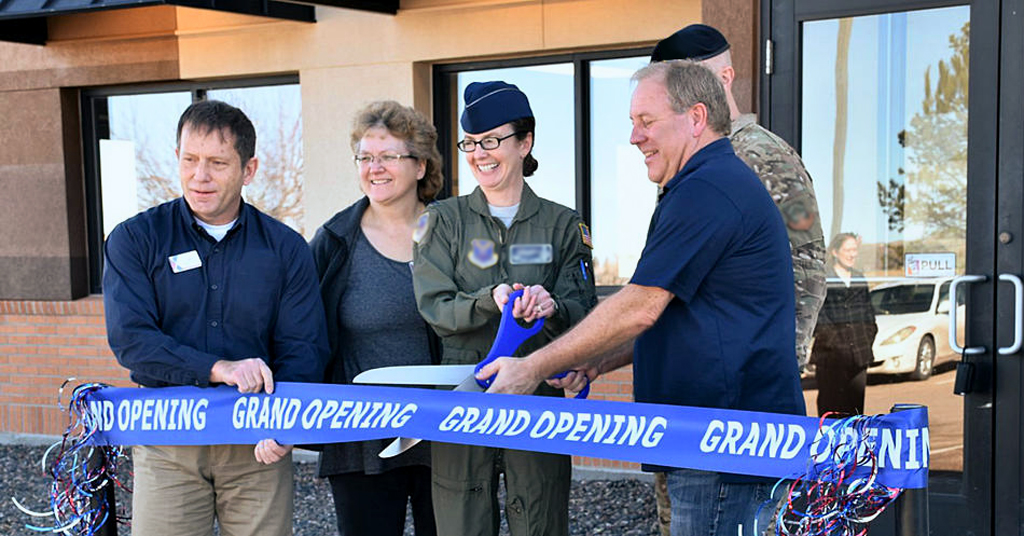 Name: George J. Hart
Title: CEO
Company: Hartman Holdings
Units: 5 Dunkin'/Baskin-Robbins combos, 6 Dunkin', 1 Teriyaki Madness (opening Q1 2021)
Age: 59
Family: Wife Dena; children Kimberly, Leighann, Michelle, and Ryan; grandchildren Madisyn, Colton, Chase, Bryce, Anne Marie, Maci, Teagan, Erin
Years in franchising: 5
Years in current position: 5
George Hart spent 25 years in the U.S. Army. After enlisting and rising to officer, he became a paratrooper and reconnaissance helicopter pilot who served in three aviation commands and several combat tours. After retiring, he worked as a consultant for the Department of Defense for another 10 years before signing on as a Dunkin' franchisee 5 years ago. Now he's on a mission to help the U.S. military run on Dunkin'. "My goal is to have a Dunkin' on every military base in America," says the 59-year-old.
Hart officially began his crusade in 2015, when he opened his first Dunkin' at the U.S. Air Force Academy in Colorado Springs. He now has 11, including 5 combo locations that include Dunkin' and Baskin-Robbins under one roof, in military bases in Colorado, Kentucky, Utah, and Dunkin's first Wyoming location. He recently signed on for his first Teriyaki Madness restaurant, which will of course, be on a military base. "The low-carb, high-protein healthy food alternative offers soldiers a balanced meal to fuel their daily activities, which is a rising dietary trend among the U.S. military," he says.
Hart says his military base expansion strategy works because he brings in a big-name brand like Dunkin' and the service members are excited for the high-quality product. And, he says, the general managers on each base can convert just about any available space into a Dunkin'. The result has included units ranging from smaller drive-thru-only locations to 3,000-square-foot Dunkin'/Baskin-Robbins combos. Another key part of Hart's military base strategy is his commitment to hiring veterans. At least half of his staff is composed of veterans or family members of veterans.
Hart now has his eye on opening several new locations at bases across Texas, Ohio, Colorado, Arizona, and Kansas. He admits that contracting with the government can involve some bureaucracy and red tape (think stringent security and supply chain), but the results have been rewarding. He's running about $4.2 million a year in sales.
Looking ahead, his goals are straightforward. In 2021 he plans to open six more Dunkin' restaurants at bases across the Southwest. Five years from now he plans to have 40 Dunkin' stores open. In 10 years he plans to have more than 100 open... fulfilling his goal of putting a Dunkin' on every military base in the U.S.
PERSONAL
First job: U.S. Army. Enlisted in 1979, retired in 2004.
Formative influences/events: Serving 25 years in the military.
Key accomplishments: Air Cavalry Aviation Commander, reconnaissance helicopter pilot, U.S. Air Force Academy professor, military helicopter mechanic, ground and air scout.
Biggest current challenge: Growing a business from the ground up.
Next big goal: Developing six new Dunkin' stores over the next year.
First turning point in your career: My transition from being enlisted as a military member to a military officer.
Best business decision: Buying an emerging market franchise with Dunkin' in Wyoming. I had the opportunity to start something new and open the brand's first Wyoming location alongside expanding a growing presence in the Southwest U.S. Despite the lack of brand presence in the region, we've discovered the vast majority of the population already knew of and loved Dunkin' thanks to our global presence and #1 rating in brand loyalty.
Hardest lesson learned: Perfecting the financing of new developments and learning to allocate enough operating funds with new store opening expenses.
Work week: As an entrepreneur, what they say is true: You work 80 hours a week for yourself to get out of working 40 hours a week for someone else.
Exercise/workout: I try to stick to exercising three days a week with aerobic, anaerobic, and swim routines.
Best advice you ever got: Never believe the first report, it's not accurate.
What's your passion in business? Building new stores and developing markets. In particular, building Dunkin' stores on military bases, or my home away from home.
How do you balance life and work? I meditate daily. But the real balance comes by listening to my wife when she says it's time for a break and to focus on family, travel, leisure, and relaxation.
Guilty pleasure: A great cigar and bourbon.
Favorite book: Sun Tzu: The Art of War
Favorite movie: "Forrest Gump."
What do most people not know about you? I have a passion for coaching, teaching, and mentoring the next generation to do more then they personally thought possible; to develop young business leaders living up to their true potential.
Pet peeve: When people won't take responsibility for their actions.
What did you want to be when you grew up? A pilot. I'm proud to say I've accomplished that goal!
Last vacation: Last December, my family was able to visit Egypt. I'm a huge history buff so it was very exciting to visit ancient ruins!
Person I'd most like to have lunch with: Elon Musk. He's a true innovator and leader of our generation.
MANAGEMENT
Business philosophy: Do the right thing, especially when no one is looking.
Management method or style: I operate my staff similarly to how the military is managed, meaning we function like a well-oiled machine based on trust, honesty, and hard work.
Greatest challenge: Talent acquisition and management has always been a factor, even before the pandemic. With a tight labor pool, we do our best to find and hire the most qualified candidates while preparing them with the proper training tools.
How do others describe you? I'm a person with character, meaning I do exactly what I say I'm going to do.
One thing I'm looking to do better: I'm always working to improve my time management, specifically to focus on my work/life balance. Additionally, with more time, I'd like to put more effort into mentorship. I believe mentorship is crucial in developing talent, and I aim to give my staff everything they need to succeed.
How I give my team room to innovate and experiment: Since my staff is closest to the problem, I encourage them to come to me with solutions rather than the issue at hand. "Don't come to me with problems, come to me with solutions." With this empowering step, we can figure out the best solution together.
How close are you to operations? Very close in the day-to-day at the moment.
What are the two most important things you rely on from your franchisor? First, I rely on Dunkin' for brand loyalty and marketing tactics. While they promote the brand image overall and ensure that guests visit our locations, I'm able to make sure customers are satisfied with their experience and keep returning. Likewise, I rely on the brand for product line testing and development. Our on-the-go snacks, premium beverages, and innovative menu items keep customers engaged with the brand, which stays up-to-date on the latest consumer trends.
What I need from vendors: Fast and reliable service.
Have you changed your marketing strategy in response to the economy? How? Although Dunkin' is able to handle a majority of marketing efforts, I still support local marketing tactics recommended by my franchisor. Our customers, especially on our non-traditional sites, tend to be Dunkin' loyalists who know the brand very well. They know us as a premium beverage and sandwich brand, and our marketing efforts support that message.
How is social media affecting your business? Always in a very positive light. In fact, recently Dunkin' has kicked up local social media support and, as a result, our channels are flooded with positive guest feedback. In particular, customers are delighted to see that we've remained operating and open while adhering to safety protocols.
How do you hire and fire? We use an outside vendor called HireMe for talent acquisition. The vendor is great because they are very technology-focused, Millennial-friendly, and instantaneous for job hunting. From there, our interview process is focused on good attitude, potential, and initiative. The rare case someone would be fired is if they're exhibiting a bad attitude to customers and having a negative impact on other staff members. If it comes to that, we follow labor law guidelines for each state. But we believe in rehabilitation if possible and do everything we can to keep an open dialogue with our staff.
How do you train and retain? Day one of training consists of paperwork and orientation. Employees participate in Dunkin' University food safety courses. The next three to five days continue food safety training and integrating behind-the-counter skills. To retain employees, we have several programs. One that has been very successful is that we pay employees an extra $1 per hour in addition to their regular wage for every hour they work in a month. Then, at the end of the month, they can receive their extra incentive check if they are still with us. They'll officially receive the incentive check on the subsequent payday after the month. This incentive brought down turnover among crew members. Additionally, with managers, we offer profit-sharing based on a percentage of store revenue that month.
How do you deal with problem employees? We try to figure it out together, recognizing that everyone has a personal life and daily issues they're dealing with. We only have to draw the line when they're disruptive to other employees or unkind to guests.
Fastest way into my doghouse: Lie to me. I'd rather hear the truth and have the person take responsibility instead of hearing a lie and still have the problem exist. Sometimes the truth hurts, but only for a moment.
COVID-19
What are the biggest impacts of Covid-19 on your business? I own several non-traditional locations across military bases and office buildings. Therefore, the decrease in traffic from the pandemic has severely affected us.
How have you responded? We've stayed open with limited staff members, reduced our hours of operation and food costs, although, we have kept our full menu. It's still a goal to stay open regardless, because if we show guests loyalty now, they'll likely do the same for us in the future.
What changes do you think will be permanent? Guests will certainly remain on the go with an increased focus on drive-thrus, curbside pickup, and delivery for restaurant concepts. Luckily, at Dunkin', our restaurant model is built for the on-the-go lifestyle, especially my non-traditional locations. Throughout my locations, we're able to not have any seating, as well as offer a virtually contactless experience with our POS system and environmentally friendly, disposable packaging.
BOTTOM LINE
Annual revenue: About $4.2 million in store sales.
2021 goals: To open six more Dunkin' restaurants across the Southwest.
Growth meter: How do you measure your growth? By our increased store count and growth.
Vision meter: Where do you want to be in 5 years? 10 years? In 5 years, my goal is to have 40 Dunkin' stores open. In 10, my goal is to have over 100 open, with a Dunkin' on every military base in the United States!
Do you have brands in different segments? Why/why not? Yes, I am developing our first Teriyaki Madness on a military base. The restaurant serves lunch and dinner, a separate segment from Dunkin', and also caters to the military base's interest in healthy, protein-rich food. The low-carb, high-protein healthy food alternative offers soldiers a balanced meal to fuel their daily activities, which is a rising dietary trend among the U.S. military.
How is the economy in your regions affecting you, your employees, your customers? In Colorado, the state actually did a great job through Covid-19. Our economy seems to be steady at the moment. Of course, there are more people available in the labor pool and Dunkin' is continuing to hire, so that has left of us with a larger selection for new recruits. Additionally, we've had to adjust to limited capacity serving and safety protocols like everyone else in the restaurant industry.
Are you experiencing economic growth in your market? Personally, yes. We are anticipating a market recovery and capitalizing on that with new development.
How do changes in the economy affect the way you do business? As stated, we've limited our business hours.
How do you forecast for your business? I am certain we'll survive Covid-19. In the nature of business, there are ups and downs. We expect to comp from last year's sales, but we'll still expect to see a 10% increase in overall growth and improved traffic count.
What are the best sources for capital expansion? At the moment, I would lean toward private equity.
Experience with private equity, local banks, national banks, other institutions? Why/why not? I've always preferred local banks because you can receive a more personalized experience. They really care about you and your business. Now that my business has grown 5 years into operating and is showing revenue increase, banking has become easier and more streamlined.
What are you doing to take care of your employees? We've kept up with our retention incentive programs, profit-sharing opportunities for managers, and provided job security thanks to the PPP loan program. We always aim to create a happy work environment and want employees to enjoy where they work, just like our customers enjoy our brand.
How are you handling rising employee costs (payroll, minimum wage, healthcare, etc.)? Taking it as it comes. These expenses are an inevitable part of business and one that employers should always factor into their budget and business models.
What laws and regulations are affecting your business and how are you dealing with them? Without a doubt, we've had to adjust to limited capacity requirements and are doing all we can to ensure a safe guest experience.
How do you reward/recognize top-performing employees? We provide incentives, contests, and competitions. Rewards can range anywhere from a $25 gift card to a television! For example, we once did a "drive-thru speed competition." We gathered the top-performing employees from each store and put them to work together in one store for a week. The goal was to see how fast and efficiently they could work together. The contest was extremely successful, providing the employees with a sense of pride and serving as an example to their co-workers. To top it off, they each received a $50 gift card!
What kind of exit strategy do you have in place? In the next 5 years, I'd either like to bring in a new CEO to replace me and take on more of a chairman role for oversight in development and participation in Dunkin' committees that support the franchisee networks in the West Region. At that point, I'd have more personal time with family and start to think about what retirement would look as I enter the next phase of my life.
Published: October 27th, 2020
Share this Feature
Recommended Reading:
Comments:
comments powered by

Disqus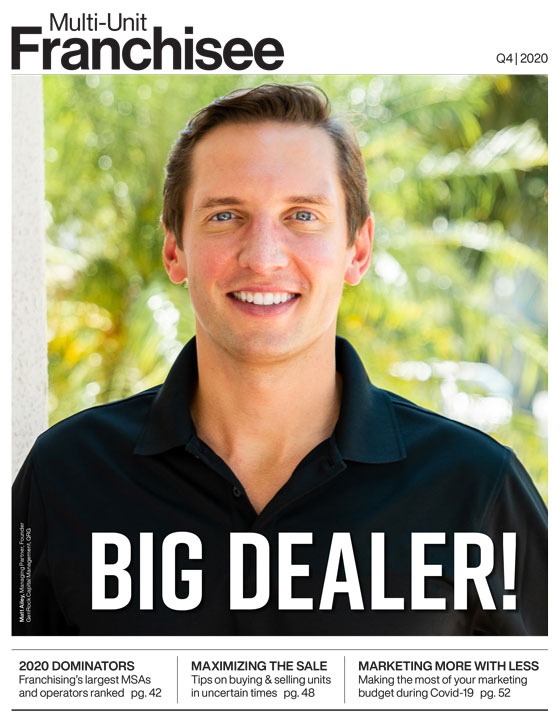 Multi-Unit Franchisee Magazine: Issue 4, 2020
Join the World's Largest Hot Dog Chain. As a successful and iconic franchise of over 60-years, we OWN the hot dog category and want to share...
Cash Required:
$250,000
With a passion for creating happy 'Human Beans', the company's drive-thrus have established a reputation for friendly baristas, high-quality coffee,...
Cash Required:
$200,000