Biggest Ever! Record-Setting MUFC Keeps the Customers Satisfied
Some of the biggest and brightest multi-unit operators in the country gathered March 24-27 at Caesars Palace in Las Vegas for what has become franchising's must-attend event for multi-unit franchisees: Franchise Update Media's annual Multi-Unit Franchising Conference (MUFC). Whether they operated 3 units or 300, they came for the education, the networking opportunities, and a chance to visit with representatives from other brands, as well as vendors and suppliers.
Pre-conference warm-up

Once again, attendees eased into the conference with a scramble-style golf tournament at the Arroyo Golf Club in the balmy breezes of Nevada's high desert. The annual event, followed by an awards banquet, is attendees' first chance to network and enjoy some serious fun in the sun before business kicks in the next day. Later that evening, attendees flocked to Carmine's in Caesars Palace's Forum Shops for the opening social. The meet-and-greet offers first-time attendees to meet with Conference Advisory Board members over hors d'oeuvres and drinks for the first hour before the event opens up to franchisees who have previously attended.

Conference By The Numbers

Attendees

1,720

Franchisees

650

Units

14,000

Employees

250,000

Systemwide revenue

$9 billion+

Exhibitors

200+

Seeking new brands

75%
Day 1, AM: Keynotes & general sessions
As the doors swung open for the first general session, Franchise Update Media CEO Therese Thilgen welcomed the crowd of multi-unit operators and industry allies as they packed the room. "We had more than 1,720 registrations for the event this year," she said, the largest number in the history of the conference. "There are more than 650 franchisees representing almost 500 enterprises employing more than 250,000 people, and doing more than $9 billion in annual revenue." And representing more industries than at any previous MUFC.
Additionally, of those who responded to a questionnaire:
75 percent were seeking new brands in either food, retail, or service
in the next 12 months, they plan to add more than 4,000 units
in the next 5 years, they plan to add 14,000 units
50% had 1 brand, 18% had 2, and 32% had 3 or more.
Next up was 2019 Conference Chair Greg Cutchall, who took the stage to offer his own welcome. In the world of restaurateurs, he is a bit of a legend in his hometown of Omaha, where he operates multiple Sonics, Domino's, and First Watch restaurants, along with a few concepts of his own. He thanked last year's co-chairs, Supercuts franchisees Cheryl and Joe Robinson, for their hard work and dedication.
Next up was the first keynote speaker, Chris Wallace, award-winning journalist and host of "Fox News Sunday." The keynote was sponsored by Inspire Brands. Wallace warmed up the crowd with several jokes about Washington insiders before digging into political subjects including the current administration and the just-released Mueller Report. "Was there collusion by the Trump administration? No," he said. "Was there obstruction of justice? Perhaps." He also spoke about what he called "the biggest moment of my career," when he moderated the final presidential debate between Hillary Clinton and Donald Trump in 2016.
Wallace was followed by a high-powered general session panel titled "Open Markets, M&A, and the Impact on Franchisees." Dunkin' Brands franchisee Rob Branca facilitated a panel consisting of Omar Simmons, managing partner of Exaltaire Capital Partners and a Planet Fitness franchisee; David Tarantino, senior analyst for restaurants and co-director of research at Baird; Aziz Hashim, managing partner at NRD Capital and former IFA chair; and Steve Romaniello, managing director at Roark Capital Group, also a former IFA chair.
The general consensus among the panel was that the franchise space is still flush with capital and multiples are strong, perhaps too strong at present. "There are some eye-popping valuations out there today," said Branca.
Two major factors driving increased valuations, said Romaniello, are the historically low cost of capital and the high supply of investor money. Also, he said, "There's a lot more competition for deals right now." There's also "a little bit of extra hype right now because new investors don't get it," said Simmons.
Hashim noted the importance of unit economics. "Good unit economics are essential in today's market," he said. However, Tarantino noted, potential outside investors remain more interested in top-line sales than in the business model or unit economics of franchise brands and franchisee organizations.
The morning session was followed by two luncheons, one exclusive (i.e., pitch-free) for franchisees, the other for franchisors and exhibitors to meet and mingle. At the franchisee luncheon, Greg Cutchall shared his "$90,000 to $90 Million (The Hard Way)" story to an appreciative crowd. At the franchisor and supplier luncheon, the topic was the 5 deal-killers for multi-unit franchisees.
Day 1 PM: Breakout sessions
The afternoon kicked off with a set of breakout sessions, with four tracks: Franchisee Growth, Mega Franchisees, Real Estate & Finance, and Service Brands. Topics included Adding New Brands to Your Franchise Portfolio, Growing to 10, 20, 30 Units & Beyond, Advice for Growing Franchisees, Operating Non-Brick-and-Mortar Brands, Real Estate Trends & Tips To Find the Best 'A' Sites, and more.
New to the conference this year was a room set aside for one-on-one meetings between franchisees and finance and real estate experts to discuss problems and solutions confidentially. The Finance & Real Estate (FIRE) Pavilion was open during the first two days of the conference.
The afternoon ended with the Opening Network Reception in the Exhibit Hall, this year filled with more than 200 booths offering franchise opportunities, products, and services.
Day 2 AM: Bar Rescue, MVPs, economy
Continental breakfast (and coffee!) awaited attendees eager to gear up for the conference's second full day. Franchise Update Co-Founder and Chairman Gary Gardner welcomed attendees to the general session before turning the stage over to the day's first keynote talk, sponsored by Pronto Insurance.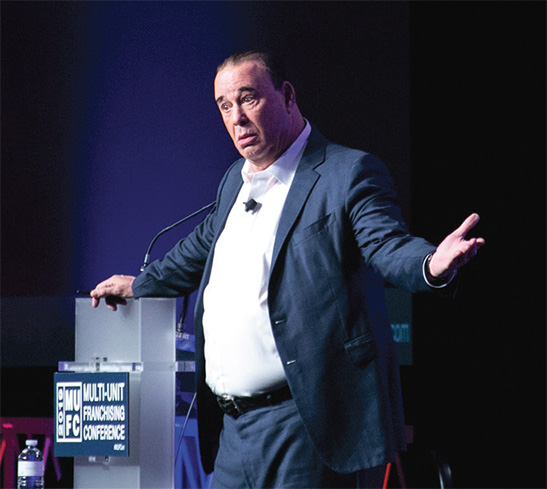 If anyone needed more than coffee to wake them up, Jon Taffer was their guy. Entrepreneur, bestselling author, and host of TV's "Bar Rescue" show, Taffer kicked off the day with a bang. He began by explaining how he uses anger (his) as a tool to wake people up to see--and change--their behavior to achieve the results they want. He said the TV show was not so much about bar and restaurant rescue as it was about people rescue.
One lesson he learned from the show was that the common denominator of failure was excuses, the inability of people to own their actions, accept responsibility, and move forward. "Accountability is #1 with me." Another was about speed to make changes. "None of you do it as fast as you can," he said. "Waiting is what hurts you. Plan for it. Go forward."
He also introduced his idea of Reaction Management. "The reaction is your product," he said. Chefs are not preparing a meal, they're preparing a reaction, he said. If there's no reaction when the meal is placed in front of a customer, it failed. "The ones who create the greatest reactions win. Turn your company into a sales and reaction machine," he exhorted the crowd.
Next up was one of the conference's most anticipated events: the announcement of this year's MVP (Most Valuable Performer) Award winners--franchisees who are leaders in their organizations, their brands, and their communities. The presentation was sponsored again this year by American Family Care. See page 10 for profiles of this year's winners.
The awards were followed by the annual "State of the Industry" presentation by Frandata CEO Darrell Johnson. Overall, his presentation offered a cautious optimism, though he mentioned slowing global economies (China and Europe) and flat consumer demand.
For 2019-2020, he said, the "Goldilocks era," where business conditions are just right, will continue a while longer. "The low cost of capital is driving three franchise trends right now: brand diversification for multi-unit operators, an increasing focus on operator efficiency, and mergers and acquisitions of brands and franchisees." Still, he said, "The air is going out of this balloon."
On another front, he addressed the role of franchising in solving the problem of skilled vs. unskilled labor in this country. He challenged the marketing and advertising people in the room to reframe and reassess what franchising is, and its role in the nation's economy.
"We have allowed the brand of franchising to be defined by others. Yet you in this room have launched more than 1 million careers," he said. "We're already doing the very thing that is missing in employment circles: teaching fundamental skills like teamwork, training, computer literacy, and customer interaction. You are doing exactly the things this economy needs." The problem, he noted, is getting this message out to the public, to legislators, and to the media in an effective way.
Day 2, AM, part 2: labor & Cave Rescue
Next up was a timely general session panel called "Attract, Recruit, & Retain in a Tight Labor Market." Supercuts franchisee Gary Robins moderated a panel consisting of Matt Haller, senior vice president of government relations and public affairs at the IFA; Keith Miller, Subway multi-unit franchisee and former chair of the Coalition of Franchisee Associations; and attorney Michael Lotito, labor counsel to the IFA and co-chair of Littler's Workplace Policy Institute. Panelists discussed issues ranging from federal issues such as joint employer and overtime rules to state and local regulations affecting employers and employees alike, such as minimum wage.
"Some decent things are happening," said Lotito, who expects a favorable outcome this fall regarding joint employer rules. He also expects a "pretty good" ruling on overtime pay and hours. "The real challenge is how do we keep them happening? How do we write a rule that will be sustained if Trump is not re-elected?"
Miller, whose Subway stores are in California, raised a cautionary flag about ongoing minimum wage hikes. He said wages are up $30,000 per year for his three stores. "And I'm just a little guy. It affects our business model. And when we raise prices, franchisors get a bigger raise than we do," he said. "We have to concentrate on efficiencies. We must do the same with fewer labor hours." Eventually, he said, falling unit margins are not sustainable. And, he added, if some larger franchisees fall below their loan covenants, it could spell danger for their franchise systems.
After this sobering discussion, attendees were treated to the inspiring story of what's come to be known as the Thai Cave Rescue. ABC News Chief National Correspondent Matt Gutman told the riveting story of the rescue of 12 Thai boys and their soccer team coach trapped in a cave complex in Thailand for 18 days. Gutman, who was on the scene when a rescue seemed bleak, if not impossible, told a story of human spirit, survival, and inspiration. His on-the-scene knowledge and photos of the ordeal had attendees on the edges of their seats until it was past time to break for lunch. (And yes, his book on the rescue came out in November.)
Lunch was served in the Exhibit Hall, offering franchisees another opportunity to rub elbows and talk shop with their peers, and to visit booths staffed by brands seeking new franchisees and suppliers seeking new clients.
The afternoon was filled with breakout sessions on four tracks: People, Innovation & Disruption, Real Estate & Finance, and Operations & Profitability. Each track featured 2 or 3 "mini-sessions." Topics included Develop Great Managers, Labor Reduction Ideas Using Technology, Attract & Recruit the Best Talent for Your Locations, Lease Negotiations & Renegotiations, and New Ideas for Online Ordering & Payment.
The Exhibit Hall opened its doors one more time for a closing networking reception and a final chance to check out new brands, suppliers, and connect with fellow franchisees.
Day 3: Time for action!
The closing morning session, Build Your Franchisee Action Plan for Legislative Advocacy, focused on how franchisees can get involved in protecting and promoting the franchise business model. Franchisees were urged to get involved in educating their elected officials and shaping future legislation on the local, regional, state, and federal levels.
Erica Farage, vice president of political affairs and grassroots advocacy at the IFA, facilitated a panel consisting of Mara Fortin, a Nothing Bundt Cakes franchisee; Tamra Kennedy, a Taco John's franchisee who serves on the IFA board, is vice chair of the Franchisee Forum, a member of the Franchise Relations Committee, and Minnesota's state captain for the Franchise Action Network (FAN); and Tom Baber, an IHOP and Money Mailer franchisee who serves on the IFA's Franchise Relations Committee and Franchisee Forum.
Each panelist shared their own stories of how they became so involved and how they learned to participate in local and national politics, offering advice on how other franchisees could--and should--get involved. The discussion made its way from NLRB joint employer rules and frivolous ADA lawsuits to the critical labor shortage and rising minimum wages.
The 2020 Multi-Unit Franchising Conference will be held April 13-16 at Caesars Palace in Las Vegas. Find more at www.multiunitfranchisingconference.com.
Published: May 3rd, 2019
Share this Feature
Recommended Reading:
Comments:
comments powered by

Disqus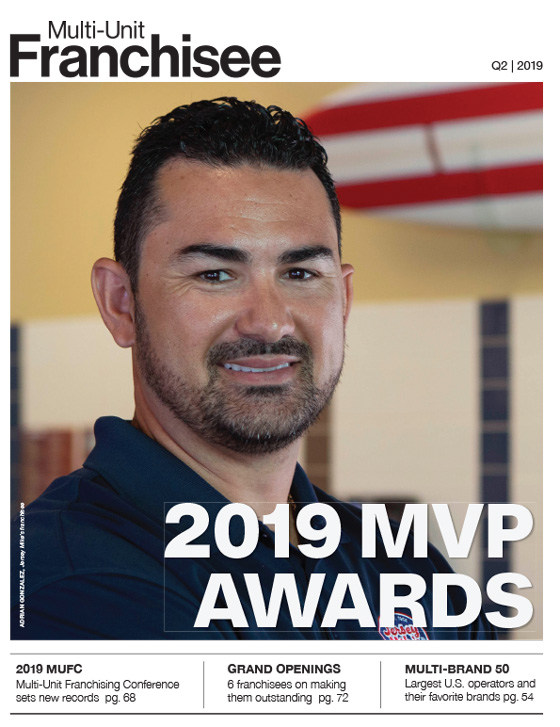 Multi-Unit Franchisee Magazine: Issue 2, 2019
With more than 200 locations open or under development, Woof Gang offers best in class grooming, and a unique retail experience; our gourmet treats...
Cash Required:
$75,000
Subway has new and existing franchise opportunities available for experienced multi-unit franchisees. Build your portfolio with a globally recognized...
Cash Required:
$100,000