Born to Franchise: Young Multi-Brand Operator Does It Right
Ali Momin began working in a Dairy Queen when he was just 16--not that uncommon for today's teens. But in Momin's case, the Dairy Queen was operated by his father, who only 2 years later made his son a 50 percent owner of the location. That's how a career in franchising started for the now 27-year-old entrepreneur. But it almost didn't.
That's because a funny thing happened on Momin's way to franchising. He went to college thinking he would become a doctor. He says one day of biology class was all it took for him to rethink his choice and walk out of the classroom and into his advisor's office for a new direction. "There was no way I wanted to do that for a living," he says.
Today, he is a multi-unit operator of two Dairy Queens and two Edible Arrangements in the greater Atlanta market. Two years ago he opened his first Captain D's and now has a second location in his hometown of Cochran, Georgia.
"I own and operate six businesses throughout Georgia," says Momin. "I'm proud of what I have been able to accomplish and there is more to come." He attributes his success to watching his dad operate that Dairy Queen and says that's how he learned "to be my own boss."
Like many young guns, Momin is eager to continue growing. Adding Captain D's restaurants is his first priority. "I would like to open one Captain D's location a year for the next few years," he says. Then, he says, diversify his holdings by entering the sandwich and hotel spaces.
With 6 units humming along, he's still a hands-on operator but also understands he must evolve as his businesses continues to grow. That's why he wants to create a management system where his employees have room to grow and advance in the organization. "That's how we'll be successful at the next level."
Name: Ali Momin
Title: President
Company: Mehdi Inc., Kishika LLC
No. of units: 2 Captain D's, 2 Dairy Queen, 2 Edible Arrangements
Age: 27
Family: Wife Nabila; we have a baby on the way
Years in franchising: 9
Personal
First job:
When I was 16, I worked at my father's Dairy Queen in Cochran, Georgia. I started washing dishes and worked my way up to the kitchen, guest services, inventory control, and eventually to store manager. When I was 18, my father gave me a 50 percent share of the company and it's evolved from there.
Formative influences/events:
My dad has always been my biggest influence. From a young age, I got to watch him navigate the waters of franchising and it inspired me to stay in the business. He was a great teacher and the biggest lesson he taught me was to "be my own boss."
Key accomplishments:
At 27, I own and operate six businesses throughout Georgia (2 Captain D's in Lovejoy and Douglasville, 2 Dairy Queens in Cochran and Douglasville, and 2 Edible Arrangements in McDonough and Griffin). I'm proud of what I have been able to accomplish and look forward to all the growth that's ahead of me.
Biggest current challenge:
The biggest roadblock I've noticed so far is how to retain employees. With the economy twisting and minimum wage rising, you have to create incentives to entice employees to stay. My team has created a bonus structure and reward system that has worked relatively well. For example, if any guest compliments an employee's customer service, my team marks it down and at the end of the month the employee with the most compliments receives a $150 to $200 Visa gift card.
Next big goal:
My short-term goal is to develop more Captain D's restaurants. I would like to open one Captain D's location a year for the next few years. As for my long-term goal, I would like to diversify my portfolio and enter the hotel industry.
First turning point in your career:
Being a multi-concept operator, it can sometimes be a balancing act to make sure your current businesses are operating successfully, but still have room for growth. The biggest turning point for me was realizing how much support I had to expand. From the moment I decided to franchise with Captain D's, I was introduced to corporate members who did anything and everything they could to help me succeed. From the construction phase to opening day and beyond, all of that guidance helps push my businesses forward.
Best business decision:
Deciding to fully invest in franchising. It's had challenges, but it's rewarding.
Hardest lesson learned:
You have to have patience.
Best advice you ever got:
Do the right thing and don't ever cheat anyone. I got this advice from my dad and I carry this with me still.
How do you balance life and work?
That's a hard one. I try to balance my work life between the hours of 7 and 5, but that doesn't always happen. However, I only work Monday to Friday so I am able to spend time with my family.
Guilty pleasure:
I love playing golf because it's relaxing. Most of the time, no one is out there, so you can just enjoy the game and the quiet.
Favorite book:
I used to read a lot of religious books growing up, but I would say that my favorite is the Quran.
Favorite movie:
"The Wedding Ringer" with Kevin Hart is my all-time favorite. This also happens to be the first movie I saw with my wife.
What do most people not know about you?
Most people, especially my staff, think I'm a very straightforward businessman. However, my family will tell you that I'm very laid back at home and like to have fun.
What did you want to be when you grew up?
This is actually a funny story. I walked into college thinking I wanted to become a doctor, but that quickly changed. On my first day of biology class, I got up and walked out. I went to my advisor's office and asked him to change my schedule because there was no way I wanted to do this for a living. Now I'm in franchising and it's what my path always should have been.
Last vacation:
Last summer, I went to the Bahamas with my wife and it was an amazingly relaxing vacation.
Person you'd most like to have lunch with:
Without a doubt, my family. I get to sit down with them every night for dinner, but if I had the time to take lunch breaks I would use that time to catch up with my mom, dad, sister, and wife.
Management
Business philosophy:
Take it day by day. Wake up every morning with a smile, thank God, and open the doors.
One thing I'm looking to do better:
I would like to create a better management program for my staff so they don't feel burned out and have room to grow. I also want to find more ways for my team to collaborate and experiment. This could be anything from brainstorming ideas on how to fry fish faster or coming up with creative ways to better serve customers.
How close are you to operations?
Very close. I know a few owners who can walk into their stores and the employees don't know who they are. I'm very hands-on and like to be a part of the operations.
What is the most important thing you rely on from your franchisor?
I believe communication is the biggest key to success. As I mentioned earlier, Captain D's has done an incredible job of communicating with me from the start and has provided me with all the resources and tools necessary to succeed.
How is social media affecting your businesses?
Social media is a huge component in my businesses. People are constantly looking at customer reviews, and if you have a bad one it can negatively affect the perception of your brand in the local community. Across all of my brands, we will ask customers to leave reviews. If they show the review, they will be rewarded. At Captain D's they receive $3 off a combo, at Dairy Queen it's a free Blizzard, and at Edible Arrangements it's a free Pineapple Pop.
How do you hire and fire?
We usually sit down with the employees and let them know what is going wrong so they have an opportunity to fix the issue. If it continues to happen, we thank them for working with us and respectfully part ways.
How do you train and retain?
All franchisors have a training program that all employees must go through. This works really well, but we also provide additional post-training support should the employees need any extra help. As for retaining employees, we have a few incentives, including the complimentary gift cards I mentioned earlier. These work great.
Under 30
What jobs, skills, and experience have helped you operate a franchise business?
College taught me the methodology to operate a franchise business, but the true smarts came from my dad. Having watched him successfully operate his own businesses showed me the do's and don'ts of the industry at an early age. Also, talking with other business owners in the community has given me some valued insight into how to manage my businesses.
What kinds of obstacles did you face in franchising at such a young age?
Balancing school, work, and my personal life was the biggest obstacle. I opened the Douglasville Dairy Queen while I was in school, so I had to learn how to manage my time efficiently. You can never give too much time to your business, but I also needed to devote time to my education.
How would you describe your generation?
I believe half of my generation wants to be their own boss and own a business to give themselves a certain lifestyle and flexibility. The other half is still in the mindset that solely looks forward to the weekend.
Do you see franchising as a stepping-stone or a career for you?
This is definitely a career move.
Bottom Line
Annual revenue:
Captain D's brought in about $1.6 million, Dairy Queen about $1.3 million, and Edible Arrangements about $850,000.
2019 goals:
This year I am focusing on increasing my revenue 10 percent for each of my businesses. I'm also planning to open an additional Captain D's restaurant in Georgia, so I will be focused on making that new location a success. As for my portfolio, I would really like to expand this year by franchising with a sandwich concept such as Firehouse or Subway.
Growth meter: How do you measure your growth?
Through both monetary and operational achievements. This includes improving internal systems, hitting sales goals, etc.
Vision meter: Where do you want to be in 5 years? 10 years?
I would like to diversify my restaurant portfolio to include additional concepts, as well as enter the hotel industry. Specifically, I would like to grow to have 12 to 15 units open and operating across Captain D's, Dairy Queen, and Edible Arrangements.
How do changes in the economy affect the way you do business?
My team and I have had to cut down on some processes. This also means making sure our money is being used in the most efficient way, so we've had to look at how to use our budgets most effectively.
Experience with private equity, local banks, national banks and other institutions?
I normally just work with local banks. They have been very supportive of my endeavors thus far.
How are you handling rising employee costs (payroll, minimum wage, healthcare etc.)?
Turnover is one of the biggest costs. You don't want to lose an employee who has been trained, so I try to focus on payroll and making sure everyone is getting paid fairly.
Published: July 26th, 2019
Share this Feature
Recommended Reading:
Comments:
comments powered by

Disqus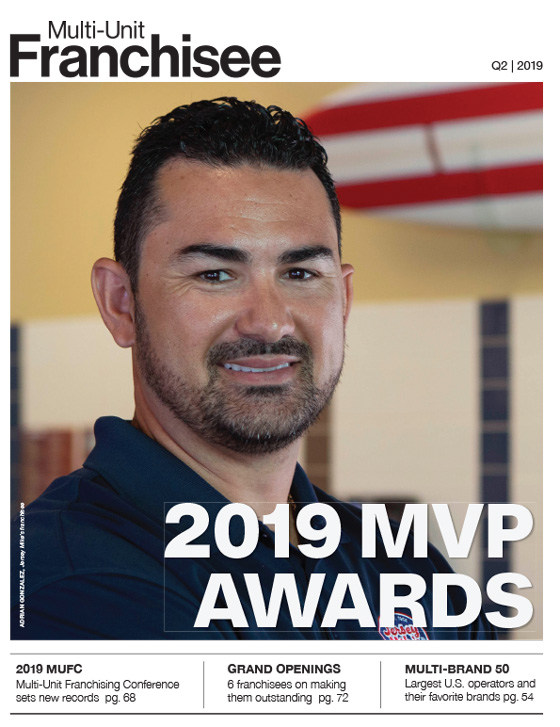 Multi-Unit Franchisee Magazine: Issue 2, 2019
There's nothing quite like the perfect cup of coffee. It wakes you up and gets you on the right path. Now, you've got the chance to build a lifestyle...
Cash Required:
$150,000
With more than 250 locations (and more on the way!), MY SALON Suite is the #1 salon suites franchise opportunity in North America.
Cash Required:
$500,000