Bright Light: People Love Doing Business with Their Friends
On May 20, 2013, when strong tornadoes tore through Moore, Okla., Brandon Boozer and his family were lucky. Their home wasn't damaged, though some of their closest neighbors lost everything.
Boozer, owner of six Batteries Plus Bulbs in the Oklahoma City area, kicked into high gear, driving truckloads of batteries and flashlights to people searching the ruins of their homes or who had lost power. His church, First Baptist Church of Moore, became headquarters for survivors to pick up water, fruit, clothing, and other necessities.
"While we were trying to figure things out at church, corporate and I discussed what was happening and they sent down a half truckload of work supplies, batteries, flashlights, and even kid flashlights," he says. "That was really thoughtful because the kids were going through a tough time and the flashlights were something for them to play around with and use to look for their things."
Boozer also helped the family of his daughter's best friend, who had lost their home, to find a new place to stay. "Helping the community in such a severe time of need makes sense in every way--from a religious point of view, from a business point of view. There are so many reasons to do it. We didn't advertise or call the media. That's why the MVP award was such a nice surprise."
When he's not working, Boozer spends time with the free karate classes he holds at the church. "We invite the whole family to participate. Karate is good for building confidence and helps you feel good about achieving. Every day we tell them, 'We're not a school that teaches you to fight. We teach you how not to fight, but if you have to, what to do about it.' We like to say, 'The family that kicks together, sticks together.'"
Q&A
Name: Brandon Boozer
Title: Co-owner/vice president, Batteries Sooner
No. of units: 6 Batteries Plus Bulbs
Age: 41
Family: Wife Gloria; daughters Amanda and Elisa
Years in franchising: 13
Years in current position: 13
Personal
Formative influences/events:
Martial arts, travel, and languages (I worked in Mexico and lived overseas). I gave up teaching at a local community college so I could teach karate free to children and adults at my church.
Key accomplishments:
First would be my incredible family, especially seeing my two daughters accept Christ. I've had a successful international management career, am bilingual, and hold an MBA in international management from Thunderbird School of Global Management at Arizona State University. Another accomplishment would be starting our current franchise with my family after losing everything because of layoffs. I started a martial arts ministry called Karate in Christ's Service (KICS) at First Baptist Church of Moore and am now a 3rd degree Black Belt specializing in breaking, with a dozen Black Belt instructors, over 70 regular students, and two state champions.
Work week:
Primarily Monday through Friday but also on weekends as needed, especially for trade shows. Tuesdays and Saturdays are for KICS classes, Sundays and Wednesdays we're at church, and Sundays and Thursdays are workout days. Friday is family day. Oh, and did I forget our daughters' activities?
What are you reading?
When traveling, primarily Clive Cussler novels. I love his NUMA Files adventure series with Dirk Pitt and Rudy Gunn. At home, I usually read the Bible, car and technology magazines, or peruse the Internet to learn more about battery and bulb technology.
Best advice you ever got:
Do your best and learn from constructive criticism from those who care about you. And if you aren't good at something, find the right person who is. This is one of the reasons that my wife, Gloria, is such an incredible gift from God. We are a strong team.
What's your passion in business?
People. We are in a problem-solving business. There can be grumpy people in retail on both sides of the counter. It is our responsibility to make someone's day brighter by taking care of their needs with a healthy and positive attitude. Not only is this good for customers and repeat business, it is also good for employees.
Management
Business philosophy:
There is a solution to every problem, and a right attitude to solve it with. Combine this with taking care of your internal or external customer as you would your best friend--with genuine care and respect. People love doing business with their friends.
Management method or style:
I really try to look for the right fit. Often we encourage potential employees to spend a day at the store so they can see if this is the right environment for them--and for the existing staff to interact with them and see if they will fit on the team. It has to be good for both parties involved or you get unhappy employees giving poor customer service, which leads to high rotation. Also, I look for the best in people, focus on their strengths, and plug them in where they fit.
Greatest challenge:
I'm a big-picture, idea person. I love to create, teach, and motivate, but I wish I was more organized.
How do others describe you?
Toughest question asked, and since I am not "others," I got a biased opinion from the family. They say I'm even-tempered, friendly, honest, confident, and fair.
How do you hire and fire, train and retain?
For hiring and firing, see above. Training, done properly, is critical to success, but don't forget the nonoperational issues. In the past (overseas with an entry-level workforce), I taught classes about "What work?" or "The differences with U.S. work culture." How can you expect others to know what is expected if they do not understand the environment they are in? Also, I believe that my involvement in teaching is a critical element for us because it sets the tone early on, and my passion about what is necessary to succeed is clear. I love working one-on-one with a new employee in the store, showing them different scenarios and how to handle them so they do not have to learn the hard way. You can see when they understand because their eyes light up.
Bottom Line
Annual revenue:
$7 million.
2015 goals:
Continued growth in car batteries, LED light bulbs, and cellular and tablet repair services.
Growth meter:
Like most places, we look at the bottom line as growth. If we grow sales but shrink in profit, we're growing the wrong way.
Vision meter: Where do you want to be in 5 years? 10 years?
We're still trying to decide whether to grow our existing brand or add another brand to our portfolio. Do we stay local or branch out into other markets? That's why this year's Multi-Unit Franchising Conference was so interesting to us.
What are you doing to take care of your employees?
We try to have lots of short-term competitions where the winner gets, say, lunch, and the better the result, the better the lunch (the individual winner picks the restaurant). We have also done gift cards, company cookouts in the park for employees and their families, water park admission, Christmas parties, and other surprise awards with creative prizes.
What kind of exit strategy do you have in place?
Nothing yet. Like everyone says, if someone offered me a shipload of money, I'd consider selling. Otherwise, I'll be here.
2015 MVP Community Involvement Leadership Award
Why do you think you were recognized with this award?
Because Oklahoma City and Moore offer an incredible story of destruction, community rebuilding, hope, and perseverance after another devastating tornado. We were blessed to be a part of the recovery efforts.
How have you raised the bar in your own company?
We expect the best from our employees and reward them accordingly. They are a crucial part of the team. Also, we look up to franchisees in our system who are the best in particular areas, and then try to emulate them. Fortunately, in our franchise system, the franchisees are very willing to help you grow, and we return the favor whenever possible.
What innovations you have created and used to build your company?
We've used some unique marketing approaches.
What core values do you think helped you win this award?
We care about our people, our customers, and those in our community. I was thrilled to meet so many others at the MUF conference who shared and demonstrated those values as well.
How important is community involvement to you and your company?
Our community is our customer base, so why wouldn't we involve ourselves in the community? This doesn't only involve our products, but other efforts like homeless shelters, our karate ministry, food pantries, or even helping with handyman work for the elderly. These things make your community stronger, and people like doing business with their friends.
What leadership qualities are important to you and your team?
Lead by example, clearly outline goals, and encourage them to meet their goals. I have an exceptional management staff who understand this principle. This is why we regularly work in the stores with our staff, as well as at trade shows and on holidays and other special events. Also, know your product and why you are the better option. How can you expect a customer to choose you if you don't know why?
Published: November 30th, 2015
Share this Feature
Recommended Reading:
Comments:
comments powered by

Disqus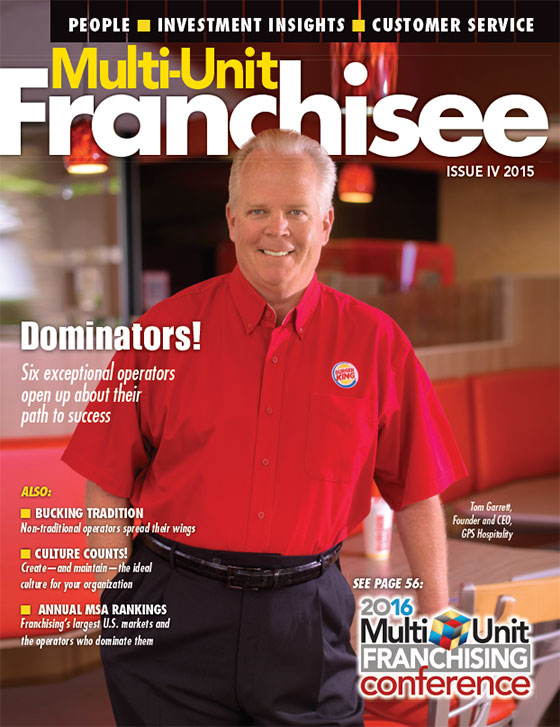 Multi-Unit Franchisee Magazine: Issue 4, 2015
Get A Piece Of The Booming Cannabis Market Without Headaches.
Cash Required:
$1,000,000
Pure Fitness is committed to bringing high-quality, affordable gyms to everyone, everywhere by leveraging technology to enable low prices and...
Cash Required:
$500,000