Building a New Management Team: And Getting Franchisees To Buy In To Change
When Carl T. Howard joined Fazoli's as president and CEO in 2008, the nearly 20-year-old QSR brand was at a crossroads. Traffic and sales at the once high-flying Italian concept were spiraling downward, with franchisees fleeing the system.
Today, Fazoli's is in growth mode. Howard replaced cost-cutting with innovation, overhauling the menu, adding limited table service, and developing an all-new prototype. For the first time in a decade, guest counts and sales are consistently positive. Both the company and franchisees are opening new units.
Five Ways To Instill Confidence in Franchisees
Turning around an ailing brand requires a strong leadership team capable of simultaneously driving change and winning franchisee support.
Earn trust. With any business, at any stage, you need a great leadership team if you are going to gain a competitive advantage, grow market share, and build your business. With franchisees, you must gain their trust and meet their performance expectations. This is even more critical in a franchise system that has recently fallen on tough times. Franchisees are quick to blame the franchisor, and rightly so, for a brand that is underperforming. They lose trust in the company's decision-making, which can create a dangerous spiral of brand inconsistency.
Focus on innovation. Brands in almost every industry must constantly evolve to keep pace with the changing consumer and the hypercompetitive marketplace. You must consistently focus on meaningful innovation and brand positioning. What can you do to gain market share and position your brand to last? This is what franchisees pay for--and expect--when they send in their royalty checks. They expect the franchisor to set the proper strategies so they can focus on running their business. Even when you are doing well, franchisees expect more and are never satisfied. As a former franchisee, I understand this. You are playing with real money here: family fortunes or, for the smaller franchisee, maybe even the family home.
Demonstrate success. The franchisor must not only set the final strategies, but prove that they work in a practical environment. This includes building a business case for implementing them. It's much easier to launch programs--whether they're new products, limited-time promotions, or changes and enhancements to facilities--when you can show a franchisee a fast return on investment or limited risk. When the ROI is not instant, or even guaranteed, it takes the full confidence of the franchise community to make changes. Fazoli's is about 50/50 franchised, so we have a lot of "skin in the game." We test and refine a lot of concepts in company units before introducing them to the system.
Collaboration is critical. No one likes a dictator, and everyone wants a voice. Working with the franchisees and constantly keeping them in the loop of key strategies goes a long way. I stress to my team the need for consistent communication and respect for franchisees' opinions. Like many other brands, we meet with our key franchisees quarterly, but we often consult with them on major projects along the way. We do so not only to update them between meetings, but to gain more field-level opinions and establish buy-in. Although we don't always agree 100 percent, at least this allows everyone to be heard and eliminates unwanted surprises.
Disagreements are okay. There is going to come a time in every franchisor-franchisee relationship where the parties are not aligned. The franchisees and the company are not always going to agree on a new service program, brand change, facility requirement, or some other required investment. Even when you have proven ROI and provided favorable empirical data and other supporting metrics, you sometimes cannot convince everyone. A word of advice: going to the franchise agreement to solve this issue is not the way to gain franchisee support. It's your responsibility to make sure you keep the brand moving forward. If you don't, someone else will!
Carl T. Howar has spent his entire 25-year career in the restaurant industry, starting out as a busboy while a teenager His experience includes serving as president and CEO of Damon's International and COO of bd's Mongolian Grill. He also was president and partner of a multi-unit restaurant company based in New York.
Published: September 6th, 2011
Share this Feature
Recommended Reading:
Comments:
comments powered by

Disqus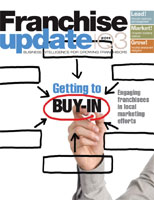 Franchise Update Magazine: Issue 3, 2011
Conferences
InterContinental, Atlanta
OCT 18-20TH, 2022
Oct. 18-20, 2022. Atlanta, GA. FLDC is an exclusive event for franchisor CEOs, Presidents, COOs, CDOs and Development Executives. The conference...
Qiigo unifies digital marketing for national brands and their locations, building brand unity and success helping businesses get found locally....