Building (or Acquiring) Success: Key Growth Factors Franchisees Should Know
No one ever said franchise growth was easy. Operating one or two locations is hard enough, but growing to 10, 20, or more is challenging for even the most seasoned operators--especially if any of their new builds or acquisitions turns out to be a poor performer. We tracked down five successful multi-unit franchisees who have been there and done it--and who bear the scars and trophies to prove it. Among the key factors in multi-unit success, they say, are timing, funding, cash flow, people, infrastructure, and identifying the right opportunities. Their insights into what to look for and how to proceed once you decide it's time to grow may contain just the missing ingredient you need.
Right time
Deciding when to grow--and if you're ready--differs for each franchisee. One common theme among those who have expanded successfully is having the right people in place to support that growth before moving ahead.
"Do we have the right operations people developed well enough to deploy to a new market?" asks Rob Branca, Jr., a Dunkin' Donuts franchisee with more than 70 units. "If we don't have good, hands-on operations people ready to live in a new market and build their own benches of additional people, we won't expand," he says.
Cheryl Robinson, who operates 36 Supercuts salons in Southern California, agrees, and adds two more ingredients to the mix. "There are three important factors that help us decide we are ready to grow," she says. "First, do we have the energy and desire for the challenge? Next, are our people, especially our senior management, ready and willing to take on a challenge? And last, is the opportunity high-quality, and does it meet our criteria?" She cautions that it can be tempting to grow because of "boredom or the need for something new," but says neither of those reasons will likely pay off in the long term.
Growth also requires a certain level of commitment. Operators like David Ostrowe, president of O&M Restaurant Group, argue that you either commit to growing or you start shrinking. "My costs go up every year and market share is under attack every year," he says. "I'm not content in making less money next year. Growth is the only direction."
"We know we are ready for growth when current operations are smooth and cost controls are in line," says Tony Lutfi, who operates 130 restaurants (53 Arby's, 46 Church's Chicken, 21 Jack in the Box, 5 Little Caesars, and 5 Sizzlers) and has diversified into retail with 21 Sears Outlet, Appliance & Hardware stores across 8 states (see profile in Q1 2013 issue). "We also know that we can grow when the current cash flow can support the potentially added debt service," he says.
Right opportunity
No matter how much diligence is done beforehand, effectively identifying good growth opportunities can remain a bit of a gamble, but there are ways to improve the odds. As Ostrowe jokingly puts it, "I kiss a lot of frogs." That goes for both new development and acquisitions. But for a frog even to have a change of becoming a princess, he says, "The concept has to have superior financials in comparison to concepts I currently operate and returns I can get in the market."
In Robinson's case, Supercuts corporate presents her with buying opportunities. "In our franchise system, new locations are constantly being brought forward for our review," she says. Robinson also makes sure to stay actively involved in her geographic areas, "so we know opportunities that may be far out on the horizon."
Lutfi attends industry conferences and trade shows to keep his finger on the pulse of potential growth opportunities. "We attend most of the networking conferences such as the Multi-Unit Franchising Conference and RLC, along with the various brand conventions," he says. Lutfi looks for brands with strong management teams and ownership. "We prefer brands that are least 25 years old and that are geographically in areas where the population is growing."
Buy or build?
Another critical factor involves evaluating the pros and cons of buying an existing location versus building anew. Ostrowe says he prefers the acquisition route. "It is always cheaper to take over existing units," he says. "Planning and development costs are high." He looks for units he considers underperformers that he can acquire and turn around.
Says Lutfi, "We want to acquire opportunities where we can implement our management style and ability to improve the business. The multiples paid for the new business will immediately improve as soon as we improve cash flow and flow-through."
For Branca, "A pro of acquiring existing units is that you have data on what the sales have been, so there is a known floor. And if you believe that you can improve operations, you can always grow additional profits. With building a new site, you are never absolutely sure if the customers will come in numbers large enough to make the site a success."
Still, Branca has his own reasons to favor building over acquisition. Over the years, he says, his company has become adept at real estate development and construction for his Dunkin' Donuts stores, and has established separate businesses for outside work in these areas. "A major pro of building our own sites is to continue to feed work to our other businesses and to provide our construction employees with plenty of work year-round," he says.
Says Lutfi, "We've achieved our growth mostly through acquisition, but every company must grow organically as well. For us it has been 95 percent acquisition and 5 percent build, but we are working to reach a better balance now that we've reached scale."
Robinson's company has taken both approaches. For her, it depends on the circumstances, timing, and numerous other factors. "In either case, the real estate decision is the most important thing to consider," she says.
In fact, many franchisees prefer to "own the dirt." In addition to the property's expected appreciation, if one concept doesn't produce the desired ROI on that site, the operator can replace it with another brand.
Finding the money
Funding growth is critical, and there are many ways to do it effectively. Some prefer to fund themselves through operations and keep debt low, while others embrace greater risk and debt with the confidence they can make it pay off.
Robinson prefers funding growth through operations. However, she adds, "We are almost debt-free now, though we are looking at the current financial climate to see if borrowing is a viable option."
Ostrowe prefers "minimal funding" so he can continue to maintain current debt levels. "I've looked at deals that would double our size, only to make less money. Why do it?" he says.
For Branca, every option is on the table. "We consider all available lenders, their rates and terms. We negotiate rates, financial covenants, try to limit our personal guarantee exposure, and acquire LIBOR swaps so we can trade out our floating rates if we believe they are moving to our detriment," he says.
Working the numbers
Another critical numbers game expansion-minded franchisees must play is thoroughly assessing the financial health of any proposed acquisition. No one wants to buy a sinking ship, but rather one they can right and set back on a profitable course. Determining this means being aware of some important financials.
For Ostrowe, it's the top-line sales of the existing unit. "It is very difficult for me to justify overhead against a unit or concept that falls below my average volume unit," he says. When it comes to restaurants, he takes a hard look at the cost of commodities and labor because of their uncertainty, with the coming of the ACA, minimum wage hikes, and the effects of international turmoil on food prices. "We already operate on razor-thin margins," he says. "I'd hate to be wrong on assumptions and end up shrinking unexpectedly."
Maureen Grimaud and her husband David operate 90 Precision Tune Auto Care units in 11 states. When evaluating a potential acquisition, she says, be systematic and have specific criteria, including overall system P&Ls, debt-to-asset ratios, cash management, and ROI from each of the different districts.
Other factors include real estate and labor, and whether or not a community has a friendly attitude toward business development. "We look at the market real estate prices and rents in the various trade areas of a new territory, and the quality, labor, and material costs for construction subs in the skilled trades like plumbing and electrical work," says Branca. "We also look closely at the regulatory environment and whether communities have complex, difficult approval processes and if they are friendly or hostile to development." He says the time frames for getting approvals can encourage him to take on a new market or cause him to look elsewhere.
Says Lutfi, "We expect a return of 25 percent cash on cash and a deal that can service its own debt."
People-ready?
The people element is paramount to the success of any organization. Motivated, talented team members are the difference between success and failure.
"We develop our people internally," says Branca. "Our best team members are looking for more responsibility and opportunity. We only send people to new markets who have demonstrated their judgment, trustworthiness, and acumen. Then we support them wholeheartedly in every aspect of need they might have."
Says Ostrowe, "I constantly look for talent that can move to the next level. I challenge my teams to do the same." He makes sure everyone knows the company is growing and needs people to step up. If someone is promoted, they are required to provide their replacement. Other infrastructure issues to watch for are IT and accounting, which, he says "can get very expensive as you continue to grow."
"We are always developing new management team members, even if there is nothing on our horizon," says Robinson. "We look for people who are ready for a challenge and who are open for education and are team players."
For Lutfi, development is an ongoing process. "You can never predict when the next opportunity will be, so we work on improving our infrastructure regularly and allow for flexibility along the way." He says he's blessed to have a team that has a true sense of ownership and says they are always ready for growth.
One brand or more?
Another decision when growing a franchise organization is whether to stick with one brand or diversify into others. For Grimaud, it's simple. "We stick with one brand. Geography is determined by manpower in those areas as well as demographic support."
Robinson likes the simple approach, too. "We have been single-brand for more than 30 years. Though we have several times begun the process of looking at other brands, ultimately we may just be one-brand people."
Others see strength in diversity. Says Lutfi, "We decided years ago that we needed to be diversified by brand and geographically. We want to be in areas where the population is growing and be a part of brands that plan to deliver value to the consumers."
"Every time I branch out to new brands, it costs me money--and I still do it?" says Ostrowe. Yet he believes he should be diversified in both brands and geography. "Last winter, one market got slammed with winter weather and the other market carried us. The same goes with brands. New brands create excitement and help with both recruitment and providing growth opportunities for my team."
Branca takes a different approach to operating a single brand. "We are Dunkin' Donuts franchisees and have developed other businesses, but independent ones." Branca says he would look to be a franchisor before considering becoming a franchisee of any but a select few brands he admires. "We are constantly studying other brands and talking to franchisees and franchisors to learn about them and to learn how to better run our own businesses."
Fix or sell?
When considering the acquisition of an underperforming unit, the first step is to uncover what's wrong (assuming anything is right) and then to determine if it can be remedied and is likely to return the desired ROI. If not, the best choice may be to sell.
Although Ostrowe has become something of a specialist at buying underperformers and turning them around, he suggests franchisees have a back-up plan by negotiating the right to close right up front. "If I'm buying, I'm planning on fixing," he says. However, he adds, "Having the authority to close an underperforming site gives you a position of strength while trying to fix it."
Ostrowe's point rings true with Branca. "You sell when a unit is taking more of your time than the potential return of fixing it justifies," he says. "If the payoff of fixing it doesn't justify the resources required to fix it, sell."
Lutfi is no stranger to this question. "When we acquire a large number of units in a single deal, there will be some units that underperform," he says. "We develop short-term strategies to improve the business, but we also develop exit strategies along the way in case we are not able to reach break-even."
Robinson takes a slightly different approach. "This may sound very unsophisticated, but one of the most important factors to us is that the location be a good place to work," she says. There are a variety of reasons her company can tolerate a unit that makes little or no money, she explains, but if a salon is not a good place to work it's time to consider shutting it down. "We strongly believe that our people are our brand, and that if they aren't able to have a good job then our customers won't be able to get consistently good service."
Take a breath
Unit growth is good and provides a boost to a company's revenue. But it's also a good idea to ease up on the reins periodically to evaluate the organization and its overall direction.
"We are constantly assessing our current locations, management teams, profitability, and other sales indicators," says Robinson. "The challenge to do better and to learn more drives us forward," she says. However, she adds, it's also important to look at quality-of-life issues. How much pressure do you want to tolerate? How much time do you want to spend on the business? What can you delegate to someone else so they can grow?
Grimaud says that while her company is always in growth mode, "We will slow down a bit when the need arises to regroup and focus on internal growth."
Continued growth also is a focus for Branca. "We have a growing family and have always been generational investors," he says.
Lutfi keeps an eye not only on how his company is growing financially, but also on other factors important to him. "One of the reasons we choose to grow is to create more opportunities for our employees and leaders in the company," he says. "These are the same individuals who have sacrificed along the way to help grow our company. Growth simply allows them to reach their own personal dreams. It is our way of paying it forward. We will stop when the team tells us to stop."
Conclusion
While there's always more to franchisee growth strategies and tactics, these successful operators have highlighted what they believe are the critical factors and core issues in doing it right. Franchisees looking to get into a growth mode should always be looking for opportunities, whether at franchise or industry conferences or simply by staying in touch with other franchisees and their own markets.
"Network with people in your own and other industries," says Branca. "There are always opportunities for new business and to learn from others."
And do it for the right reasons, adds Robinson. "Growth for growth's sake isn't fulfilling for us. Unit count is not nearly as gratifying as helping your people grow and to be successful in their professional and personal lives."
Genuinely work on becoming a model franchisee, a good employer, and participate in the communities where your units are, says Lutfi. "We all have social responsibilities that go beyond the P&L. Those of us who pay it forward will be rewarded with the customer, brand, and employee loyalty that assure us of continued success."
Published: December 29th, 2014
Share this Feature
Recommended Reading:
Comments:
comments powered by

Disqus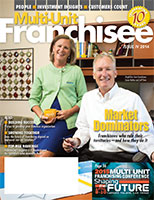 Multi-Unit Franchisee Magazine: Issue 4, 2014
If you are looking for a business that is meaningful and fulfilling, you should take a closer look at Bruster's® Real Ice Cream Franchise!
Cash Required:
$125,000
Discover franchise opportunities with one of the world's largest chains of ice cream specialty shops.
Cash Required:
$100,000