Building Regional Success: Partners Continue To Add New Brands On Their Home Turf
In his earlier life as a CPA for a pharmaceutical company, Gary Vega traveled the world extensively. Spending so much time on the company's dime allowed him to stash away his own income until the right opportunity arrived to start his own restaurant business.

That moment came when the pharmaceutical company was sold in the early 1990s. Vega and partner William Cook quickly ruled out going after a higher-priced McDonald's or Wendy's. Instead, they started with the kind of burger franchises they felt had big potential. Four Fuddruckers were followed by a Red Robin location in northern New Jersey. Today they're taking their knowledge of that market and adding Sonoma Chicken Coop units to their portfolio.

Vega began as a silent partner in 1993, handling the payroll and accounting work. A few years later he became much more active, stepping up to work as a manager in one of the stores so he could grasp every nuance of the business.

"That's a big difference from buying and selling companies," recalls Vega with a chuckle. That hands-on experience has proven crucial in managing a growing restaurant franchise and recruiting the right people to do the work. As he's gained experience, he's also grown more confident in his ability to keep expanding the company.

Vega and Cook hope to open their first Sonoma Chicken Coop franchise by early 2009. More will follow, all located in their thriving market north of Route 22 in New Jersey, a broad expanse that includes the population-dense Bergen County.

Over the years, the partners have been careful to select locations with high traffic volume. "The key thing is location and obviously you have to have the right product," says Vega. "You need high quality, reasonable prices, and a good location. That can take a long time. We don't settle for a 'B' or 'C' location. We need major highway locations. A lot is luck and a lot is knowing your demographics and seeing where you want to focus."

It's not cheap opening locations in their part of the country, nor is it cheap to keep them staffed with 40 to 50 good employees in a high-turnover industry. Experience has taught them that taking the extra time to select the right managers plays an important role in their long-term success.

"There are more headaches, because you need more people to fill in," says Vega. "But if one manager quits you can bring someone over from another store to hold the fort." Staying focused regionally has made this easier to do.

Rather than try to be the cheapest restaurant on the block, Vega decided early on to be the best. "It's hard to dominate this market because there's so much competition," he says. "What we try to do is differentiate ourselves. We compete on quality and on freshness and environment. I prefer to go that route rather than the cheaper route."

Staying on top also requires making continual internal changes to keep pace with the changing external environment. "The way economy is going, we felt it was time to change the menus. But you can't just raise prices. We now offer free unlimited fries when you order a meal. We raised prices, but we gave the customers something back."

Name: Gary Vega
Title: Partner
Company: WCGV Enterprises
No. of units (by brand): 4 Fuddruckers and 1 Red Robin; launching Sonoma Chicken
PERSONAL
Age: 53
Family: Three children, 23 to 3
Years in current position: 15
Years in franchising: 15

Key accomplishments: We've been one of the top franchises in Fuddruckers for several years, usually in the top 10 for the country. Our Red Robin is in the top 15 for the same reasons: good location and quality product. We try to make the restaurants look nice and have great food. If you're looking at a hole in the wall, you won't be going there much longer.

Biggest mistake: Hiring managers out of desperation. A manager quits and the first thing we do is rush to bring in a replacement, or bring in someone too soon. Now we're trying to develop people in the organization. Unfortunately, the restaurant business consistently has high turnover. You have to be constantly hiring.

Smartest mistake: Buying two of the buildings we own. Originally we said that for the price we were paying, we could open three more buildings. But we got in while the prices were low.

Work week: A lot, 10 to 12 hours, six days a week.

Favorite activity: Training in kung fu. It works all the stress out. I've been doing it for 35 years. I'm not a grand master, but I'm the equivalent to a black belt.

Exercise: Kung fu. Years ago I trained seven days a week. Now it's once or twice a week.

Books/magazines recently read/recommended: I don't really read books from cover to cover anymore. I learn more from the Internet now, going online and reading articles.
MANAGEMENT
Management method or style: My style is to give people the freedom to do what they're supposed to do, but step in when I see they're going in the wrong direction.

How close are you to operations? My partner and I are in the stores every day. We're always looking for physical and financial indicators. When you walk into a restaurant, you look to see if the floors are dirty, or the bathrooms aren't clean. Or you see if sales are going down and discounts are going up.

Greatest challenge: Getting the right managers. They can make or break you. The better the manager, the less time you have to spend in the stores.

Personality: I'm easygoing most of the time. When I see there's a problem, I have to turn my personality around. I like to laugh a lot and have the people around me laugh with me. There's less laughing when things get rough, but you can't get too serious. It's not worth it.

How do you hire and fire? Now we're using a test to see if applicants fit with the organization. We're doing more background checks, credit checks. If they have bad credit, the odds are they won't run your operation the right way.

Find good people? We usually use an ad online, the paper sometimes. Also our managers will bring in people.

Train them? We have a six-week training program. Red Robin has a corporate store for training. For our Fuddruckers, we use one store as a training store for products, menus, and operations. One of the things we've realized is that we have to spend more time teaching our people how to manage.

Retain them? First, having an environment where they feel happy and content, trying to make it the least stressful possible. Second, we pay a competitive salary. And third is showing a genuine interest, showing that you care about them.

Annual revenue: Average revenue for Fuddruckers locations is $2 million; for a Red Robin it's $4.5 million. We do better than the average.

2009 goals: Getting our first Sonoma Chicken ready to open in February or March 2009. Then we'll start working on a second one.
Published: January 5th, 2009
Share this Feature
Recommended Reading:
Comments:
comments powered by

Disqus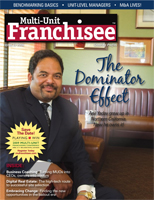 Multi-Unit Franchisee Magazine: Issue 4, 2008
Join one of the fastest growing businesses with the most proven and complete opportunity, in one of the fastest growing franchise industries.
Cash Required:
$1,000,000
Premier Martial Arts is excited to help entrepreneurs with a passion for martial arts become a meaningful part of their community.
Cash Required:
$100,000