Burgers, Buffets, and Pizza: Securities Dealer Finds Security in Franchising
Mills Sinclair is a man living life on his terms. He's equally at home on the golf course at his Arizona home in Scottsdale, on the beach at his Mexican vacation home, or sitting in a corner of one of his restaurants on Sunday "watching families interact in ways they don't often do anymore."
A Chicago native who grew up in Arizona, he also has the best of both franchising worlds: he's not only a franchisee of Sonic Drive-In in Oregon and Golden Corral in Arizona and Idaho, he's also the franchisor of his own brand, Abby's Legendary Pizza, in Oregon and Washington.
Sinclair comes from a family of inventors (his grandfather invented the first vending machine to sell hot coffee), but as a young man he gravitated to finance. He earned his degree from Arizona State University in 1969 and went to work for Young, Smith and Peacock, an investment banking and brokerage firm that was a member of the New York Stock Exchange. In 1983, he started his own broker-dealer firm, which he sold in 1992.
As often happens, Sinclair wound up in the restaurant business through serendipity. While working on real estate and tax advantage deals for Abby's, at the time a 9-unit regional chain of pizza parlors in the Pacific Northwest, he saw great potential and in 1988 acquired the brand. He knew little about operating restaurants but felt he could learn, and his financial expertise gave him an edge. Abby's has grown from 9 restaurants in 1988 to 36 today, all in Oregon and Washington.
Sinclair awarded franchises to two people who had been with the company for a long time, but didn't add more franchisees because, he says, he "wanted to control the concept."
As he was growing Abby's, he began to look for other opportunities. About 15 years ago, he signed on with Golden Corral. "I thought that becoming a franchisee for Golden Corral would give me a multiple of capital invested. They had a restaurant under construction in Boise, Idaho, so I bought it from the company," he says. "I didn't realize at the time how difficult and complicated it is to run a Golden Corral, but I was able to hire the right people and our four restaurants in Idaho and Arizona have done well."
Eight years ago Sinclair began to look at Sonic because the brand had not yet come to Oregon or Washington, or even California, he says. "It was something new for the area, and we had the whole infrastructure already set up in the Northwest. All our maintenance, administration, and vendors were there, so it was easy to assimilate another concept into the Northwest market. We opened the first Sonic in Southern Oregon around 2007-2008." Today he has five Sonics in the Beaver State.
Throughout his career, Sinclair has believed in the importance of owning the real estate his businesses sit on. "When you own your real estate, you're building equity as well as getting sales," he says.
That would be his best advice for would-be franchisees, he says. "Owning real estate can control your destiny. If it doesn't work and that location is a dog, you can do something with it if you own it. If you lease it, you have to pay for it and live with it."
Sinclair was trying to get one of his daughters involved in the business, but about a year ago "she came to me about and said, 'Dad, would it be all right if I don't work for you? I want to be a teacher--go back and get my master's.' I said, 'Is that really what you want to do?' She said, 'Yes.' And I said, 'Then do it. You have to go where your heart is and with what makes you happy.'"
Name: Mills Sinclair
Title: Franchisee of Sonic Drive-In and Golden Corral; franchisor of Abby's Legendary Pizza
Company: Abby's Inc., and LLCs for Sonics and Golden Corrals
No. of units: Sonic Drive-In, 5; Golden Corral, 4; Abby's Legendary Pizza, 34
Age: 69
Family: Daughters Megan and Maddie
Years in franchising: 28
Years in current position: 28
Personal
First job:
As I kid, I worked in a gas station and at other odd jobs.
Formative influences/events:
My grandfather, Bert Mills, was an inventor and a big influence on my life. He lived to be 94, and in the waning years of his life we talked a lot about how he grew up, what he saw, and what he accomplished.
Key accomplishments:
I had membership in the stock exchange, was in the securities business, and ended as vice chairman of the board for the NASD. I owned and sold three or four different firms before all the automation occurred.
Biggest current challenge:
Wrestling with minimum wage and Obamacare and still holding prices and keeping the business going.
Next big goal:
To retire at some point.
First turning point in your career:
In the early 1980s, I was in the deal business, doing real estate and tax advantage deals with Abby's Pizza, a company that was interesting because it included lots of real estate and was operating businesses that were making money. It was in the Northwest, an area of the country that had not yet exploded, that was still a bit sleepy and unheard of. So I seized the opportunity not just to own the real estate but to run the business more efficiently and make it pay off. When I bought Abby's in 1988, there were nine restaurants. Now I own 34 and we have two franchisee locations.
Best business decision:
Probably buying Abby's at the time because it opened doors for a lot of different things. I still do real estate development (I own a golf course) and I'm a franchisee.
Hardest lesson learned:
To allow myself to fail once in a while. It's something you have to experience. You can't hold onto everything. There's a time you have to just walk away.
Work week:
As needed. I work some every day and travel a lot back and forth between my home in Scottsdale and the Northwest.
Exercise/workout:
I ride a bike when I can and golf.
Best advice you ever got:
From my grandfather, who told me, "You can't be everybody's friend. When you're managing people, you have to gain their respect, not be their friend. If they respect you, they'll work for you."
What's your passion in business?
What I like most is to go to one of our restaurants on the weekend or after church on Sunday and sit in the corner and watch families come in with their kids and interact. In today's crazy world, it's one of the only times a family sits and talks to each other. That's what makes me happy.
How do you balance life and work?
I'm 69 and I still enjoy doing what I'm doing. It doesn't feel like work. The people you interact with, your relationships with your employees (we have about 1,400), the travel--it's all part of life.
Guilty pleasure:
My best afternoon is sitting, having wine, and looking at the golf course.
Favorite book:
I read all the time. Most of it is just entertainment. I like mysteries.
Favorite movie:
"The Bucket List" with Jack Nicholson and Morgan Freeman.
What do most people not know about you?
Not a lot of people know that I'm a little too caring and emotional about things.
Pet peeve:
Working with people who are not prepared for the workplace, and it's because of schools today. I'm looking at resumes of people who can't write or spell or do math. What we're doing is putting uneducated people without basic skills into the workplace. It's criminal as far as I'm concerned.
What did you want to be when you grew up?
In high school, I wanted to get into finance but I started out in the school of architecture, where I spent two years before I admitted I couldn't draw a picture. I even took art classes, but I had to realize that was not where I was going.
Last vacation:
In December, I was at my place in Loreto, in Baja California. I'm getting ready to go back.
Person I'd most like to have lunch with:
Ronald Reagan. I knew his son and met him a couple of times but never had a chance to really talk to him.
Management
Business philosophy: Two things:
You have to be a good seller and you need to leave a little on the table for somebody else.
Management method or style:
I'm a consensus builder. It works for me.
Greatest challenge:
Finding good employees.
How do others describe you?
People think I'm a lot more authoritative than I really am, but they respect me and call me when there's no other way to get something done. They know I care.
One thing I'm looking to do better:
I'd love to play golf better.
How I give my team room to innovate and experiment:
I try to hire people who are right for the job and qualified to do the job, then give them direction and let them get the job done. If the job gets done, I don't insist they do it the way I would. If I just wanted robots, I wouldn't be hiring anybody. You've got to respect people you hire and give them the ability to do the job. If there's a problem, fix it. If not, let them do it their way.
How close are you to operations?
Pretty close.
What are the two most important things you rely on from your franchisor?
Strong marketing and promotions, and the ability to bring innovation and new products to the table.
What I need from vendors:
Competitive prices, reliability.
Have you changed your marketing strategy in response to the economy? How?
Getting into social media has been our biggest change. In pizza, we do 85 percent TV, but we're adding more money to the social media budget and just hired somebody dedicated to that. Our customers skew a little older, but now more of the 50-and-older group are using social media. With Sonic, we're using social media quite a bit. We ran a social media-only special last week and it did really well. Golden Corral just started putting together a club so we'll see how that goes.
How is social media affecting your business?
Positively so far. The more we do it, the better results we'll see.
How do you hire and fire?
In my position I only hire a few people, and I look for experience, ability, and personality. I fire reluctantly, but do it quickly if it's not working. You're not doing either of you a favor by letting it go on.
How do you train and retain?
Each concept has a formal training program for employees. Golden Corral and Sonic are e-training, and Abby's is digital and on-the-job. We retain by paying a decent salary, paying for uniforms, offering a scholarship program, and bringing them along so they're qualified to do other jobs with a better path to higher wages.
How do you deal with problem employees?
We work with them and give them a chance, but if they can't do it we have to pull the trigger.
Fastest way into my doghouse:
Not telling the truth. I tell my crew, "I don't care how bad it is, I just have to know." It's harder to deal with if I'm blindsided.
Bottom Line
Annual revenue:
$48 million to $50 million (total for all brands).
2016 goals:
To up sales comps and lower costs.
Growth meter: How do you measure your growth?
In sales, year over year, week over week. We have the numbers to show all that.
Vision meter: Where do you want to be in 5 years? 10 years?
I don't mind working another 5 years and finding someone who can take it over with a little direction, maybe put money in and earn an equity position. In 10 years, I'd like to be sitting on the beach in Mexico and enjoying everything I spent a long time earning.
How is the economy in your regions affecting you, your employees, your customers?
The Oregon economy has gotten better in the last few years; things are starting to flatten out. The problem with Oregon is that minimum wage is going to be up to $14.50 in Portland over the next 5 years, and there's now 30 days of paid family leave for employees. Things are becoming tougher. Washington is similar. Things are different in Idaho and Arizona. Arizona is growing a lot again, and this year we're experiencing up sales comps.
Are you experiencing economic growth in your markets?
Yes.
How do changes in the economy affect the way you do business?
With employee costs going up, we have to be a lot quicker in making decisions as to wage and labor costs. Automation, in orders or whatever else, to move some employees out of the equation is going to be more important as we move forward.
How do you forecast for your business?
By really seeing what last year was like, what the economy was like, what the weather was like. The pizza parlors have been around for 51 years (they started them in 1964), so there's a lot of history there.
What are the best sources for capital expansion?
Internally generated funds is one. Equity markets are not available for mid-sized companies like ours. We do our real estate financing through major banks and capital groups.
Experience with private equity, local banks, national banks, other institutions? Why/why not?
Local banks are the best source, and we're lucky to have good local relationships. They know you and you know them, so there are no surprises.
What are you doing to take care of your employees?
All the standard things: vacations, meals, healthcare.
How are you handling rising employee costs (payroll, minimum wage, healthcare, etc.)?
We have to raise prices, and we're looking to automate our system wherever we can.
How do you reward/recognize top-performing employees?
All our managers and everybody from that level up receive bonuses on profitability.
What kind of exit strategy do you have in place?
I wish I had one. If you're small, there are lots of opportunities. And if you're large, there are lots of opportunities. There aren't a lot of buyers looking at that $40 million to $50 million middle group, unless they need to get into an area.
Published: May 16th, 2016
Share this Feature
Recommended Reading:
Comments:
comments powered by

Disqus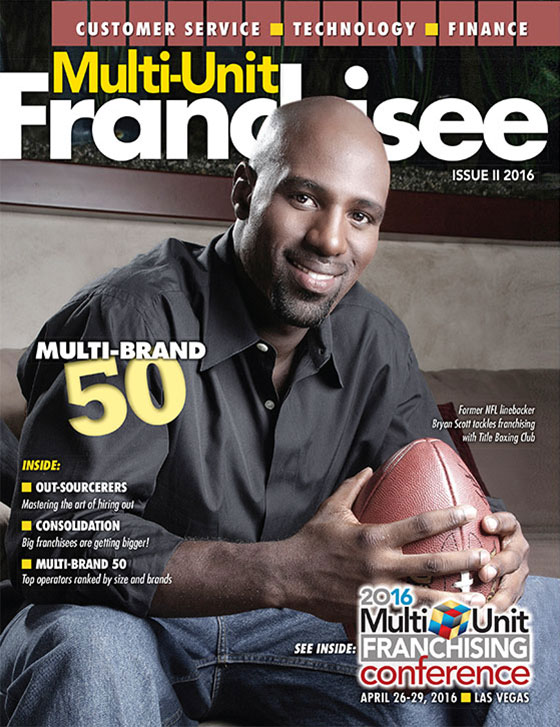 Multi-Unit Franchisee Magazine: Issue 2, 2016
Founded in 1959, Ziebart provides premium automotive appearance and protection services to extend the life of vehicles. Recently ranked #1 in its...
Cash Required:
$150,000
The hottest new franchise is here (literally 150°). Perspire has developed, formulated and tested the most superior infrared sauna studio model...