CEO Q&A: How Moran Family of Brands Is Getting Through Covid-19
As part of our ongoing special coverage of Covid-19 and its effects on franchising, we'll be asking franchise leaders what they're doing to help their franchisees survive the duration of the pandemic. We're starting with Barbara Moran, Co-Founder, Chairwoman, and CEO of Moran Family of Brands, an automotive services chain with several brands. She also is a longstanding member of our Franchise Marketing Leadership Conference Advisory Board. We sincerely hope this helps. If you have a story to tell about what you're doing to support your franchisees, please email us at stories@franchising.com.
Name: Barbara Moran
Title: CEO
Brand: Moran Family of Brands
Segment: Auto repair (Milex Complete Auto Care and Mr. Transmission), window tinting and paint protection (Alta Mere)
Units: 120
Locations: 23 states and Lagos, Nigeria
How has Covid-19 affected your brand?
We have had several of our non-essential franchise locations closed because of stay-at-home orders. This of course affects our franchisees and their employees with no revenues coming in, yet expenses going out. Lead flow in many stores is down. However work is still being performed.
What are you doing to help your franchisees through this?
Since most of our franchise locations are considered essential businesses being in the auto repair industry, we began working on increasing our support services over three weeks ago with the following:
Increased social media marketing campaigns within franchisees' local markets to include pick-up and drop-off vehicle repair services, as well as no-contact vehicle services.
Additional vehicle repair discount offerings in franchisees' local markets for essential workers.
PR in local markets giving franchisees access to airing on news segments about proper disinfecting of the interior of a vehicle. We had more than 30 franchisees on TV in their markets talking about what people need to do to keep their vehicles properly sanitized.
Daily communication with franchisees by email, phone calls, and webinars covering the Coronavirus Phase 3 bill with updates; operations strategies in working with customers' vehicles; cost-cutting strategies to implement; marketing strategies to let customers know the store is open and able to help; funding sources; and landlord communication for rent relief.
We are attending webinars and meeting to learn what is available to us and our franchisees to help us get through this time.
How are you supporting your corporate employees?
We began with a thorough cleaning of our offices by a third party.
The company purchased Blue air purifiers for every office and department to help reduce pollutants in the air.
We set up hand sanitizers throughout the offices and community equipment areas.
We set up our teams' ability to work from home through connections to our servers and call forwarding, including providing laptops if necessary. In the beginning we offered the option to work from home or at the office. Then we moved to the majority of our team working from home.
How are your franchisees supporting their employees?
Since most of our franchisees are considered essential workers they continue to work at their facilities. Those who have had to close are continuing to pay their employees. All our franchisees plan on filing for PPP (Paycheck Protection Program) to help them continue to pay their employees during this time of either no revenue or reduced revenue coming in.
What are your franchisees doing for their customers?
Our franchisees are offering pick-up and drop-off vehicles for repair work, and the franchisee will contact the customer with results through calls, text, and FaceTime when available. Our shops are offering tow-in and tow-home service for some of their customers. Finally, they are cleaning the interior before and after they are in the vehicle, wearing gloves, and in some cases, face masks.
How do you see the future of your brand, operations, market, etc. post–Covid-19?
I think after this that we will continue to communicate at this heightened level with our franchisees, as well as developing more social media/marketing strategies. We have found this engagement to be very positive for our relationships and letting our franchisees know how important they are to us. I am confident our franchisees will continue to offer the services of pick-up and drop-off, as well as electronic communication of their findings with diagnostics.
Published: April 7th, 2020
Share this Feature
Recommended Reading:
Comments:
comments powered by

Disqus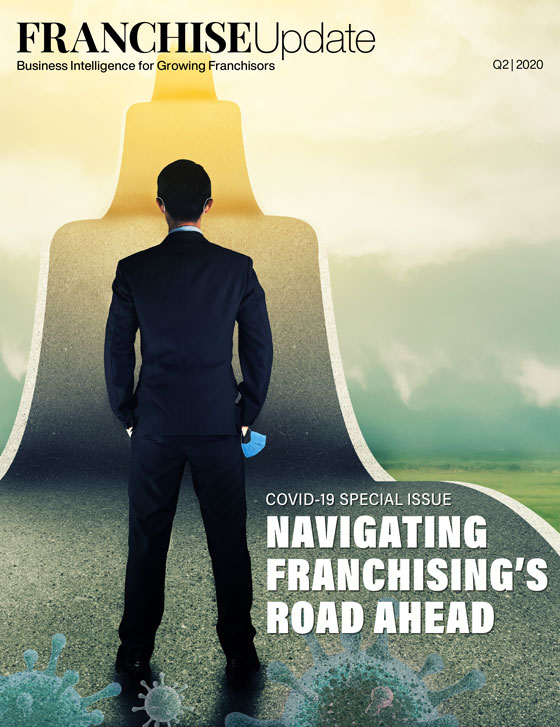 Franchise Update Magazine: Issue 2, 2020
Conferences
InterContinental, Atlanta
OCT 18-20TH, 2022
Our franchise management software helps increase unit growth, reduce opening time, track and improve unit performance, automate financial reporting...
June 20-22, 2023 Marketing-Operations-Technology. Be a part of this ground-breaking new space for ideas, inspiration and networking for Franchise...