Challenge the Pros - How does Franchisee Satisfaction Affect Your Referral Program?
Stephen Dixon
Vice President, Franchise Development
Children's Lighthouse Learning Centers
Franchisee satisfaction is a pillar of our business. It is both a point of emphasis and a source of great pride for the our executive team and support staff. We've created a culture of compassion that encourages empathizing with franchisee concerns and providing solutions to challenges. Plus, we have proactive training and open dialogue to ensure our franchisees are satisfied. In sum, this effort has resulted in a zero percent failure rate and consistently positive feedback from our franchisees with regard to our support and marketing programs.
Since the brand owns and operates eight company units, we also have excellent business model credibility. Beyond that, franchisee satisfaction results from franchisor execution of three basic fundamentals: (1) comprehensive pre-opening training and support, (2) unencumbered two-way communication, and (3) effective business consulting for the life of the franchise partnership. In addition to the programs we have in place to guide and reinforce franchisee efforts locally, we continue to focus on our business model and its track record of success. If the model works and both parties execute the fundamentals, then high franchisee satisfaction will follow.
At Children's Lighthouse we annually survey our franchisees anonymously through an independent company. Our franchise owners have given us high marks in several key areas such as initial training, helpfulness of the field representative, and commitment to a positive, long-term relationship. The survey is an important benchmark that helps us make certain we are serving our franchisees well.
As part of the franchise awarding process, prospects make contact with as many of our franchise owners as desired. Franchise owners generally do not mind spending focused time with qualified candidates... they recall asking similar questions when making the decision themselves. As a franchisor, the only thing we can do to ensure this goes well is to provide strong support and a business model that delivers results for the franchisees. And we like to obtain the franchise owner's thoughts about the candidate. Their opinions are very important in our process.
Our franchise owners are active and well-networked in their communities. Should they recommend a prospective franchisee to us who eventually signs a franchise agreement we will grant the referring franchise owner a substantial referral fee. We truly appreciate the partnership with our franchisees in this area as they usually pre-screen the candidate before submitting them to us. The referral program is a substantial contributor to our growth. In any given year we can expect 10 to 20 percent of our new franchisees to emerge from this source.
When a franchisor develops a business model through operating experience and then executes well on training, support, and communication, it will receive high marks in franchisee satisfaction. Continuous improvement through annual, independent survey analysis is important. Asking for franchisee assistance and input during the candidate learning process helps everyone build a better franchise system. Finally, a referral program that rewards franchisees for their assistance if one of their contacts becomes a franchisee should be an important part of any development plan for growth.
Shawn Caric
Franchising Manager
Dunkin' Brands
Franchisee satisfaction leads to great validation. Additionally, satisfied franchisees share their success and experiences with family, friends, colleagues, and business partners. Traditionally, for me and most of my colleagues, a greater percentage of referral leads become franchisees than any other lead source.
Your best franchisees provide the best referrals. It may seem obvious, but a referral candidate often shares the same core values, competencies, and past business success as the franchisee who referred them.
Ironically, it doesn't appear to me that monetary incentives are as important to existing franchisees as you would expect. The basis for most referrals is a franchisee's pride in their brand and joy in sharing their story of success.
Also, don't assume that your franchisee base can't help launch new, faraway markets. It's a small world, so don't be surprised when a Philadelphia franchisee refers a lead for Houston.
Finally, in franchise development, it's all about the validation. Nothing can shut down development like poor validation from existing franchisees. Therefore, don't spend a dime marketing your plan for growth and franchise opportunities if the validation isn't there to support it.
Mike Mettler
Director, National Franchise Sales
American Dairy Queen
Franchisee satisfaction is critical to the franchise development process because it is directly related to new franchisee validation and the ability for the brand to continue to develop new stores. One great new store opening will lead to more new store openings. It is that simple. At Dairy Queen, we focus on making the new store opening experience a positive one for the franchisee and the brand.
Our impact on franchisee satisfaction through the development process begins with a thorough and rigorous evaluation of every new store development "franchise application." We ask three basic questions.
Is it a great site and trade area? DQ has a proprietary demographic modeling system that evaluates both the trade area and the site by comparing the new location with our portfolio of similar operating restaurants. This sounds simple but it is not, and the brand has invested in leading-edge technology so we can open the right store in the right place.
Is it a strong franchise candidate? DQ looks for strong business experience and very relevant restaurant experience. The ideal franchise candidate is a multi-unit restaurant operator, but we also have had success recruiting local business leaders who are connected in their communities and who hire or partner with experienced restaurant operators.
Are there enough financial resources? DQ, like many brands, reviews the financial details of the franchisee and the transaction.
If DQ does not think the franchise application is strong in any one of these areas we turn it down and do not develop the store.
In addition to analyzing the franchise application, we provide a lot of resources to help franchisees open their new stores successfully, on time, and on budget. We have regional development professionals that are real estate and development experts and who help franchisees evaluate and execute new store development opportunities. We also support the new store opening with many other resources including architects, construction management, project management, marketing, as well as a new-store opening team that remains closely involved and monitors the operational goals of the restaurant for the first 6 months, and supports every opening very closely until the store is ready to transition to our field business consultants. And our ratio of field business consultants to stores is approximately 1 to every 50 stores, which allows us to work very closely with the franchisees on an ongoing basis.
The best measure of franchisee satisfaction as it relates to the development process is the number and type of new stores openings. We continue to grow the number of new stores we are opening each year. We also are increasing the ratio of Dairy Queen Grill & Chill locations that offer both food and treat products.
Published: April 11th, 2012
Share this Feature
Recommended Reading:
Comments:
comments powered by

Disqus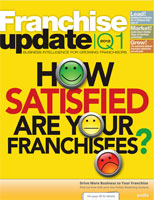 Franchise Update Magazine: Issue 1, 2012
From lead generation to increasing sales, Hot Dish Advertising is the pro at getting your message in front of those who matter most--consumers...
Franchise Update Media (FUM) is the trusted resource for the franchise industry. For 30+ years, FUM has been the leader in providing valuable...