Challenge the Pros: What Role Does Social Media Marketing Play in Recruiting New Franchisees, and How Do You Measure Its ROI?
Doug Wong,
Director of Franchise Development, Denny's
These days, social media is one of the key ways brands nurture relationships with their loyal customer bases. In a lot of ways, a brand's social media presence serves as an overall indicator of the health and strength of a brand. For a brand like Denny's, which has nearly 97 percent brand awareness and a 57-year history, most franchise candidates come to us with some experience with and affinity for the brand.
We encourage our candidates to become immersed in the Denny's experience of today on Facebook and Twitter, which are available from all of our markets, even new and emerging markets with limited restaurant penetration. Franchise candidates who join Denny's 50,000-plus social media followers are able to keep their fingers on the pulse of the brand by watching the success of initiatives in real time, witnessing customer feedback and seeing where Denny's fans long for new locations.
Denny's is recognized as a leader in social media marketing, with integrated branded communications and experiences on Facebook and Twitter that are tightly woven into our overall marketing strategy. For the second year in a row, we announced a Free Grand Slam giveaway in Super Bowl ads. This year we layered in social media experiences with lighthearted webisodes and meaningful loyalty rewards to build ongoing relationships with our guests that have an enduring value beyond the Free Grand Slam giveaway.
According to YouGov (an Internet-based market research firm), among adults 18 and over, Denny's experienced the largest increase in favorable buzz of any of the advertisers in this year's Super Bowl. We garnered millions of dollars in added media value from our cross-platform of Super Bowl initiatives, which helped keep the Denny's brand top of mind for consumers, and for prime franchise development targets like multi-unit operators of other brands.
Sean Fitzgerald,
National Vice President of Franchise Development, Wireless Zone
How do you measure the ROI on networking? On making friendships? If you start the social media conversation simply interested in measuring ROI, then social media may not be the best way for you to recruit franchise candidates. It should be viewed as another tool in the franchise recruiting toolbox.
At Wireless Zone, our strategy for using social media consists of five simple points:
Generate brand awareness. Our YouTube channel and blog each generated more than 1 million unique visitors last year. They are designed to inform the public and answer questions, positioning us as industry leaders, etc. It is also an excellent way for us to gain exposure to millions of people about our brand and our franchise opportunity.
Validation of concept. When a candidate starts their due diligence, they typically start online. The depth of our Internet presence coupled with our social influence adds legitimacy to Wireless Zone and helps with our goal to appear to be everywhere online.
Source for opt-in communication with candidates. Instead of spamming prospects with emails and force-feeding them news about our successes, social media can give them an opt-in method for communication, allowing them to feel they are in control. It is a way of staying in touch with inactive prospects without being too intrusive.
Competitive interference. When someone searches for opportunities in our industry, each source takes up space at the top of the search engine pages. The better our presences, the better they displace our competition.
Dilution of unfavorable remarks. Without a lot of content on the web, one negative comment (e.g., on Yelp) can be the first thing a candidate sees, even if the problem has been resolved. The more content you add means more control and a higher likelihood candidates find the messaging you want them to find.
As you can see, actual ROI is difficult to ascertain. With that said, we have traced several new franchise owners to our social media efforts. And having it integrated into our awarding process has dramatically helped with validation and legitimizing our brand.
Published: August 16th, 2010
Share this Feature
Recommended Reading:
Comments:
comments powered by

Disqus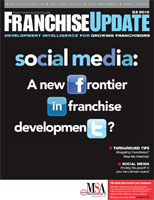 Franchise Update Magazine: Issue 3, 2010
Conferences
InterContinental, Atlanta
OCT 18-20TH, 2023
Bring Order to Your Business. All-in-one management, print, and design solutions at your fingertips, on one platform
ApplePie Capital provides a fresh new approach to franchise financing that is focused on your growth and success.