Changing Course
"Change is hard, but it doesn't have to be painful."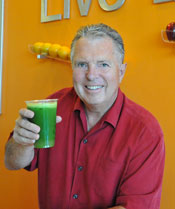 Like most U.S. business sectors, the smoothie industry was hit hard during the recession. To remain competitive in a growing market we needed to start 2012 with new initiatives to ensure we were a key player. As president and CEO, I can tell you that reinvigorating a brand is tough. To successfully implement changes and set up your franchise for long-term growth, it's vital to be accessible to your employees, honestly analyze every aspect of your company, and set realistic goals.
Analyze the situation. Evaluate your company's strengths and weaknesses and focus on leveraging what you do best. Figure out what sets you apart from the competition and capitalize on that. For example, consider selecting one or two of your current offerings to improve upon and eliminate the excess. To get an idea of brand perception, do market research and listen to both the potential customer and someone who is not likely to use your product. When developing new products, we use sensory panels and other focus groups to get feedback on what works and what doesn't from a consumer perspective.
Create new initiatives. Put new ideas into place to differentiate your brand from the competition. For example, our Raw Juice Bar initiative reflects our healthful approach to food, and we hired a brand ambassador who embodies our values and provides a way for customers to relate to us on a very human level.
Learn from your past. Everyone makes mistakes--no business venture is perfect. Look at your previous failures to avoid falling into the same patterns. Juice It Up! closed 79 stores between 2008 and 2010 because of the struggling economy. I look at this as a positive experience: it allowed us to rethink our expansion strategy and showed us where we went wrong. For us, aggressively breaking into new markets was not the best decision, and we are now going in a different direction. For your company, another approach might make sense. Maintaining a positive mindset during challenging times will show others, especially your franchisees, that you believe in the company and will do what it takes to succeed.
Clearly communicate the goals. Share your expectations and project a long-term vision with short-term milestones to keep employees and franchisees in the loop. Encourage open and honest communication and provide positive feedback. Juice It Up!'s corporate headquarters has an open office concept, meaning that everyone works in the same space. This is great because I'm able to interact with my staff, answer questions, and get input from others. For small companies, I highly recommend this setup. If it isn't feasible for your company, find other ways to make yourself accessible. This will go a long way in establishing trust and creating a collaborative environment.
Believe in your company and new initiatives. Consistently projecting the idea that "We are all in this together" will go a long way in motivating employees and boosting morale during difficult periods. This works the same way on the franchisee level. In my experience, the stores that do best are run by truly passionate people. In my first 12 years of franchising, successes were hit and miss. The common thread among the high-performing stores wasn't the amount of startup capital they had, or the owner's previous business experience. It was a passion for the products we offer and a desire to see the company succeed. When considering franchisees we now look for that zeal, because it's a key indicator of future growth potential.
In the end, all the textbook advice in the world won't make a difference if you don't take a practical approach in your business strategy. Make sure that franchisees maintain their required liquidity from signing all the way through opening. This will ensure a higher degree of stability and a greater chance of success in the future. If franchisees don't have that liquidity when they open the store, they will run out of money fast.
Change is hard, but it doesn't have to be painful. By maintaining clear lines of communication, analyzing your brand's position, and being realistic about your goals, you will set up your company, employees, and franchisees for long-term growth and successfully revitalize your business.
---
Frank Easterbrook is the president and CEO of Irvine, Calif.-based Juice It Up!, a franchised smoothie and juice bar chain that specializes in blended-to-order fresh fruit smoothies, fresh-squeezed juices, and other healthy beverages served in a relaxed, family-friendly environment. Following their recent initiatives, sales are up 600 percent. For more information, visit www.juiceitup.com.
Published: January 23rd, 2013
Share this Feature
Recommended Reading:
Comments:
comments powered by

Disqus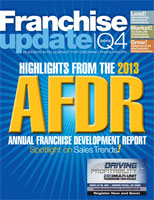 Franchise Update Magazine: Issue 4, 2012
Clayton Kendall provides franchise communities nationwide with comprehensive branded merchandise programs leading to greater brand exposure,...
In 2022 Empower Brands emerged when Lynx Franchising and Outdoor Living Brands united. Empower consists of JAN-PRO, Intelligent Office, FRSTeam,...