Cleaning Up for 10 Years: Oxi Fresh Grows Up and Gives Back
I never want to stand still. I always want to be working on something and find ways to improve it, expand upon it, and to be innovative.
Oxi Fresh Carpet Cleaning has been my focus since I founded it in 2006. I started my company because I knew carpet cleaning had a low barrier to entry, is excellent for creating repeat business, offers a service in high demand, and has the potential to net millions of dollars. Today, a decade after launching my dream, I still lead the brand as its CEO, directing its growth and pushing the boundaries of an old-school industry with new-school thinking.
It certainly keeps me busy, which is what I love.
How did I get here?
The story of my company really starts with my family. My mother, Natalie, always pushed me to work hard, to never give up, and to never take the easy path. Combine that with the inspiration of my grandfather, an entrepreneur and inventor, and I began my college career at Oral Roberts University in 1999 knowing that business was going to be my forte.
For a lot of students, studying for a BS in business administration would be enough to keep them busy. Not me. In 2000, using money I inherited from my grandfather, I opened my own summer business, Johnny B's Fireworks. Every summer, I expanded to new locations and then sold the business when I graduated. These stands helped me pay my way through school.
The stands were a great introduction to the business world, but they weren't enough to occupy my time. You see, I loved basketball, and so I joined Oral Roberts D1 team. I even served as the team chaplain for two years. My experience with the team and my faith led me to create Crossover International in 2001, a nonprofit basketball outreach that used the sport as a platform to make a positive impact on youth.
With all that, I still graduated from Oral Roberts a full year early. Like I said, I like to stay busy. However, I wanted more than just three years of business education, so I decided that graduate school was the right path for me.
In 2003, I began courses at Colorado Christian University (CCU), at the same time moving Crossover International's headquarters to Denver and working to launch their first international tour, which went to France, Germany, and the Czech Republic.
In early 2005, I also purchased a professional basketball franchise in the International Basketball League, naming it the Colorado Crossover. Owning the team for two seasons increased my interest in franchising, so when I graduated from CCU in mid-2005, I kept my eyes open for franchise opportunities.
A breath of fresh air
There was a gap in the carpet cleaning industry, an opportunity for a business willing to give customers something different. People wanted cleanings that were convenient, and they had grown tired of long dry times and harsh chemicals.
Working with a team of experts, we developed an innovative and environmentally friendly carpet cleaning system that uses green solutions, leaves no sticky residue, and is safe for children and pets. Perhaps its biggest selling point, though, was that it dried fast. Unlike old-fashioned methods that used 40 to 50 gallons of water per home, our oxygen-based system needed only 2 gallons per home. That cut down the old 12- to 24-hour dry time to about 1 hour.
In 2006, I launched this system with just one location in Denver, but by the end of that first year, we already had 17 franchises in 5 states. I gave the first five franchises away free, including one to my mother who quickly made it into a top-performing location.
The following year, we had a total of 85 franchises in 23 states. Next year? One hundred and thirty franchises in 38 states, a remarkable accomplishment when you consider that less than 700 of the nearly 3,800 active franchise systems in the U.S. have more than 100 units, and less than 90 of those reached the 100-unit mark in under 10 years. We reached that milestone in less than three years.
Needless to say, we were very busy as more and more entrepreneurs joined the Oxi Fresh family. In the years since then we've continued to grow and develop. We've expanded our service portfolio to include upholstery, wood floor, and tile and grout cleaning. We got the mark for "The World's Greenest Carpet Cleaner." We built custom software for our franchisees.
Yet that's just a fraction of what we've done to make Oxi Fresh a major player in the industry. With every project we complete and feature we add, our goal is to provide our franchisees with the best support systems and tools possible so they can achieve their financial dreams and goals.
Centralized, superior support
"Speed through systems." That mantra has been key to Oxi Fresh's growth. I am always looking for ways to automate support systems for our franchisees so they can grow their business instead of just working in it.
The Scheduling Center is the most notable example. We're one of the only carpet cleaning franchises to have a centralized call center answering consumer phone calls, scheduling appointments, maintaining a customer database, and serving as the face of the business. With our franchisees free from the phones, they can focus on business development instead of getting lost in day-to-day details.
Powering the Scheduling Center. which currently handles approximately 2,500 calls every day, is our FAST software. This custom-built program is a live, online platform that allows franchisees to easily manage their business.
Of course, we have even more support systems and automated marketing tools for our franchisees, and all of these programs are a major part of our success.
Giving back
But business can be about more than systems and money and plans. Entrepreneurship enables philanthropy, and a business that gives back sends a powerful message. When a company donates to a worthy cause, it says, "We aren't just an earnings machine. We are a partner with you. We are in it with you. We care."
That's why last year we started focusing on more than selling franchises and cleaning carpets and began supporting Water.org. This nonprofit organization, co-founded by Gary White and actor Matt Damon, is working to fight the global water crisis that affects 1 in 10 people around the world.
Water.org helps communities get access to sustainable solutions to their water and sanitation needs. To support their efforts, we donate $2 every time a customer books a job online through www.oxifresh.com, and we continually encourage our customers to book online.
So far, we've booked more than 15,000 jobs online and donated more than $30,000 to the cause. Water.org has used these funds to help more than 1,000 people, and I couldn't be more proud of that fact.
Looking ahead
In 10 short years, Oxi Fresh has expanded to more than 300 locations across the U.S. and Canada, more than one-third of which have opened in the last three years alone. With our innovative and environmentally friendly carpet cleaning method, we've completed more than 700,000 jobs and have conserved 30 million gallons of water.
Still, just like back in college, I want to do more. Our goal is to reward franchise opportunities to qualified leads in even more locations, 50 a year if possible. We want to add more features and support systems for our franchisees. We want to introduce the world to our sister brands, Midtown Chimney Sweeps and Elephant in the Room Men's Grooming Lounges, two amazing concepts that could revolutionize their markets.
I want to make Oxi Fresh Carpet Cleaning the #1 cleaner in the world and for it to become a household name.
Hopefully, this should keep me nice and busy.
Jonathan Barnett is the founder and CEO of Oxi Fresh Carpet Cleaning.
Published: December 1st, 2016
Share this Feature
Recommended Reading:
Comments:
comments powered by

Disqus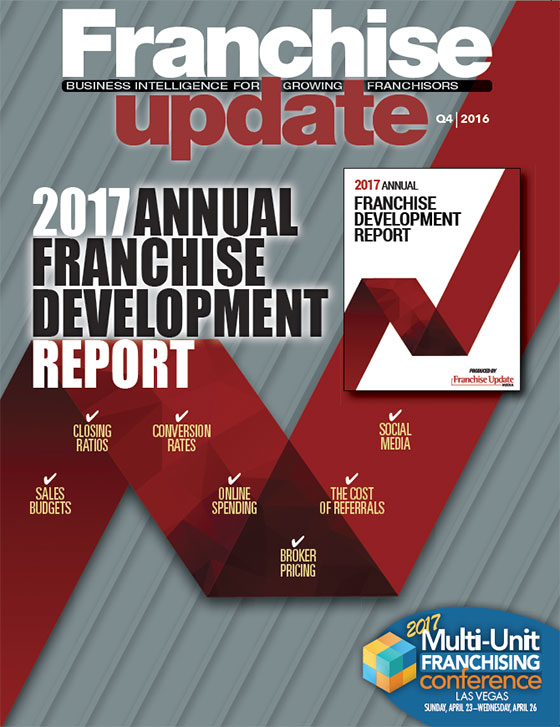 Franchise Update Magazine: Issue 4, 2016
From lead generation to increasing sales, Hot Dish Advertising is the pro at getting your message in front of those who matter most--consumers...
Tiger Pistol, the world's leading collaborative advertising platform, connects the power of brands with the knowledge and credibility of their...