Climbing The Service-Profit Chain
Rewarding its customers drives growth at Harrah's
I attend a lot of franchise conferences in Las Vegas. When you look around there, gambling seems to a very profitable business, right? But you also look around and see a ton of competition. And no matter where you play, it is basically the same games. By that description, the casino business is a commodity business. Same games, lots of choices. What is really the difference between one casino and another?
Let me tell you a story about the unlikely little company that has become one of the world's most distinguished casino operators. The company started as Harrah's in Reno, Nevada. Over time, Harrah's was acquired by Holiday Inn and built casinos all around the U.S., including Harrah's Las Vegas. As the new luxury casino resorts were built between 2000 and 2010, Harrah's properties did not compare well on style and class and resort amenities.
For example, the Harrah's in Las Vegas cost $315 million to build. But then down the street and across the block, the Bellagio opened--at five times the cost ($1.6 billion). Not long after that Wynn Resorts was built for $2.7 billion. Word on the street in Las Vegas was that the Wynn was the kind of place God would have built--if He had the money. No expense was spared. Harrah's could not compete on that basis.
Times were tough when Harrah's hired Gary Loveman, a Harvard Business School professor, to figure out some way to entice Las Vegas visitors to come to Harrah's to play the same games they could play at the Bellagio, even though Harrah's was just not nearly as cool a place. Loveman told me, "My chef's names are Bob and Joe, not Wolfgang." Harrah's didn't have opulent swimming pools or Céline Dion and Elton John performing. So customers would have to go to Harrah's for other reasons.
And those reasons would be all about service, they decided. Unfortunately, Harrah's service was nothing special or different, either. Harrah's knew that because they collected a lot of data about the customers who visited them. The problem they discovered was they had an absence of loyalty. Customers who gambled at Harrah's spent only 36 cents of their gambling dollar there. Where were customers spending the other 64 cents? At the competition! Harrah's customers were giving nearly two thirds of their business to the competition.
Harrah's started scientifically measuring the overall customer experience to figure out the key drivers of customer loyalty. They rewarded each property's management and staff on how well they delivered a loyalty-inspiring customer experience. Why give employees bonuses for better service? Because that better service would be worth a ton of incremental revenue and profit--and because it did not require a huge capital investment to increase customer loyalty by creating a superior customer experience. The basic idea is that behavior that gets rewarded, gets repeated.
Harrah's identified and ranked their most profitable customers by creating a customer loyalty program called Total Rewards. Every dollar customers spent on gambling, hotel rooms, dining, and entertainment with Harrah's translated into points. And those points translated into tiers in the Total Rewards Loyalty Club. The highest tier is Diamond, then Platinum, then Gold--and one Diamond member is worth about 200 times as much as a Gold Member.
Harrah's made sure that their most profitable customers always stood in the shortest lines. Though every customer could count on uncommonly friendly and helpful employees, those who spent the most at Harrah's got tons of extra perks. Besides short lines, VIP rewards included free tickets to shows and restaurants, special deals, even complimentary rooms.
Soon, Harrah's had built the largest customer loyalty program in the casino industry. They had also improved their customers' experience every year, proven by higher customer satisfaction and loyalty scores. In 2006, Harrah's acquired Caesars Palace based on a brilliant premise: with Caesars' superior resort amenities and brand name, the smartest way to merge was to name the combined company Caesars Entertainment, but to have Loveman and his leadership at Harrah's actually lead the business.
And that's the story of how a little company named Harrah's grew to become known as Caesars Entertainment, and has come to be the industry leader in the casino business and one of the most admired companies on the Fortune 500.
To learn what transformed Harrah's from also-ran to industry leader, I recommend you read Putting the Service-Profit Chain to Work, co-authored by Gary Loveman. You can get a copy at http://pagesetup.com/images/content/hbr-article.pdf.
---
SMG Vice President Jack Mackey helps multi-unit operators improve customer loyalty and drive growth. Contact him at 816-448-4556 or jmackey@smg.com.
Published: April 29th, 2013
Share this Feature
Recommended Reading:
Comments:
comments powered by

Disqus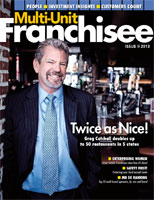 Multi-Unit Franchisee Magazine: Issue 2, 2013
$1M+ Avg. Revenue per Location. No medical experience necessary. Manage the manager franchise. Comprehensive training and support. Unique business...
Cash Required:
$75,000
When guests walk into a Rita's Italian Ice, they know they are in for a treat. Bright smiles and bright colors greet them, along with a...
Cash Required:
$100,000